With the arrival of summer, you may be considering what things you can do with your dog. There are so many fun things to do with your furry family member, all you have to do is get creative! That's why we have compiled a list of ten enjoyable summer activities for you and your dog.
1. Take Your Dog To The Beach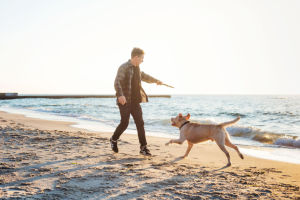 Taking your dog to the beach is as much fun for them as it is for you. Play fetch with them, swim together in the water or take a stroll down the shoreline while they scamper through the sand. Just make sure they don't come into contact with any jellyfish!
2. Visit New Places With Your Dog
Is there a town or park within easy driving distance that you've never before visited or brought your dog? Look for places with walkable neighborhoods, dog parks or hiking trails. Wander them together with your dog. It's a great way to spend time with your pet and get exercise for both of you at the same time. This can also be an opportunity to visit local pet stores, different dog parks or puppy cafes that cater to canines.
3. Teach Them New Techniques
Teach your dog a few new commands. This strengthens your bond while improving their behavior and obedience. Here are a few simple dog commands to get you started:
Shake hands
Sit
Sit or stay in place, until you give the signal to release them
Speak (bark) on command
4. Play Fetch In Your Backyard
Playing fetch is a classic for a reason. You can play it with your dog almost anywhere that has open space. Toss a ball or stick for them to catch and return. It makes them happy, brings a smile to your face and gets both of you exercising outdoors.
5. Make Dog Treats For The Summer
Colorful fruits and vegetables are some of the best things summer has to offer. Be mindful of what you feed your dog, however, as some fruits and vegetables (grapes, avocados, etc) may be toxic to dogs. You can mix in fresh fruits or veggies with their normal dog food. If you have the time and resources, make homemade doggy ice cream for dessert. Slurping ice cream can keep your dog's mind occupied for a while.
6. Purchase A New Toy For Them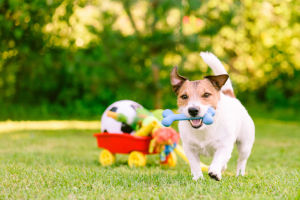 Every dog loves to play with a shiny new toy. They can chew on them, toss them in the air and cuddle with them while they nap. This alleviates boredom and can even curb disruptive behavior by keeping your dog happy and occupied. Frisbees and balls make the best toys because they are lightweight.
7. Go For A Hike
Take your dog on a laid-back nature hike. It's ideal for dog owners who live in an apartment or don't have much room around their home or neighborhood. Hiking trails feature a variety of terrains. Younger dogs will love the challenge of rugged trails with plenty of hills. Of course, there are plenty of trails that you and your dog can enjoy without breaking a sweat. Look for flat, easy trails that are short and form a continuous loop.
8. Have A Camp Out
If you have a backyard or a nearby campsite that permits dogs, pitch a tent! If you don't have a camping tent, make one from old sheets or towels. Your dog will appreciate the opportunity to stay close to home while still being outdoors. If it gets too sunny or hot, they can find refuge in the tent's shade.
9. Host A Barbecue
Do you own a barbecue grill? Plan a party and invite your dog. Keep an eye on them so they don't try to snatch a hotdog from the grill! If your dog enjoys lots of attention, petting and socializing, your party guests will give them plenty. It's a win-win for everyone involved.
10. Play In The Sprinklers
Dogs are like magnets to sprinklers.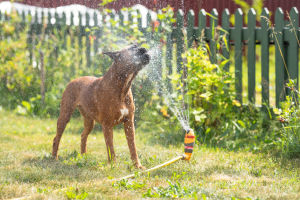 Turn on your lawn sprinklers and set them loose. If you have a pool (even a kiddie pool), all the better. Most dogs appreciate any opportunity to cool off in the water. By the time they go back inside, they'll be refreshed and ready for a nap.
We hope these 10 summer activities for dogs inspire you to take advantage of the season's sunshine and beautiful weather – and spend some quality time with your dog. There are so many ways to enjoy time with your pet, and the summer months are the perfect time for the two of you to bond, exercise and stay active outdoors!
If your summer is busy and you are in need of pet-sitting or dog-walking services, please don't hesitate to reach out to our friendly, dependable staff at Paw Pals Pet Sitting. We can't wait to assist you and your beloved dog!