If you're a dog owner, then you know that your dog can be your best friend. But if you have an untrained or disobedient dog, then your best friend can also be your worst nightmare. Untrained dogs will often bark at all hours, jump up on guests, make messes in the house, and generally be a non-stop nuisance.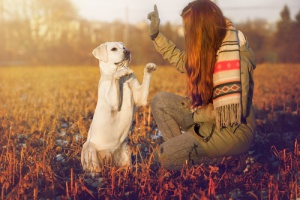 Fortunately, dogs are intelligent animals that respond well to obedience training. Obedience training gives dogs the clear boundaries and predictable routines they crave. They want to know who's in charge and what they need to do to please their owners. Well-trained dogs are happier dogs, which means their owners are happier and less stressed as well.
For your dog to be considered obedient, it must respond reliably each time you give it a command. If you're ready to train your dog, but you don't know where to start, then check out this quick guide on obedience training for dogs.
Is There Any Equipment I Needed to Train My Dog?
Two essential items that you'll need before you start training your dog is a dog collar, or a harness that fits your dog comfortably, and a strong leash. Be sure to use a leash that is at a fixed length and not a retractable leash, as they are not ideal for training. Finally, get a supply of your dog's favorite treats. Rewarding your dog for appropriate behavior is an essential element in the obedience training process.
What are the Most Common Obedience Training Methods?
There are two basic methods when it comes to training your dog:
1. Positive reinforcement:
With this method, you reward the behaviors you want to see in your dog and ignore the behaviors you don't like. Treats and/or praises are effective rewards because they are immediate. Your dog will quickly learn that it'll be rewarded for doing things correctly and will be more likely to repeat those good behaviors. Dogs aim to please!
2. Clicker training: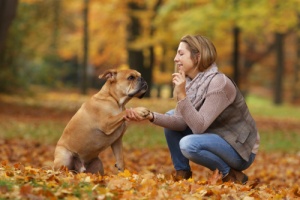 This method is more effective than just treats alone. A "clicker" makes a gentle clicking sound when pressed and can be purchased at any pet store. When your dog performs the desired command, click first, then give it a treat. Once the dog learns the positive effects of the clicking sound, the treats will no longer be needed. Just the click alone is the positive reinforcement.
How Often Should I Train My Dog?
Training sessions should occur 2 or 3 times per day and last no more than 15 minutes. Puppies have short attention spans, and older dogs can get bored, so there's no need to try and stretch out training sessions. In fact, longer sessions will be counterproductive.
What Commands Should I Teach My Dog?
Teach your dog only one command per session to avoid confusion. Sit, stay, and come are all basic commands that you're probably already familiar with. This guide on obedience training for dogs recommends you also teach these additional commands:
Look: Get your dog to focus on you, no matter what distractions are present.
With me: Have your dog return to your side if it's pulling its leash during a walk.
Leave it: Keep your dog from approaching an item you don't want it to touch.
Wait: Make sure your dog stays put after you open the crate or car door.
Drop it: Have your dog drop anything in its mouth, whether it's a favorite shoe or something that could endanger your dog.
Come: Have your unleashed dog immediately come to you.
How Do I Deal with Misbehavior?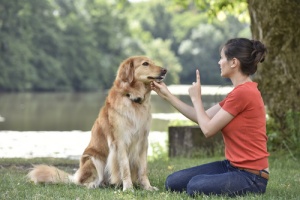 Of course, training your dog is a process and you should expect to have to deal with some common behavioral problems along with way. The best way to correct any misbehavior is to interrupt it as soon as you see it happening. Shift your dog's attention to something positive and reward your dog when it successfully corrects its behavior.
A common mistake is to punish or yell at your dog during training. You should never strike your dog. This will only cause confusion and cause your dog to become nervous around you.
Eventually, successful training will be achieved with patience and consistency. This is perhaps the most important point you can take away from this entire guide on obedience training for dogs.
Want to Learn More About Obedience Training for Dogs?
If you need more guidance on obedience training for dogs or you need professional pet services, then contact Paw Pals. Paw Pals offers a range of highly customizable and flexible services to accommodate your schedule, including dog walking, pet sitting, medication administration, dog waste removal, pet transportation, pet supply delivery, and more. Our experienced staff members will treat your pets with exceptional care during each and every visit. Contact Paw Pals today to learn more about how we can help you and your pets.