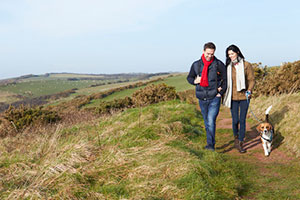 The summer season has come to an end, and the wonderful days of lower humidity and milder conditions—perfect hiking weather—are here. Hiking is a great form of exercise for both you and your canine companion. You get to enjoy nature in often secluded locations and are reminded of the beauty of the world. Your dog will love the freedom of walking around sniffing and taking in the sights and sounds.
But where in Northern Virginia is the best place to take your dog hiking? If you've never been before, you might not be familiar with nearby hiking trails. Some parks in the region have very strict regulations about dogs and some don't allow pets whatsoever. Fortunately, we've done the legwork for you! Here are some of the best northern Virginia hikes with dogs:
Dog-Friendly Hikes in Northern Virginia
Manassas National Battlefield Park
This hiking route is over five acres and is dog friendly. It is located just north of the town with the same name. Manassas National Battlefield park is a historical site of two American civil war battles: the first and second battles of bull run. Nearly a million people visit the park every year, and it has a lot of entertainment and attractions to entertain the entire family. It's open from sunrise to sunset every day so there's no need to worry about making sure to arrange a suitable time slot.
Potomac Heritage Trail
The Potomac heritage trail is a more secluded option for the dreamy wanderers who prefer to be alone with their dog when hiking. If you go early enough, you probably won't encounter another living soul. Well, no humans anyway. If your dog is hyperactive, be aware that this route tends to have a lot of squirrels. Dogs usually have fun chasing squirrels, so the more the merrier. Just be careful that your dog doesn't go into hunter mode and disappear!
Mount Vernon Trail
The Mount Vernon Trail is an impressive eighteen miles long. Some of the paths are boardwalk, but most is paved. This is one of the most popular hiking routes in the Washington DC Metro area, so if you're anxious about your dog encountering other dogs while en route, you should try to go as soon as dawn breaks. The best time to go is during the autumn, when you can take in all of the wonderful colors of the trees and plants along the route.
Claude Moore Park
Claude Moore Park is located to the east of Loudoun County. This place has a lot going for it. It has a visitor center, historic district, farm museum, recreation center, and community center. Your starting point determines how close you are to each of these facilities. It's an eleven mile trail with two fishing ponds and picnic pavilions. This would be a great place to take your dog fishing, enjoy a relaxing lunch on the pavilion, and walk to your heart's content!
Get Prepared for Your Hike
There are a number of factors you need to consider before you start going hiking with your dog. They will absolutely love running around in nature, but sometimes the natural environment and the weather can be unsafe. Overwhelming heat, exotic insects, and the terrain itself can all be cause for concern. Here are some tips to ensure you are prepared for the trip:
Wildlife to Watch Out For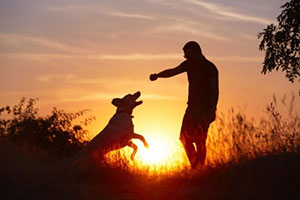 When you're spending time outside with your dog, you need to take precautions so that you can both be safe from the potential dangers of wildlife. Fleas, ticks, mosquitoes, and worms can all cause danger to your dog. There are a number of diseases a dog can contract from insects. Lyme disease, paralysis, heartworm, the West Nile virus, dermatitis, and tapeworms can all be very dangerous for a dog and are all caused by the aforementioned creatures. There are safety measures you can take like checking your dog regularly for ticks and using mosquito repellent, but you still to be aware that you are much more likely to come into contact with bugs when you're going on a hike.
Also be aware that many forms of wildlife carry diseases that can affect both you and your dog. Most mammals can be infected by rabies, so keep an eye out for any that are behaving strangely. Raccoons, skunks, opossums, and deer are just some of the mammals that can get rabies.
Seasonal Considerations
The best time to go hiking is probably the spring or the fall because they are the mildest seasons. If you really want to bring your dog out in the summer or winter, however, you need to think about the extreme weather conditions.
During the summer, you need to be aware about the effects of hot weather on a dog. Pavements can get very hot on a summer's day, and this can damage your canine's paws. When they walk for too long on hot concrete, their paws become burned. You don't want to be responsible for your dog getting burns now, do you? They can also suffer from heat exhaustion and even heat stroke.
The best advice for summer hiking is only to do it if you live in a milder climate and are hiking on a trail that has mostly soft grass for the dog's feet. You also need to bring a water container and a bowl to make sure they stay hydrated. Finally, try to arrange the hike in advance so you can check out the weather forecast and pick one of the coolest days during the week or weekend.
In Case of Pet Emergencies
While you're hiking with your dog, keep an eye out for any obstacles on the path. Some hiking routes don't have smooth trails, and if it's used by a lot of people there could be anything lurking around. Take special care to ensure your dog avoids any broken glass from beer bottles. Hiking trails are sometimes used for camping trips and student breaks, so it's quite likely there will be some rubbish that could injure your dog's paw. Luckily, even if your dog does hurt themselves, you can cure all sorts of ailments by using essential oils on your pet for natural remedies.
For example, peppermint oil eases pain, eucalyptus oil is has antimicrobial (antibacterial) properties, and vetiver oil can be used to soothe strains, aches, and even arthritis. Stock your medicine cabinet with a selection of essential oils before going on a hiking trip just to be safe.
Additionally, you should learn how to treat a pet injury. First, you need to restrain the dog, as they may lash out because they are in pain. Next, you remove dirt and bacteria from the wound by cleaning it with water. Be careful not to rub the wound while doing so, as this will amplify the pain. A good way of doing it gently is to wet some paper towel and dab it gently.
Finally, check for any foreign materials like a shard of glass or a splinter. This step may require an extra person that the dog trusts, because they may need to be held down. Once any foreign objects are removed, dry off the wound as best you can using a clean cloth that won't leave fibers behind. Bandage the paw or whatever area is cut, and contact your local vet to ensure there is no infection and that it will heal correctly.