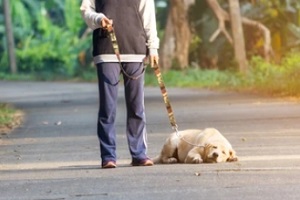 For many, their dog is another member of their family, and that means caring about their health and wellbeing just like you would a person. Many owners take the time out of their day to ensure that their pet gets exercise and playtime to stimulate both their mind and their body.
However, it is important to be able to read the signs that your dog is getting tired; while wearing out an energetic pup with play and exercise can improve their health and grant you some peace and quiet, dogs are not always great at indicating when they have had more than they can handle. It is important to be aware of these signs that your dog needs a break on a walk.
There Is Such A Thing As Too Much Play
Walking is perhaps one of the simplest and easiest forms of exercise and stimulation for your dog. From the thrill of picking up scents along the way to the new scenery and consistent movement that gets blood flowing, walks are an important part of many dogs' day.
So much so, in fact, that they may not want to come home—even if they are too tired for their own good. Keeping a dog out on a walk can lead to exhaustion in the form of either generalized exhaustion or heat stroke, depending on the conditions.
Because dogs are pack animals, they will push themselves to keep going long after it is good for them as long as you, a member of their pack, are continuing on. Learn to recognize the signs of heat exhaustion and general overexertion so that you can pick up on when your pet needs help.
The Signs Of Heat Exhaustion
Heat exhaustion can be remarkably dangerous for a dog. Remember, their primary method of cooling themselves is via panting, because they do not sweat like humans do. If they cannot expel enough heat through panting alone, their body temperature will rise, and they can become ill or even die.
This means that one of the most common and simplest signs of heat exhaustion is excessive panting. If your dog is panting desperately, they are working hard to cool themselves down. With this often comes more drooling than normal.
In the early stages of heat exhaustion, your dog may begin to grow lethargic. All dogs will slow down after enough energy has been used up walking and playing, but lethargy often takes the form of slow or uncoordinated movements, failure to respond to commands or names and even signs of dizziness, like stumbling.
In more advanced heat exhaustion leading to a heat stroke, the dog's heart may begin to race, and the animal may also start to vomit or have diarrhea. At this point, it is important that you seek vet attention. If you suspect that your dog is beginning to get too hot, immediately retreat to the shade and offer water.
Signs Of Generalized Exhaustion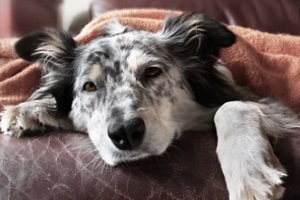 Generalized exhaustion can happen even when it is not hot outside if your dog spends too much energy playing or trying to keep up with you on a walk that is longer than they can handle. Exhausted dogs often seem almost as if they are different animals entirely, failing to respond to their name or commands and focused excessively on sniffing the ground.
Of course, panting and refusing to get up are common indicators, but so are frequent lip licking and loss of interest. A dog that yawns frequently may be trying to recapture oxygen in order to rest, and your pet may even hide if they are suffering from exhaustion. However, general exhaustion is easy to miss, and your dog may not be willing to show symptoms—they may even have the zoomies!
This is why it is important that you as their owner keep an eye on them to monitor their walking distance and get to know their limits, because they may not show you when they are too tired, especially if they are young.
Trust The Experience Dog Sitters with Your Furry Friend
If you are trusting a dog sitter with your loyal companion, it is important that you select someone who understands that exhaustion takes many forms. A skilled dog sitting company like Paw Pals Pet Sitting knows how to prevent exhaustion in dogs so that your friend gets healthy exercise without being pushed too far.
Trust the experts to care for your furry friend safely and comprehensively so that you feel confident that your dog is in the best of hands while you are out of the house. Reach out to make a care plan today.