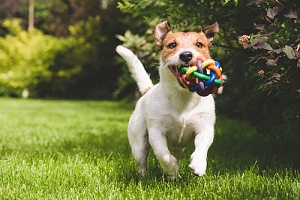 Finding different games to play with your dog can prove very beneficial for your dog's overall health. It not only keeps them physically active but can help with cognitive development as well.
Despite your best intentions as a dog owner, it can get challenging to find new games to play with your dog. However, it can be really important to find new and exciting games to play.
Importance of Playing With Your Dog
There are several reasons you want to find new games to play with your dog at the park. While the benefits of each exercise and activity are different, there are some general ways that playing games can be of importance.
Some top benefits include the following:
Promoting intense physical exercise
Strengthening your bond with your dog
Reinforcing obedience
Increasing impulse control
Building confidence
Serving as a distraction
The games you choose to play with your dog can offer one or more of these benefits, depending on the activity. That is why it is so important to mix up your routine and expand the development of your dog through a variety of activities.
Unique Game Ideas For You and Your Dog
Here, we have highlighted the top 5 unique games to play with your dog at the park. Each of them has their own set of benefits.
Tug of War
The concept is so simple, yet most dogs love playing tug of war. It is beneficial in a number of ways, as well. It teaches your dog to have good manners and keeps them physically active. It can also keep your dog engaged with you and not distracted by other environmental factors.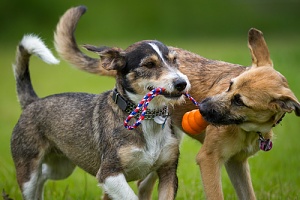 To play tug of war, simply give your dog something to bite while you hold on to the other end. Pull back and forth with your dog. That is really all there is to it. There is just one rule and that is that the game is over if you are touched by your dog's teeth. This will teach the dog that it is okay to have fun, but without getting too rough.
Chase Bubbles
This is perhaps the easiest game to play with your dog. To teach your dog how to play, simply start by blowing just a couple bubbles at a time. Draw your dog's attention to the bubbles and encourage him or her to chase after them.
If your dog needs more assistance, chase after them yourself as a way of imitating the desired behavior. This can help show that the point of the game is to reach the bubbles before they hit the ground. Just remember that you want to use non-toxic bubbles only. The safest option is to use bubbles that are designed for kids. Also make sure you wipe your dog's face down when you are done playing. This will remove any bubble residue from around the eyes.
Use a Flirt Stick
Also known as a flirt pole, this exercise is great for tiring out your dog. It is just a long pole that has a rope attached to one end. The end of the rope should have something that grabs your dog's attention, such as a bone or chew toy.
This exercise is great for stimulating your dog mentally and it can speak to their prey drive without being destructive or dangerous. In addition, it can help you to train your dog to have better impulse control when you command him or her to drop the lure.
Play Frisbee
This is another great game to tire out your dog. It helps your dog to build stamina for running long distances. It is also great for your dog if he or she likes to chase things.
You may have to teach your dog how to play frisbee. To do so, begin by using a soft disk since frisbees tend to be really hard. Start by throwing it only short distances and rolling it on the ground to get your dog used to it. When they have the hang of it, move to longer distances and, eventually, begin to incorporate the actual frisbee.
Hide & Seek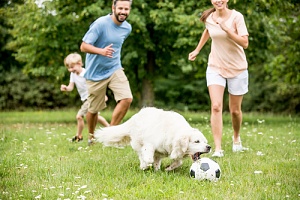 This is one of the top games to play with your dog at the park. To play, command your dog to stay while you find a hiding spot. When you have found your spot, call to your dog and then reward them when they find you.
How Games Affect Your Dog's Development
Each of these games can play a role in the cognitive development of you dog. They serve to teach your dog impulse control, appropriate behavior, and obedience.
In addition, some of them, such as hide and seek and chasing bubbles, can actually teach your dog new tricks, expanding their cognition altogether.
If you are looking for more information on stimulating your dog, or if you would like to set up dog walking services to keep your dog active, reach out to Paw Pals Pet Sitting today.