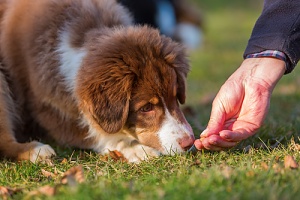 Your dog can be your very best walking pal. Depending on the breed and age of your pup, you may find that your dog can even help motivate you to take longer, more challenging walks.
Overall, your dog can provide you with great companionship while out walking and you may even feel safer knowing you have your dog with you. While your puppy might help you enjoy your walk a little bit more, you want it to be enjoyable for them as well. Given how important your companion is to you, you likely want to find the best dog treats available, and give them to your dog while you walk. Read on about the benefits of giving your dog treats while walking and learn about a few of the best on-walk dog treats available.
Benefits
There are some benefits to bringing dog treats out with you when walking with your dog. Not only can it help your dog enjoy the walk more but feeding dog treats during the walk can also help improve your dog's overall behavior.
General Enjoyment
Truthfully, you want your dog to enjoy your walk as much as you do. That means making sure you have plenty of water and snacks available, especially if you plan on being out for a long time.
Grab your Dog's Attention
Many dogs get distracted while out walking. That could mean digging, chasing after squirrels while hiking in the woods, or sniffing where other dogs have come before them. Either way, if you want to keep your dog on track, dog treats can help you get your dog to pay attention again.
Training
If your dog has behavior that needs improvement, using the best dog treats to help fix that poor behavior can be really effective. Maybe your dog pulls on the leash. You can reward the dog with a treat when he or she does not pull on the leash. Using dog treats to reinforce good behavior can help to improve your dog's behavior overall.
Best Dog Treats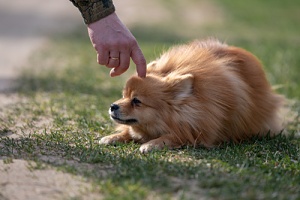 Not all treats are created equal. If you want to bring treats with you while out with your dog, you want only the best, taking a preference to treats that do not have too many additives and that offer a good source of nutrition. With that in mind, here are just a few of the best dog treats you can get.
These treats offer effective pain relief for dogs who have joint pain. If your dog still enjoys walking with you but often suffers from discomfort, these might be a great option. They are all-natural and offer a great taste.
These bites are ideal for both treating your dog while out walking or for training purposes. They are made from all-natural ingredients and are made in the USA.
These treats are all-natural and use only grass-fed, free range cattle. They do not include any additives or chemicals and they are USDA and FDA approved. In addition, they are low in fat and do not have any gluten or grains. They make a great alternative to giving your dog rawhide.
These bites are grain-free and can be used effectively both for training and treating. They are all-natural and made in the United States. They do not contain any corn, artificial flavors or colors, or soy.
These treats are ideal for training and have just 3 calories per treat. That means you can give them as a reward rather freely without worrying about your dog consuming too many calories. With the chicken flavor, chicken is the #1 ingredient and if you are not satisfied with the product, you are able to get a full refund given the 100% satisfaction guarantee.
These chews serve to help your dog with any inflammation and include MSM, Chondroitin and Glucosamine. Also included are EPA and DHA with not only help with inflammation but also with boosting your dog's immune system. These treats are a great option if you have an older dog that still loves accompanying you for walks.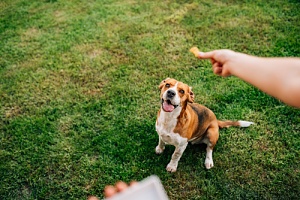 These treats are intended for training purposes and are bite-size. They contain only 3 calories per treat so you can actively reward your pup as you see fit without worrying about too many calories. There are no artificial flavors or colors in this treat. In addition, there is no corn, soy, dairy or wheat.
If you have additional questions about which dog treats might be right for you dog, reach out to Paw Pals for more information. There, you can determine which are the best dog treats are for your dog's individual needs and offer advice to help ensure all your walks with your dog as as enjoyable (for the both of you) as possible.