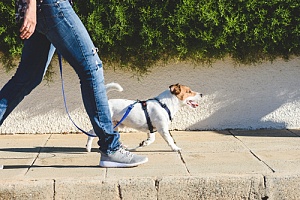 Walking your dog outside on hot days can be harder on your dog than you realize. Whether you take your dog for a walk on one of those scorching hot mid-summer days or on an unusually warm day in the spring, do not assume your dog can handle it. We humans often assume, mistakenly, that dogs are born to be outdoors and they can withstand weather extremes better than we can. However, you may be surprised to learn that you may be better equipped to tolerate extreme heat than your dog. Heat stroke is sadly not uncommon in dogs and unfortunately, it can be debilitating and lead to death.
As a responsible dog owner, you need to know how to protect your dog from heat stress while you are out on walking in Virginia. Here are five tips to follow:
Walk Early Morning or Later in the Evening
Most people walk their dogs in the morning and again before or after dinner. Try to take the walk at a time when you can slow it down and give your dog time to explore at a leisurely pace rather than a rushed, business-like pace. Go before 9:00 a.m. and after 6:00 p.m. to avoid taking the walk during the hottest time of the day. Not only will your dog be more comfortable, so will you!
Beware of Hot Surfaces
Be careful walking on hot surfaces. Take off a shoe and walk on it with your bare feet. You are likely to find that asphalt and sand will burn your feet. If the surface is too hot for your feet, it is too hot for your dog's paws. Other hot surfaces include certain kinds of masonry and crushed stone. Be sure to test it before having your dog walk on it.
Keep Your Dog Hydrated
Proper hydration is critical for dogs and humans alike, especially during summer weather. Although some parks are equipped with dog-accessible drinking fountains, it's best not to rely solely on that. Sometimes those fountains are not operating or they are filthy. Always take water and a collapsible bowl with you and offer it to your dog regularly.
Find Some Shade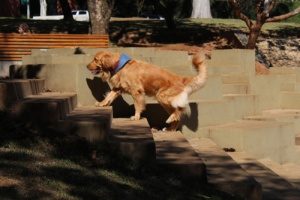 Walk on the shady side of the street, or on a shady path if you can. Better yet, plan a walk that allows you and your dog some time to rest in a shady spot.
Shade is especially important if you have a dog with a dark coat. Black and dark coats will absorb heat from the sun very fast, which puts your dog at severe risk of heat stroke if it cannot find relief from the sun. Keep this in mind if you take your dog to the beach, where shade is scarce. Try to get the dog into the water to cool it down. If the dog will tolerate it, consider putting a large white t-shirt on the dog to reflect the sunlight.
Accommodate Your Dog's Specific Characteristics and Condition
Your dog's ability to handle heat depends on its individual circumstances. A dog's breed, overall health and its age are factors that you must consider before you subject your dog to a long walk in the warm weather.
With regard to breed, many flat-faced breeds, such as French Bulldogs, English Bulldogs, Boxers and Pugs, have respiratory issues due to the shape of their skulls. They have been bred to have shortened muzzles, which usually makes breathing and panting more difficult for them. Hot weather can be quite dangerous for these breeds because they have a harder time keeping themselves cool and oxygenated. If you own a flat-faced dog, you must protect it against overheating by keeping their hot weather walks very short.
If your dog has not yet shed its winter coat, it will soon be overheated on an earlier than usual warm spring day. Treat the situation just as you would when you take your dog out in the middle of summer.
Other conditions that can exacerbate overheating include obesity, allergies and older age. Overweight dogs, dogs with allergies, dogs with health issues, or senior dogs also need shorter walks in hot weather.
Know the Signs of Overheating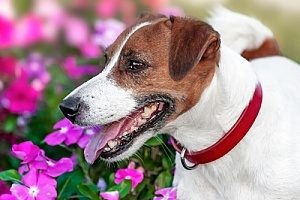 Dogs do not vent their body heat by sweating. They vent their body heat through their mouths when they pant, so when your dog pants it is trying to expel excessive heat. When your dog is beginning to overheat, it will begin panting and may seek shade. Early signs of heat stroke include very rapid panting and excessive drooling may occur when panting isn't enough. Your dog may begin walking slower, try to lie down or seek shade. You need to recognize these signs and get your dog immediate relief from the heat.
Contact the Dog Walking Experts at Paw Pals for more information
Heat stress is a real risk for your dog. If you think you may be unable to walk your dog safely during the hot weather, contact the experts at Paw Pals for help. Their dog walking professionals know how to walk a dog that will minimize the likelihood of overheating, how to recognize the signs of heat stress and other health emergencies and how to take emergency action. For more information about their professional pet services, contact Paw Pals.