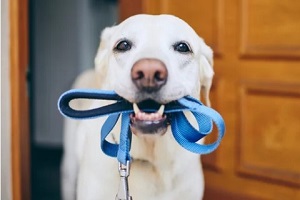 As we move further past the COVID pandemic, more adults are returning to work. While this is a great thing for society as a whole, it leads to many adults having to leave their dogs alone during the day. The sudden change in routine can become hard on a dog and lead to many negative feelings and emotions, along with potentially compromising the dog's physical health. Fortunately, there is a simple solution — midday dog walks from a professional dog walker.
In this review, we look closely at the importance and benefits of midday walks for your dog while you and your family members are at work and school.
Lonely Dogs May Develop Social Anxiety
Dogs form strong attachments to people within their homes, and they are social creatures who enjoy interacting with others. The longer you are away from your dog the higher the likelihood they begin to feel lonely and anxious for your return. This can lead to the development of social anxiety and other mental health problems.
If left unresolved, the mental health issues could contribute to physical health concerns later in their life. You may also notice a change in the dog's behavior if they are alone for an extended amount of time each day. The good news is that midday dog walks from a professional dog walker and pet sitter do wonders to alleviate (and eliminate) social anxiety.
Midday Walks Can Help Improve Your Dog's Mental Health
Midday walks help prevent many of the negative feelings dogs experience when they are alone during the day, such as depression, anxiety, aggression, and hyperactivity. Some of the more notable mental health benefits of midday dog walks include but are not limited to:
Helps dogs to remain calm and comfortable throughout the day, particularly when they are alone
Greatly reduces the risk of separation anxiety and sadness
Helps ensure your dog does not chew, scratch, or gnaw their paws or your furniture, carpet, etc.
May help to reduce the aggression in your dog (if they are showing signs of aggression)
Allows your dog to become better socially around other dogs and people
Helps ensure a dog is able to transition smoothly to a new daily routine if and when you return to work
Midday Walks Help Improve Your Dog's Physical Health
A midday dog walk helps improve your dog's physical health as well as their mental health. Like humans, dogs also need daily exercise to remain in good physical health.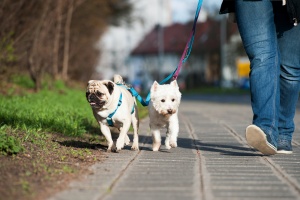 A simple 30-minute walk a day can do wonders in helping your dog remain in good health long-term. Notably, the physical benefits of daytime dog walks include:
Improved heart health
Increased lung strength
Better bone and joint health
Helps maintain a healthy weight
There are many additional physical benefits associated with dogs who maintain a healthy weight. Notably, they have a reduced risk of diabetes and other weight-related conditions, and they live longer lives on average than dogs who are overweight and not physically active.
The Downsides to Dog Crating
Many adults place their dogs in a crate while they are gone all day to prevent the dog from chewing, scratching, or clawing property in the home. Additionally, there is a misconception that dogs relax more when they are in a crate, and they are more likely to sleep and feel comfortable in a crate.
However, in far too many instances, this could not be further from the case. According to PETA, crated dogs can become depressed, withdrawn, aggressive, hyperactive, and even develop eating disorders as a result of social isolation and lack of exercise and movement.
Midday dog walks present a much better solution. The walk allows the dog to enjoy the daily exercise and sunlight they require, which helps prevent them from tearing up your home while you are gone and allows them to feel comfortable and calm until you return.
What to Expect From a Professional Dog Walking Service
A professional dog walker can pick your furry friend up for an afternoon or evening stroll while you (and your family) are away at work or school.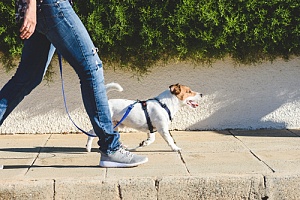 Most walks last around 30 minutes; although, a customized schedule and route are always the best based on your dog's exercise needs, capabilities, and health. For instance, an older dog may only need or be able to perform a 10-minute walk, whereas an energetic young dog may need more time.
You are able to set your schedule up however is best to ensure your dog gets the exercise and social interactions you need while you are not there.
Need a Midday Dog Walker? Call Paw Pals Pet Sitting Today
Here at Paw Pals Pet Sitting, we offer midday dog walks in the Greater D.C. area. If you are in need of a midday dog walker and/or pet-sitting services while you are away, then contact us today.