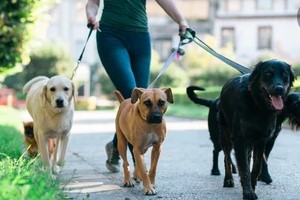 Responsible dog owners know how important it is that their dogs get a nice long walk every day. Dogs need that walk for their physical and mental wellbeing. Too often, however, the many demands on our time interfere with our ability to walk our dogs on a regular basis. One way to fix that is to hire a professional dog walking service. With a professional dog walker, your dog can get the exercise it needs while you tend to other obligations.
Know What You Need To Ask Your Prospective Dog Walker
Hiring a dog walker can take a lot of stress off of you and your dog if you hire the right service. Preferably, you will hire a professional who you can trust to handle your dog correctly, who knows how to manage dogs and who can recognize the signs that your dog may have a health issue and what to do about it. To find such a person, here are the questions to ask before you hire them:
1. Are you bonded and insured?
A professional dog walker should have a business license. To get a business license, they need to be bonded and carry liability insurance. That shows that the dog walking service is financially responsible and is likely to provide its services in a professional manner. Ask to see proof of their insurance.
2. Do you run background checks on all of your dog walkers?
If you are hiring a service that may use multiple dog walkers, make sure they do background checks on all of them to help ensure that your dog and your property will be safe under their handling.
3. How much experience does the dog walker have, and is this a full-time job for them?
Depending on the level of experience your dog may need, make sure your dog walker will be able to manage a variety of situations. If the person does this on a full-time basis, the person likely has a lot of experience with dogs or at least has had some professional training in dog handling.
Anyone who will be walking your dog should have training in basic care and dog behavior. The experience should be beneficial for your dog and be a way for your dog to get regular training or to keep up with the training it already has.
4. Do they have a professional contract or service agreement?
A professional dog walking service should have you sign a contract. The contract should spell out the payment terms and specifics of what services will be provided.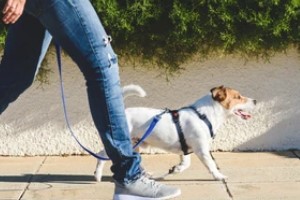 It should clearly outline such terms as the dog walker's inclement weather policy, set forth the minimum number of days notice required for schedule requests or charges for an additional amount for short-notice requests, and a cancellation policy.
5. Provide references.
Your prospective dog walking service should be pleased to provide you with several references. Be sure to contact them and ask them about their satisfaction levels and experience with the service.
6. What is their policy pertaining to safeguarding keys and access codes?
Make sure your dog walking service has a system for organizing owners' keys and that they are securely stored. If you will be using access codes instead of keys, find out how that information
is kept.
7. What are the protocols if your dog needs emergency medical care?
This is important to know, especially if your dog has health issues of any kind. Being comfortable with how your dog walker will handle an injury or a dog that becomes lost is among the most important considerations in hiring a dog walking service. Ideally, the dog walker will want your vet's contact information and your emergency contact information.
8. What is your procedure for handling an unruly or misbehaving dog?
If the prospective dog walker uses negative reinforcement (i.e., punishment) to manage your dog, you may want to pass on that individual. If your dog has unusual behavior issues, you may need to work through those issues with a professional trainer instead of a dog walker.
Most dogs will act upon occasion, and in those moments, you want to know your dog is safe with your dog walker. You should find a person who knows that the best way to correct misbehavior is by redirection, or refocusing the dog's attention, and then positive reinforcement with praise or treats.
9. Are you a member of any professional dog walking or pet sitters' organizations?

Memberships in these professional organizations mean that your dog walker knows the importance of keeping up with training, networking, and meeting professional standards for those services.
Memberships are an excellent sign that your prospective dog walking service is serious about the services it provides.
Contact The Professionals At Paw Pals For More Information Hiring A Dog Walker
At Paw Pals, the dog walkers are trained in dog behavior, positive reinforcement training techniques, and rendering emergency first aid if a pet is injured while in their care.
They are licensed, bonded, and insured and adhere to the highest professional standards for taking care of your dog. Contact them today for more information about their services and to schedule an interview.