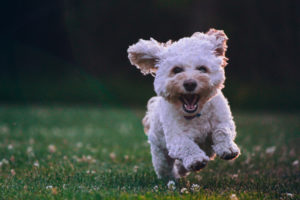 If you notice your dog stumbling or staggering when it walks, take notice. Staggering can be a sign of something more serious. So, why is my dog stumbling when walking?
What Does Staggering Look Like?
Staggering is a pronounced, imbalanced movement.
When your dog staggers, it looks as if your dog is intoxicated from drinking too much. Your dog will seem uncoordinated and unable to walk in a normal, balanced way. Your dog may even stumble and fall down. When you see it, you will know right away that something is wrong. You should consult with your vet immediately if your dog suddenly begins to stagger.
What Causes A Dog To Stumble?
Staggering is commonly the result of a condition, called vestibular disease, that affects your dog's balance. When the vestibular disease affects the nerves that connect your dog's inner ear to the brain, it leads to a loss of balance and often creates other symptoms as well.
Vestibular disease commonly results from one of the following five conditions, which make up the condition called "peripheral" vestibular disease:
Ear infection — Inner and middle ear infections can cause your dog to stagger when the infection irritates the nerves that connect the inner ear to the brain.
Perforated eardrum — If you clean your dog's ears too aggressively, you can damage your dog's eardrum and surrounding nerves, causing your dog to stagger. It can also cause hearing loss.
Trauma to the head or neck area — A head injury suffered by your dog that damages the nerves connecting the inner ear to the brain can result in vestibular disease.
Tumors — A tumor growing on or near the nerves connecting the inner ear to the brain can cause imbalance.
Certain medications — Certain medications, such as metronidazole, can be toxic to your dog's ears and cause vestibular disease.
Other conditions can cause your dog to stagger, too. Though these conditions are less common, they are just as serious and require attention by your vet. These make up the condition called "central" vestibular disease and include:
Inflammatory disease
Infection
Injury or poison
Stroke, or bleeding in the brain
Loss of blood flow
Cancer
What To Do If Your Dog Is Staggering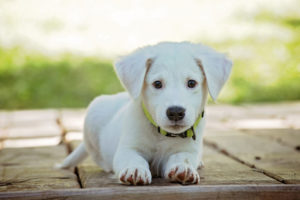 The first thing you need to do is try to determine what is causing your dog to stagger. You will likely need to get your dog to a vet for an examination.
Physical Exam
Be prepared to describe any symptoms you observed — when you first noticed them, their frequency, and any facts and circumstances that may point to a traumatic injury to your dog's head, neck, or back. If your dog has been on any medication, you will need to provide that information, too.
Tests
Your vet will probably need to test your dog. Testing may include an MRI of your dog's ears, a brain CT scan, and radiographs. Depending on the circumstances and the results of the vet's physical examination of your dog, the vet may want to conduct a CSF (cerebrospinal fluid) analysis to help diagnose any infectious or inflammatory disease. Another test the vet may want to perform is a BAER (Brainstem Auditory Evoked Response) to help evaluate your dog's hearing channels and pathways.
Diagnosis
Based on the vet's physical examination and the test results, your vet can confirm that your dog is experiencing vestibular disease. The vet will then determine whether it is peripheral or central vestibular disease and determine the underlying cause of it.
With peripheral vestibular disease, your dog may exhibit normal levels of strength, a normal mental state, and demonstrate some cranial nerve deficits. With central vestibular disease, however, the vet may observe that your dog has limited awareness of one side of its body; it may be paralyzed unilaterally, display an altered mental state, and experience deficits in its cranial nerves.
Treatment
Once your vet determines the cause of your dog's vestibular disease, the vet will recommend appropriate treatment. Whatever treatment is necessary, you will need to provide appropriate supportive care. Any one or more of the following supportive care techniques may be recommended by your vet, depending on your dog's condition:
Intravenous fluid administration in cases where your dog is dehydrated.
Medication to alleviate nausea and prevent or minimize vomiting.
Medication called propentofylline to help your dog compensate for vestibular damage.
Antioxidants and essential fatty acids which will boost your dog's ability to heal.
Best Way To Prevent Dog Stumbling
Providing your dog with good care is the best way to prevent staggering. It means feeding your dog a healthy diet designed for dogs, providing fresh water at all times, providing basic obedience training, and giving your dog daily walks and plenty of exercise. When you walk your dog, use a leash and keep the dog under supervision to minimize the chances of trauma. Keep up with your dog's medical condition by getting annual examinations by your vet and early treatment when health issues arise.
Working With The Dog Walking Experts For Help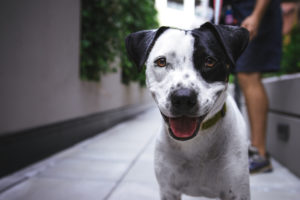 Recognizing that your dog is staggering and seeking immediate veterinary care is important to treating the condition and improving your dog's ability to fully recover from it. The dog care and dog walking professionals at Paw Pals are trained to recognize staggering, along with many other symptoms, and to seek help. The Paw Pals professionals are also experienced in helping owners with dogs that need special care when the owners are away. Contact them today for more information about their dog care services.