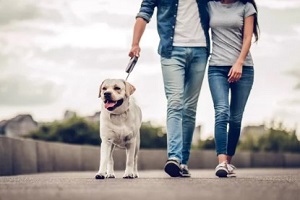 You can help ensure your dog has a great experience on their walks this year by taking steps to prepare and learning more about what dogs enjoy. In this review, we highlight several tips for getting the most out of your dog walking trips in 2023.
Choose a Comfortable Collar and Leash
Choosing a comfortable collar and leash is a great first step to take. This helps ensure a fantastic experience for your furry friend. Your dog's collar should fit snug so that your dog does not slip out of it. However, it should not be too tight, as this could lead to an uncomfortable experience for your dog.
The leash should also have plenty of length so as to provide your dog with plenty of freedom while they are on the walk. An adjustable collar is a nice choice as it makes your job as the walker much easier as well.
Make Sure Your Dog Has an Identification Tag
You should also ensure your dog has an up-to-date identification tag that states their name and an active phone number to call in case the dog is lost and found. This provides peace of mind that you will quickly find your dog if they get away from you during the walk.
Allow Your Dog the Opportunity to Explore
You want to keep your dog safe, but you also want to provide them with the opportunity to simply be a dog and explore. Allow them room on their leash to sniff and use their natural senses. This also helps them release more energy and allows them to feel better, calmer, and more relaxed throughout the rest of the day.
Bring Food and Water With You on Longer Walks
Dogs get very excited on walks and can quickly wear themselves down. By simply bringing water with you on longer walks, you can help them feel more comfortable and energized.
Reward Good Behavior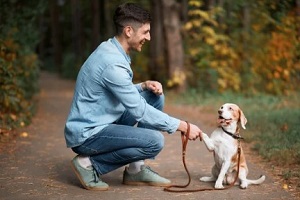 Although you should provide your dog with plenty of space and freedom to explore, you still want them to listen to you when necessary. Use positive reinforcement techniques to encourage them to behave while on walks.
For example, if your dog passes another dog in the park and does not bark at them, then you can reward your dog with one of their favorite treats.
Check the Weather Forecast Before You Leave
It is never fun to get stuck in the rain while on a dog walk. To avoid this, check the weather forecast before you leave. If there is a high chance of rain or snow, then stay near your house or car or wait until the weather forecast is more favorable.
Stay Away From High-Traffic Areas
High-traffic areas are dangerous and disturbing for dogs. Therefore, we recommend staying away from highways and busy roads where your dog may feel stressed by all the fast-moving cars. Instead, find a quieter area such as a park or walking trail.
Keep a Close Eye on Your Surroundings
It helps to always keep a close eye on your dog's surroundings. If there are any potential dangers, such as other dogs or animals that may be aggressive, then you can take action to prevent anything negative from occurring.
Bring the Proper Supplies With You
There is nothing worse than your dog going potty only to discover in the moment that you do not have any waste bags. To avoid this from happening and to ensure you are a responsible dog walker, prepare your supplies ahead of time.
You can create a list of items you want to bring, such as water supplies, your dog's favorite treats, waste bags, and a backup collar and leash. Store all of the items in an easy to carry bag, such as a small backpack.
Keep the Walks Fun and Mix Up Your Routes
Dogs like routine, so you do not always need to change the route. However, you can provide additional stimulation and excitement for your dog by taking them to new areas every once in a while.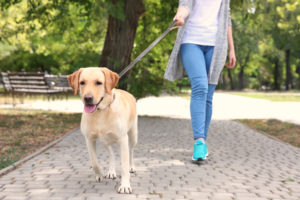 Also, consider adding in fun things for your dog to do on their walks. For instance, if you have a friendly neighbor that loves your dog, then you may stop by and allow your dog to see them on your route.
In other cases, you can take them to the dog park and let them explore off their leash. Every dog is unique, so find what they enjoy and let them have fun.
Contact Paw Pals Pet Sitting Today
Paw Pals Pet Sitting offers dog sitting and dog walking services. If you would like to learn more about our dog walking and pet sitting services, contact us today. We are glad to answer your questions and help you put together the best possible arrangement.