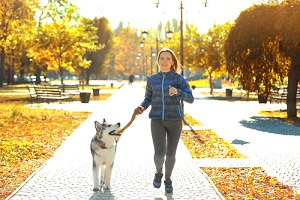 Taking a walk with a dog that has been trained to walk politely on a loose leash is one of the most enjoyable activities you can do together. On the other hand, if you have a dog that has no leash manners, lunges at distractions and nearly pulls you to the ground, it's no fun for either of you. If that describes your dog, it's time for you to teach your dog some basics.
Keep It Positive With Clicker Training
A great way to get started with positive leash training is to use an inexpensive clicker. You can purchase a clicker from your local pet supply store or online.
The first step is to get your dog familiar with the clicker. Familiarizing your dog with the clicker is simple. Begin in a familiar environment without distractions such as your living room.
Hold the clicker in one hand and several small treats in the other hand. Click the clicker once and immediately give your dog a treat with your other hand. Repeat: Click then treat. Click, treat. Very quickly, your dog will associate the clicker with the treat and will begin to expect a treat when it hears the clicker. (You can find instructional videos online for more direction on how to use it most effectively.)
Next, ask your dog to sit. As soon as your dog's rear touches the ground, click and then immediately give it a treat. Repeat a few times. Your dog will soon realize that the clicker is an affirmation that it has responded properly to what you asked. The unique sound of the clicker provides a clear and consistent sound for the dog that says, "Yes, you did what I wanted!" The treat says, "Good dog!"
It is important that you and others in your household refrain from playing with the clicker or the sound of it will lose its effectiveness for your dog.
Use The Clicker To Teach Your Dog How To Walk On A Loose Leash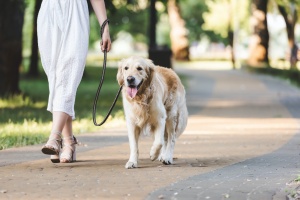 After a few days of basic clicker training, you can use it to teach your dog good leash manners. Ideally, you want your dog to walk on a loose leash. So, before you get started, spend some time playing with your dog to help it burn some energy. When your dog is able to focus, you can start leash training.
The first step is to realize that all dogs pull on a tense leash. Pulling is a natural reflex response. If you make the leash tense, your dog will only pull harder.
Start with a regular, non-retractable leash. Retractable leashes keep tension on the leash, which encourages your dog to pull. Your dog needs a leash that will be loose. Also, pick the left or right side as the side you want your dog to walk on. Get your dog accustomed to walking on a certain side to help teach it to walk on a loose leash.
Attach the leash to your dog and have the dog sit on your preferred side, facing forward. Have your clicker in your other hand. Select a cue to tell the dog to walk, such as "walk!" or "let's go!" Then take a step forward. When your dog follows you, click it.
As soon as your dog pulls ahead or puts any tension on the leash, simply stop moving forward. Do not move forward. When your dog turns back to see what happened to you, the tension in the leash relaxes. Immediately click and praise the dog for paying you some attention.
Call the dog to return back to you, and if needed, take a few steps backward. As soon as the leash gets slack, click and then begin moving forward again. When you feel tension on the leash again, stop, absolutely refuse to take a forward step, and repeat the sequence.
Most dogs eventually will realize that pulling is futile and the tension means to slacken the leash. But some dogs may just keep pulling on you and straining even after you have stopped for a few moments. If that happens, you should turn abruptly away from your dog and walk the other direction. By turning away from your dog, you will bring them around to you.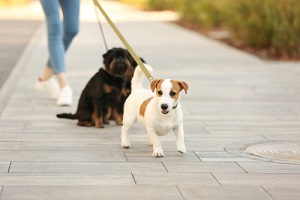 The direction change will put your dog off balance. Most likely, your dog will turn toward you and try to catch up. Notice that at that moment, the leash will be loose. Click the dog to tell it that is where you want it. Keep praising the dog while the leash is loose and as you walk in the other direction with your dog in the position you want it.
If your dog pulls again, repeat the turn-around-and-go-the-opposite-direction. With time, consistency, and diligence, your dog will learn to walk nicely on a loose leash. In addition, loose leash training will help you more easily manage your dog when it encounters strangers or other distractions.
Contact the Dog Walking Professionals at Paw Pals
Your dog needs a long walk at least once a day. It needs the exercise and the mental stimulation that only a walk can provide. Make sure your dog gets its walk even on days you can't do it with the help of the dog walking pros at Paw Pals. They can be there for your dog when you can't, and they can help you with your dog training and any dog or other pet care needs. Contact them for more information about their services.