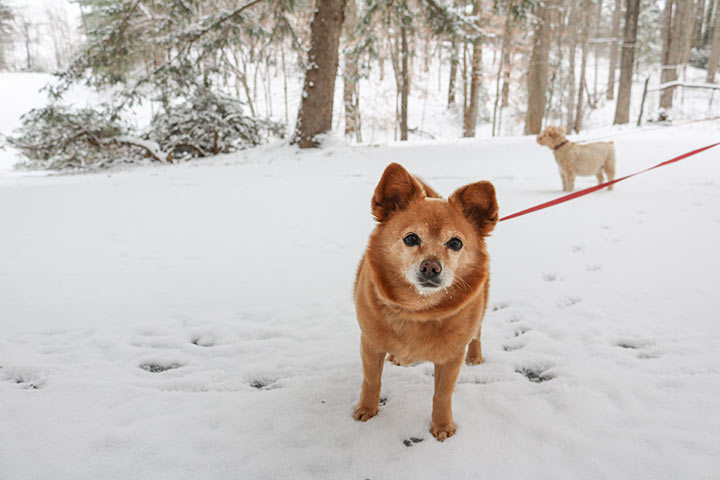 Walking a dog is great exercise for both human and canine alike. In most cities and towns, dogs must be leashed in public, whether they are in a neighborhood, on a trail or at a park. Even if your local government doesn't require a leash, it can be a necessary safety measure to protect your dogs from cars, other animals or running away. So, how do you train your dog to walk on a leash?
How to Train Your Dog to Walk on a Leash
While it may seem easy, training your dog to walk on a leash can actually be quite challenging depending on your pup's temperament. The key is to take it step by step, slowly introducing each new phase to help your dog fully master one skill before moving onto the next. Read on to learn how you can train your puppy or dog to walk on a leash.
Acclimate Him to the Gear
One of the first hurdles in training a dog to walk on a leash is that he or she may not enjoy having a leash, collar or harness on his body. To help your dog get past this discomfort, start by putting on the leash or harness for short periods of time while at home. Let your dog play and give her treats while wearing the gear. Over time, the leash or harness will not feel so uncomfortable, and will come to represent having fun and getting treats.
While your dog is wearing the harness or leash, you can start getting him to come to you and to pay attention to your commands. Use a cue, such as clicking your tongue or saying a short word (such as come). Reward your dog with a treat for each time he comes to you, building up to being able to come to you without the need for a treat. Practice this inside before moving outdoors, where there will be more distractions.
Use Positive Reinforcement
Once your dog is able to come on command and wear a leash, collar or harness comfortably, then you can start practicing going on walks. Start by going on short walks around your neighborhood, keeping your attention focused on your dog. Stop your dog with your cue or command word, getting him to come to you to keep him on task.
If your dog pulls on the leash, eager to explore, you can stop walking to force your dog to come back to you. This will hopefully train your dog to not pull on the leash, as he will learn that doing so will lead to you standing still and waiting for him to come back. If your dog does not respond to this technique, you can purchase different types of harnesses and collars designed to stop your dog from pulling on the leash.
Some dogs may bark while on a walk, particularly if they see other dogs or people. Making sure that your dog has sufficient exercise can help to control this problem, as it may result from lack of exercise. However, if your dog continues to bark despite getting plenty of time to run and walk, you can cut off the behavior by moving away from things that tend to cause him to bark and by offering treats before he starts to bark. In this manner, you can reinforce positive behavior — treats for not barking — and hopefully break this habit.
Similarly, if your dog tries to go after other animals, people or objects while on a walk, you can try the same technique. Be alert for things that may cause your dog to lunge, such as a squirrel on the grass in a park. Walk your dog away from the squirrel, and offer him a treat for walking obediently beside you instead of going after the animal.
The key to effective leash training often lies with rewarding the behavior that you want and distracting your dog from things that may cause bad behavior. Praise your dog for walking nicely, without pulling, lunging or dancing around, or offer him a treat. You can also keep the leash short to encourage your dog to walk alongside of you, rather than dashing ahead or running around you. With consistency and time, you can train your dog to walk on a leash.
Dog Walking Services
Once you have trained your dog to walk on a leash, a pet care professional can help make sure that your dog keeps those good habits and gets plenty of exercise every day. A dog walking service can provide regular walking services for your dog throughout the year. Contact Paw Pals today to learn more about our pet care services!