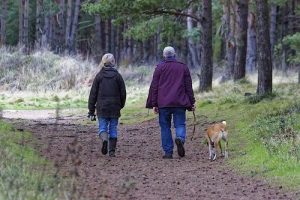 Anxiety is the anticipation of unknown or imagined future dangers. During a walk, an anxious dog may show anxiety by trembling, excessive barking or crying, aggression towards other dogs or humans, excessive panting, urination and/or bowel movements, tail-tucking or a combination of these behaviors. If not properly managed, the anxiety can quickly escalate to fear and panic.
Why Are Some Dogs Anxious?
Anxiety in dogs can be caused by a variety of factors. Some breeds, and even some individual dogs, are more prone to anxiety than other dogs. Some of the common causes of anxiety in a dog include:
Over facing; that is, being forced into an unfamiliar and frightening experience.
Isolation as a young puppy; that is, deprivation of appropriate social and environmental exposure until 14 weeks of age.
Being locked in a crate or room, or unable to escape from a situation that causes fear or panic.
Separation anxiety, often brought on by abandonment, having multiple owners over time, being rehomed or history of feeling neglected.
Illness or physically painful condition.
Aging process.
Anxiety levels in an already anxious dog will increase with an illness or painful physical condition.
How to Help an Anxious Dog While on a Walk
The first step to managing your dog's anxiety is with the help of your vet. Your vet will evaluate your dog to rule out other conditions that might be causing anxious behavior. Certain disorders, such as brain, thyroid or adrenal disease, can increase anxiety levels. Also, a blood test will determine the existence of any other underlying medical conditions.
Depending on the severity of your dog's anxiety, your vet may prescribe some anti-anxiety medication to manage it. The vet may have some other management tips for you as well.
Once you are certain your dog's anxiety is emotional and/or psychological, there are a few things you can do to keep the anxiety low while you take your dog for a walk. Anxious dogs, like any other dog, need the physical exercise of a walk. You can make the experience pleasant for both you and your dog by following some basic guidelines:
Know Your Dog's Triggers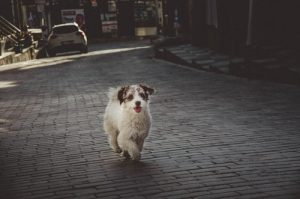 Understanding what triggers your dog's anxiety can help you help your dog control it. If your dog is afraid of strangers or intimidated by other dogs, don't walk the dog in a busy area. Instead, walk in a place or a time where you can avoid encountering strangers or other dogs. If you force your dog into walking in busy areas, you are setting up the possibility that your dog will be afraid to go for a walk at all.
If you must walk in a busy area, be sure to keep your pet close to you. Try to avoid approaching strangers or dogs by crossing the street if needed.
Treats Are A Good Distraction
You must avoid punishment for behavior related to fear, phobia or anxiety. Punishing a dog that is barking due to anxiety simply confuses the dog and heightens the dog's fear and anxiety levels. Instead, invest in a large treat bag and carry lots of high value treats.
Treats that are lickable (peanut butter, soft cheese, mashed banana) are a good choice because licking is soothing to dogs. Another good choice may be chicken jerky because it is not messy and it is made of pure meat. The most effective treat will be whatever your dog loves most. For some dogs, a ball or a toy works just as well.
At the first sign of anxiety, distract your dog with a treat (or toy) before the anxiety level gets high. Continue to move past the anxiety-causing stimulus while continuing to offer your dog treats. Don't stop or slow down to treat the dog – you want to move past the scary object quickly and without incident. With time and consistency, your dog's anxiety levels may be reduced.
Keep Walks Brief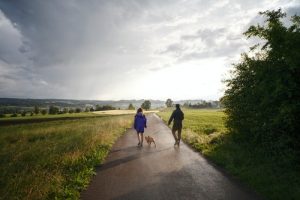 If you know your dog is uncomfortable on a walk, don't overstress it by making it go for long periods of time. Keep the walk short and sweet and keep the pace on the high side. Moving quickly will help your dog expel some of its anxious energy and your dog will be reinforcing its flight instinct. Give lots of treats at the end of the walk.
Make It Routine
Once you find a route that avoids whatever triggers anxiety in your dog, walk the same route as often as possible. Your dog will relax when it knows what to expect. The routine may be boring for you, but it is very comforting for your dog.
Use Properly Fitted, Secure Equipment
An anxious dog will have a heightened fight or flight instinct. It is very important that you use a leash, harness and other appropriate equipment designed to keep your dog and you both safe and secure.
Work with a Reputable, Professional Dog Trainer
A professional trainer will show you techniques to use to manage your dog's particular anxieties. The techniques will help you create a positive association with former fears in the mind of your dog and teach you how to teach your frightened dog to walk on a leash with confidence.
Contact PawPals For More Tips on Walking an Anxious Dog
An anxious dog can be challenging to walk if the human is unable to manage the situation. The professional dog walkers at PawPals are experienced in handling anxious dogs and are available to help you with your own situation. They are also available to walk your dog for you on those days when you cannot. Contact them today for more information.