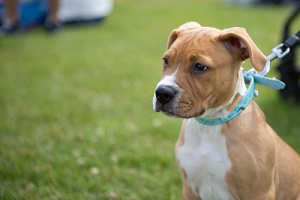 All dog-owners are intimately familiar with the unique relationship they have with their pet. They don't say dogs are 'man's best friend,' for no reason, after all. Because of this, dog owners are often more than willing to show their love for their pet. Whether it is special treats, taking your dog for long walks, or finding the perfect collar for their personality, you want your dog to know they are loved.
This has led to a ton of different options for unique dog collars, both online and off. It seems like everywhere you look you can find really unique, adorable dog collars for sale. The Internet has made this even more prevalent, with artisans and small businesses now able to sell their special and custom collars worldwide. In this post, read about the benefits of custom dog collars and explore a few of your best options.
Why should I get a special collar?
Dog collars have two unique benefits: One, they help you dog show off (no doubt), and two, they make it far easier for them to spot. Certainly, your dog will also look amazing in these high fashion collars, and finding ones that compliment their specific breed and color, can make them a certain showstopper. Moreover, having a unique collar can help your dog stand out from the pack, making it easier to find them if they should ever run off or get lost.
Where do I find unique dog collars?
There are a lot of options available for finding that perfect dog collar, so many, in fact, that it can be difficult to find the best one. Below is a list of some of the best options we've found available online, so that you can get to ordering and back to playing with your best friend.
Mimi Green
One of our favorite places for designer dog collars is Mimi Green. They have collars made from a variety of materials, so even if you have a sensitive pet you will find something that they love to wear. Every single collar one of Mimi Green's collars are handmade, and they sell an abundance of styles including classic collars, nylon webbing, velvet collars, laminated cotton, leather, reflective collars (for night walks), canvas collars, and even linen. They come in a wide variety of colors and patterns, and can even personalize them for you with engraved nameplates or hand embroidered stitching. They also breaks down collars by specialized needs, like puppies, wide collars, service animals, waterproof collars, and more.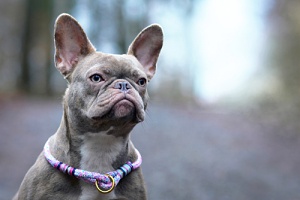 Also keep in mind that all of Mimi Green's collars can be turned into Martingale collars, which are no slip dog collars that won't allow your puppy escape. These are made for breeds that have larger necks and smaller heads, like greyhounds, whippets, and terriers.
Handmade MKE
If you love high fashion, glitter, and glamour, consider Handmade MKE collars. Theirs are so beautiful that you could even make your dog your ring bearer at a wedding, outfitting him in a beautifully stoned bow collar!
All of their collars would be equally gorgeous on human arms, necks, and heads as a bowtie, bracelets, and chokers. They use pearls and rhinestones to make each design. Whether you want a straight band or a braided design, rainbow beads and embroidery in beach patterns or braided and woven gemstones befitting bridal tiaras, these dog collars are absolutely stunning!
If It Barks
Another great company is If It Barks. Like Mimi Green, they offer a wide variety of materials. In fact, their line even includes help collars, reflective waterproof collars, and glow in the dark waterproof collars so you can find your lost pet in any situation or see him on night walks! All of their collars can be personalized with your dog's information. Their patterns include polka dots in nearly every color, denim ginghams, camo colors, geometrics in bright designs, bumble bees on baby blue, geometric bow ties, inherit sunlight and shadow patterns, plaids, retro circles and designs, and more!
Diva and Dudes Collar Company
Diva and Dudes make some great collars. Their inventory is full of patterns, including plaids, stripes, and unique fabrics. Many of their designs are reminiscent of Vera Bradley or the Rifle Paper Company. They even have collars for the nerd in your family – galaxy patterns, Star Wars, and more! If you want your pet to look fancy for the holidays, they also have holiday collars.
Puppy Bumpers
This is an extremely unique collar that blends aesthetics with practical purposes. Puppy Bumpers keep your dog from fitting through small spaces. This lets you put your dog in your fenced backyard to play without worrying about whether he will slip right through your fence posts! These pillowed collars are adorable, comfortable for pets to wear, and practical.
Link AKC Smart Collar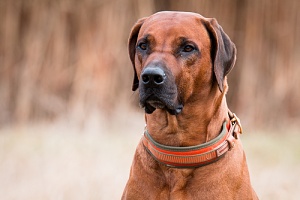 In our world of GPS tracking and smart monitoring, it was only a matter of time before a company gave our dogs the same treatment. Link AKC has created an attractive smart collar for your dog that can track their location, activity, vet records, temperature, and more. Link AKC utilize a monthly service charge, but if you are willing to spend the money to monitor your pet, this is a great option!
Hot Dog Collars
If you want variety, check out Hot Dog Collars! They have over 40,000 styles and sizes of collar and nearly as many ways to browse. You can shop by theme, type, material, category, dog breed, color, or more to find exactly what you're looking for.
Buckle Down
Buckle Down products are amazing and fun. Your dog's collar will be super unique when it is made out of this seatbelt!! With a variety of conventional and pop culture designs featuring super-heroes, Disney characters, and more, you can find a collar perfectly suited to your needs, and thanks to the steel and polyester design, they will also be extremely durable.
Conclusion
Now that you've found a great collar for your dog, make sure that all their other needs are met. Whether you need a dog walker or a dog sitter, Paw Pals has a dog lover ready to spoil your pet while you are away!