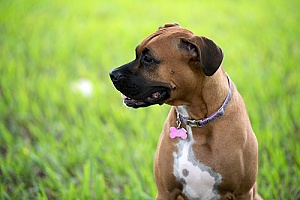 Training your dog? If you are in the market for a dog training collar, you are probably at the end of your rope. You have questions. You have concerns. You have doubts. Are dog training collars safe? Do they work? How do I know what to buy? What if it doesn't work? Don't worry, you've come to the right place. In this article we will briefly discuss some of the benefits of dog training collars and what to look for in a great one. Then we will review a few of the top collars on the market so that you choose the best for your best friend.
Are Dog Training Collars Safe?
Training collars today are not like the ones used in the past. Gone are the days of high shock settings and unpleasant spasms. Now, they deliver just enough of a jolt to be just enough unpleasant to stimulate a response, but not to hurt. In fact, if you have ever received an electric massage at your chiropractor, the shock isn't much more than that.
Even better, not all training collars deliver a shock. Some use a loud sound or ultrasonic tone, vibration, or scent, all of which can be "unpleasant" without delivering harm, while still signaling to your dog that their behavior is bad. Other types of non-electric styles of training collars include: prong, martingale, harnesses, and head collars. Just be sure to read up on what works with your dog before you buy them a collar.
Do Training Collars Really Work?
Dog training collars have been proven effective to limit excessive barking and aggressive behavior, and they are great tools for keeping your dog on your property. One caveat, though: if your home has multiple dogs, or if there are other dogs nearby, turn down the sensitivity of your dog's training collar. You certainly do not want it to pick up another dog's bark and inappropriately (and unjustly) punish your dog. Sending the wrong signals can often only make their behavior worse.
How to Shop for a Dog Training Collar
Again, before you spend any money on a collar, make sure that you're getting the right one for your dog and for your training needs. Think about your dog. How much training does he/she need? Do they just bark a lot, do they just run off, do they pull on the leash, or are they aggressive towards other people and dogs? Consider also the size of your dog. While one collar might be effective on a small terrier, it may not work on your large German Shepherd, and vice versa. Once you know what type and style you need that fits your dog, decide on a collar that fits your budget and that will give you the results you desire.
The Top Three Dog Training Collars on the Market Today
Mockins 100% Rainproof Electronic Remote Dog Training Collar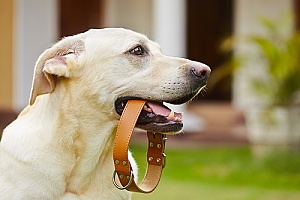 If budget is a concern for you, the Mockins Remote Training Collar is a great choice. It has all the bells and whistles of a more expensive model, but at a fraction of the price. Rechargeable and 100% waterproof, this training collar up to 100 levels of intensity and can deliver either a shock or vibration, each preceded by a warning tone. Many reviewers report that it is incredibly effective even at level 1, so you will probably never have to go any higher than that. This training collar can fit dogs weighing 15 pounds or more.
Pros:
Cheap
Effective training tool
Easily adjustable
Easy to use
Cons:
Battery does not last long
Higher shock settings are too strong
Educator E-Collar Remote Dog Training System
The Educator E-Collar uses "blunt" tapping stimulation rather than a full shock, which delivers a sensation similar to a vibration, but more intense. This is less stressful for dogs but can be just as effective. It also uses Pavlovian tone technology (pairing the sensation to an audible tone) to eventually train your dog to respond to the tone rather than the stimulation. Furthermore, the ergonomic controller is designed like a stopwatch which makes it easy to carry, and comes with a tracking light that helps you see your dog at night.
Pros:
Fits all dog sizes
Full charge in 2 hours
Tracking light for nighttime visibility
Cons:
Needs to be charged often
Collar is heavy
Ticent Remote Dog Training Collar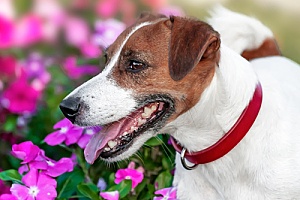 Another great budget-friendly choice, the Ticent Remote Training Collar is waterproof, rechargeable, has a range of over 1000 feet, and can dogs of all sizes. Moreover, you have the option of training with a beep, vibration, or an electric shock. The easy to read LCD display helps you to know what level you have set the intensity to and what simulant option you have chosen. It also comes with a 1-year warranty and 90-day money back guarantee.
Pros:
Great price
Fits any sized dog
Easy color-coded buttons
Bright LCD display
Waterproof
Cons:
Speak to Paw Pals For More Information
If traditional training methods ("STOP barking! Here's a treat! Look! A squirrel!) haven't been working, having a dog training collar can be a huge help to keep your dog's behavior in line. As we've seen, dog collars certainly have their benefits, but each one is different and what's great for one dog may not be the best choice for your's. Thus, it's important that before you buy, you do your research and decide on what your dog's needs and goals are. That can help you choose a collar that works for you and you dog, without spending too much on an expensive (and less-effective) collar.
If you need anymore information about dog training collars, or would like to look into our dog sitting services, feel free to contact the team at Paw Pals Pet Sitting. We are eager to assist you!