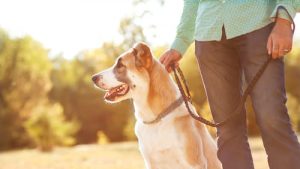 Looking for dog walking tips? Every dog owner should include walking a dog at least a couple of times each day as a regular part of their routine. Even if you are lucky enough to have a yard, do not make the mistake of assuming that outdoor time in the yard provides your dog with adequate exercise. Your dog needs a proper walk for its physical and its mental well-being.
In the eyes of your dog, each walk is an adventure. It gives your dog physical exercise, mental stimulation, and a chance to socialize with other dogs and humans. Best of all, it is a special time to bond with you. You can even make the walk more meaningful by doing some training exercises along the way.
Tips to Make Your Walk Most Enjoyable for You and Your Dog
As soon as you reach for your dog's leash, your dog will most likely react by becoming very excited about the prospect of a walk. With the dog's excitement level ratcheted up, your job as the owner is to manage that energy by keeping the walk fun but at the same time safe. Here are some important ways to do just that:
Divide Your Walk into Segments
During the first five or ten minutes of the walk, your dog will be most excited. Go at a slow pace. Give your dog a chance to expel some energy. Play fetch or other games with your dog. Let it sniff around and explore the surroundings. Refrain from requiring the dog to heel immediately, or stay or to submit to rigid obedience commands. Your dog will find it difficult, if not impossible, to heed your directions during the initial stages of the walk.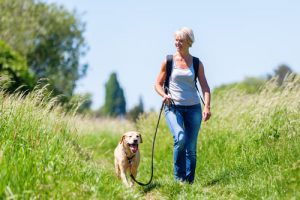 By giving the dog some time to satisfy its needs to play a little, explore the area, and announce its presence to the world, your dog will be better able to pay attention to you for the remainder of the walk.
Once your dog has shaken off some of its initial excitement about being outside, you will probably notice that your dog is more responsive to you and is willing to walk along with you. Now you are ready for the next segment of the walk. Encourage your dog to move forward with you with occasional pauses to sniff around and take care of business. This should be the part of the walk that gives the dog some physical exercise. Cover some distance and walk at a regular pace for a while. How long you walk depends on your dog's health, and that of your own.
On the return trip, you may find your dog slowing down. It may be less interested in sniffing the ground, and it may even lag behind you. These are indications that the dog is tired, so take it slow. On hot days, it may stop to rest in the shade.
Bring Treats
If your dog is easily distracted while on a walk, have some of its favorite treats on hand. Treats will enable you to refocus your dog onto you, and you can reward it when it does what you ask.
Bring Plenty of Water
Get in the habit of carrying water for your dog, especially on hot days. You can find portable water bowls at a pet supply shop or online. You don't want your dog suffering from heat stroke or drinking foul water that could be dangerous.
Watch Out for Hot Pavement in Summer and Icy Pavement in Winter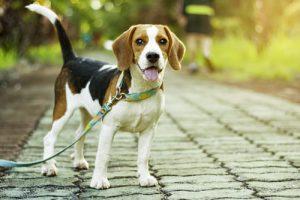 Pay attention to the weather and the conditions of the surface you are walking on. Your dog's paws will burn on hot pavement. In the winter, the ice and snow can cut those paws, and hard, irregular surfaces can cause injuries. Chemicals in snow-melting treatments, such as salt and urea, can also injure your dog's paws.
If at all possible, pay attention to the weather in Northern Virginia and avoid walking your dog on those surfaces. If you cannot avoid it, you can try using paw-protecting boots that are properly fitted. Some dogs need time to adjust to the way the boots feel, so give your dog plenty of time to adjust. Another option is to change the time of day that you walk, or drive your dog to another location to walk.
Ask Before Approaching Other Dogs
When your dog wants to greet another dog, always ask the other dog's owner permission before you or your dog approaches the other dog. Not all dogs are friendly to other dogs or strangers. Some dogs are "leash sensitive", meaning that they are more likely to respond negatively while on a leash if they feel threatened or annoyed by another dog.
Wear Reflective Gear in the Dark
Put a reflective collar on your dog for walking on dark nights. Oncoming traffic needs to be able to see the dog, especially if your dog escapes from you.
Always Pick Up Poop
Most dog owners know that local ordinances require them to clean up after their pet. Nonetheless, a surprising number of dog owners fail to comply. Not only is dog poop stinky and disgusting, it is a vector for the spread of parasites and diseases. Picking up your dog's poop and disposing of it properly helps protect the health and wellbeing of everyone.
Get Help from the Dog Walking Experts at Paw Pals
Help your dog get the most out of its walks by walking with purpose. The dog walking experts at Paw Pals are available to talk to you about caring for your dog and give you more dog walking strategies and other pet care tips. If you are someone whose schedule prevents you from regular dog walking, the Paw Pals professionals are available to take care of that for you. Contact them today for more information.