Cats are notorious for scratching. They do it to mark their territory, but also because they love it—cats have scent glands in their paws that get activated when they scratch, so it's a very pleasurable experience for them. The downside is that you might not be so thrilled with the holes they leave in your furniture and walls. So what can you do to stop your cat from scratching?
Here are some tips on how to stop your cat from scratching.
Why Do Cats Scratch?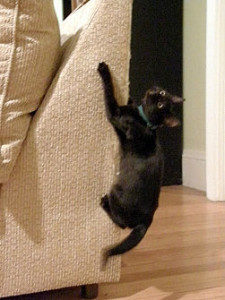 As a cat owner, it's important to understand why scratching is such an important part of your cat's life. Cats scratch because it relieves stress, helps them maintain healthy claws and keeps their muscles in shape. Scratching also allows cats to mark their territory by depositing pheromones from glands on the pads of their feet.
Scratching is a natural behavior for cats, so if you're feeling frustrated about having your furniture destroyed by your feline friend, remember that this behavior serves several purposes:
It helps cats remove the outer sheath of their claws (called the "claw sheath"). This helps keep their claws sharp and healthy for hunting or defense purposes.
It allows them to stretch their back after sleeping or sitting in one position for too long.
Most importantly though, scratching is an expression—like us humans writing down our thoughts on paper! Your kitty may be telling you how much they love you through his/her claw marks!
Should You Declaw Your Cat?
Declawing your kitty is painful, permanent and not necessary. The only reason why people still do it is because they think it's their only option—they don't realize that there are many other things they can do instead! Declawing your cat can have long-term effects on the way they use the litter box and interact with others in the household.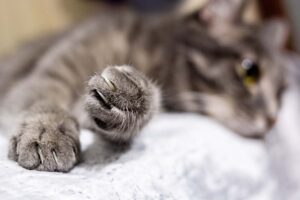 Cats who were declawed as kittens may start to urinate outside of their litter boxes because their paws hurt so much when they try to dig them into the litter—this will be stressful for both you and your pet! Even if you don't mind changing dirty sheets every day, imagine how hard it would be if someone kept breaking off all your fingers every night?
If you've been considering getting rid of those sharp little claws by having them removed surgically, please reconsider: declawed cats are more likely than others to bite out of fear or anxiety caused by pain during recovery time after surgery; they may also develop long-term behavioral problems such as overgrooming themselves due to nervousness related conditions associated with being unable to defend themselves physically anymore.
Tips for Redirecting Scratching Behavior
Use a scratching post. If you have not already, get a tall enough scratching post and train your cat to use it while they're still kittens. The taller the better, as this will allow them to stretch their entire body when they scratch. The top of the post should be at least 4 feet off the ground for larger cats or 2 feet for smaller ones.

Try water guns or double sided tape (the kind that sticks to itself). Cats don't like getting wet and so this could be an effective deterrent if you're able to get them when they are in a calm state of mind; however, it's best used as part of an overall strategy rather than on its own.
Use deterrent spray such as citronella oil or citrus extract which can be purchased online or at pet stores specifically designed for cat owners looking for ways to keep their pets away from certain surfaces like wood floors etcetera.. (see below).
Finding A Pet Sitter For A Scratching Cat
When it comes to scratching and what's best for your cat, you need to make an educated decision. Scratching is important for cats and it can be a sign of stress if they aren't allowed to do so. If you have any concerns about your cat's behavior or health, contact a veterinarian who will be able to help identify any underlying issues that could be causing them pain or discomfort.
If you are going out of town and need someone to watch your cat, get in touch with our professional pet sitters. Our Paw Pals sitters are experienced with cat sitting and dealing with mischievous cats, so you can go away knowing your furniture is safe.