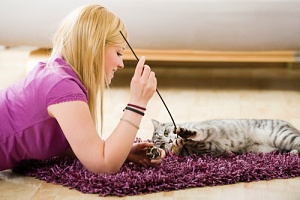 Experienced cat owners can tell you their cats get lonely when their humans are gone. Yes, cats can be easy to take care of because they are independent. They are survivors. But the fact that they can care for themselves when it comes to basics does not mean they have no connection with their humans. Cats bond with their humans and rely on them for their emotional security. When a cat's human goes away for longer than normal periods, cats suffer from separation anxiety, fear, and confusion. Help your cat deal with the loneliness when you are gone by bringing in a cat sitter.
Hiring a cat sitter can bring you and your cat peace of mind. An experienced cat sitter provides many benefits. Here are just some of them:
You Don't Have to Take Your Cat to a Cat Boarding Kennel
Your cat can stay home and enjoy its daily routine. Even though the cat may feel stressed because you are not there, the stress level is not as high because your cat stays in its own environment. It can sleep in the same place, drink from the same dish, use its own litter box, and eat its own food, just like it does every day. If you take the cat to a kennel, the cat will be thrown into a strange environment with strange cats, even strange dogs, nearby. In a kennel, the cat can be exposed to diseases and parasites that can be life-threatening.
Additionally, hiring a cat sitter lowers the stress level for you. You will not have to do the last minute rush to make sure the cat's vaccines are current. You will not have to accommodate the kennel's business hours at the beginning and end of your travel. You can rest easy knowing that you do not have to budget time in your schedule to take your cat somewhere or pick it up when you return.
Someone Is Checking Your Home Each Day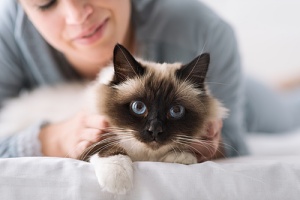 A cat sitter who visits your home each day while you're away means your house is not an open invitation to burglars. The cat sitter can bring in your mail, turn lights on, water your plants inside or outside, or take care of other little things that show someone is in the house. To a burglar, it looks just like someone is home. For you, it brings additional peace of mind.
A Professional Cat Sitter Is Reliable
A friend or neighbor may tell you they will take care of things while you're away, but sometimes they forget. Or worse, something bad happens and your relationship is adversely affected.
With a professional cat sitter, taking care of your cat is their job. In the best case scenario, you will select a cat sitter who is bonded and insured, so you and your cat are protected against accidents in the rare case that one happens.
The Cat Sitter Will Provide Your Cat with Companionship in Your Absence
Your cat is used to having someone to interact with. When you are gone, your cat may become lonely, bored, frustrated, or anxious. The cat may express those emotions by doing something destructive—you know what that can involve!
Hiring a cat sitter will minimize the risk that your cat will be so lonely that it engages in unwanted behavior. Your cat sitter can spend quality, one-on-one time with the cat They can hold it, groom it, play with it, or whatever you feel the cat needs to keep it from feeling anxious.
A Professional Cat Sitter Is Trained in Cat Health Care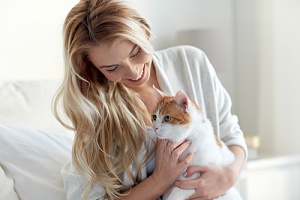 If you have a cat with serious behavior or health problems, you can find a professional cat sitter who has been trained in cat health care. A service like Pet Paws sitters, whose sitters are 100% PetTech certified in Pet CPR and first aid, would be great for you. A Pet Paws cat sitter can provide life-saving services, and they can transport your cat to the vet if needed, while keeping you informed every step of the way.
Contact Paw Pals for More Information about their Professional Pet Sitting Services
For your cat's safety, do not leave it alone for several days at a time. It is not safe. Your cat can overturn its water bowl, leaving it with no access to water. They can get tangled in their collars and drapes, or stuck underneath furniture, or locked in cabinets or closets. So, before you take your next vacation, make sure you provide the best care for your cat while you're gone. Contact Paw Pals for more information about pet sitting services for your cat. The professionals at Paw Pals are trained in caring for all kinds of other pets, too.