The holiday season is upon us, and while it's a time of joy and celebration, it can also be a time of stress, especially when you have beloved pets to care for. Travel plans, family gatherings, and the hustle and bustle of the holidays can make it challenging to give your furry friends the attention they need.
That's where Paw Pals Pet Sitting comes in to save the day! Our in-home pet sitting services offer a stress-free solution for both you and your pets during the holiday season.
The Holiday Rush and Its Impact on Pets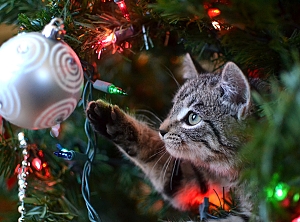 The holidays are often a hectic time filled with travel, shopping, and social gatherings. While these activities can be exciting for humans, they can be stressful for our pets.
Changes in routine, new faces, and loud noises from holiday parties can leave our furry companions feeling anxious and overwhelmed. In fact, statistics show that pet abandonment rates tend to rise during the holiday season, as some owners struggle to find suitable care for their pets while they are away.
Meet Paw Pals Pet Sitting
At Paw Pals Pet Sitting, we understand the unique challenges that the holiday season can pose for pet owners. That's why we're dedicated to providing top-notch in-home pet sitting services that prioritize the well-being of your pets. Our team of professional pet sitters is not only passionate about animals but also experienced in caring for pets of all shapes and sizes.
We're more than just a pet-sitting service; we're a pet-loving family committed to ensuring that your pets are safe, happy, and comfortable in their own homes while you're away. Our mission is simple: to offer your pets the love and attention they deserve during the holiday season.
The Benefits of In-Home Pet Sitting
One of the key benefits of choosing in-home pet sitting with Paw Pals is that your pets get to stay in their familiar environment. This reduces the stress and anxiety often associated with being in a new place or a crowded boarding facility. Our professional pet sitters follow your pets' established routines, ensuring they receive the same level of care and attention they're used to.
In addition to reducing your pets' stress, in-home pet sitting also eliminates the need for you to transport your pets to and from a boarding facility, which can be a logistical challenge during the busy holiday season. With Paw Pals, your pets can stay right where they're most comfortable – at home.
Safety and Security
We understand that leaving your pets in someone else's care can be a source of concern. That's why we have a rigorous vetting process for our pet sitters. We only work with experienced professionals who are passionate about animals and dedicated to providing the highest level of care.
Additionally, we take home security seriously. We'll ensure that your home is secure while you're away, giving you peace of mind knowing that both your pets and your property are safe.
Services Offered by Paw Pals Pet Sitting
Paw Pals Pet Sitting offers a wide range of services to meet the unique needs of your pets. Whether you have cats, dogs, birds, or exotic animals, we've got you covered. Our services include daily visits, overnight stays, and specialized care for pets with specific needs. We also offer additional services like dog walking and pet taxi, so you can customize your pet's care plan to suit their individual requirements.
At Paw Pals, we understand that every pet is unique, and we're committed to personalizing our services to meet their specific needs. Whether your pet needs extra playtime, medication administration, or simply some companionship while you're away, our pet sitters are here to provide the care and attention your pet deserves.
Reach Out to Northern Virginia's Top Pet Sitters
This holiday season, prioritize the well-being of your pets by choosing Paw Pals Pet Sitting. Our in-home pet sitting services offer a stress-free solution for both you and your furry friends. Leave the holiday hustle and bustle behind, knowing that your pets are safe, happy, and loved in the comfort of their own home.
Contact us today to book your holiday pet sitting services and ensure a joyful and worry-free season for both you and your pets.