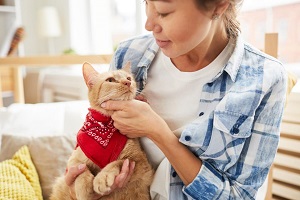 For many, the thought of leaving their furry companion in the hands of a stranger can be unsettling. Even trusting a family member to care for your cat can leave you less than confident; no one knows your animals better than you, right? The good news is that if you take the time to carefully research a reputable cat sitter, your beloved cat will be able to enjoy your time away from home in the presence of an experienced and friendly visitor. To make sure that you are entrusting your cat to a trustworthy and skilled sitter, be sure to ask lots of questions. If you need some inspiration for what to ask, consider the following alongside any other questions that are important to you.
Do You Have Your Own Cats?
There is a reason behind why most people who are cat sitters have chosen cats specifically. Often it is because they have their own feline friends at home. While it is not necessarily required for a sitter to own cats themselves, coming from a home that has frequently owned cats and having spent years with these animals will help to ensure that they understand how cats think and what they enjoy and dislike. This will also prepare them to think of common tasks that non-cat owners may forget about, like cleaning the litterbox while you are away.
What Do Your Services Consist Of?
Pet sitters, in general, offer a variety of services, and you should ascertain whether the individual or company you are speaking with can fulfill all of your needs. Some people will only come by once a day to check water and food, while others will stay and play, groom your cat or provide emergency care. Be sure that you understand the types of services you can expect from your cat sitter and that the two of you are on the same page about what needs to be done.
How Much Experience Do You Have?
Cat sitters need not have 20 years of experience to be excellent at their work (although that is a bonus!), but they must care for felines in the past. Most reputable sitters will be happy to walk you through how long they have been working for, the types of animals they have assisted and how.
What Rate Do You Charge?
Being on the same page about payment should be an early check box on your list. Rates can vary widely among public and private companies and individuals, so discuss this early. Some may charge per hour, others per visit and others a flat rate for your entire booking. None of these are inherently better or worse than any others.
What Is the Contact Information for Your References?
References are a critical way to check on the success of a sitter in the past. Glowing references that have been completely satisfied can help you feel secure. A cat sitter who is unwilling or hesitant to provide references may be worth looking into a little bit deeper to ensure that everything is up to snuff.
What Will You Do in an Emergency?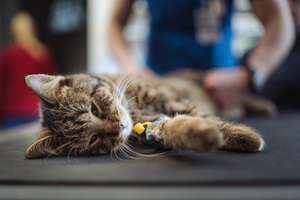 Some cat sitters are trained in animal CPR or have experience working with medication and other health issues. Even if your cat is healthy, choosing a sitter who can remain calm and has experience in emergencies, including a plan for what to do and where to go is vital. Iron out whether a sitter goes to a specific vet makes decisions for you and so on.
How Often Will You Update?
While you are gone, you will likely feel better if you receive frequent updates about your furry friend. A good sitter will attempt to fit updates into your ideal schedule, whether that is every few days or at the beginning and end of each visit. Work together to determine a schedule that is right for you.
How Do We Reach Each Other?
Your sitter must be able to reach out, and you both must work out the most effective means of communication, as well as backups. For example, if you do not answer your phone, what should the sitter do next? Consider situations like these as you make plans.
Trust the Experts to Treat Your Cat Like Family While You Are Away
As you consider how to approach your cat's care while you are away from home, you can rest assured that an experienced cat sitter will do their best to keep your feline friend stimulated and out of harm's way. The expert sitters at Paw Pals would be happy to care for your cat so that you do not have to worry. Reach out to learn more about our services or to schedule an appointment.