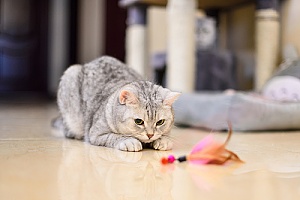 When it is time for you to leave your home for an extended period of time, either for work or vacation, it can be difficult to find someone that you trust to care for your animal companions in your absence. The right person to care for your cat will have a robust mix of experience in animal care, knowledge of cats in general and more, but finding them can prove to be a challenge if you do not know where to look. Consider the following elements of a good cat sitter during your search for a cat sitting service.
Choose Someone With Experience
It likely goes without saying that you should select a cat sitter for your pet who has experience. Watching over a furry friend while you are gone may not seem like that daunting of a task, but properly caring for an animal in its owner's absence can be much more nuanced than it may seem at first glance. From getting all of that animal's routines and expectations correct to being on time and in the habit of remembering appointments, good pet sitting takes practice. Ideally, you would choose someone with years of experience specifically sitting cats and other domestic mammals.
Select A Cat Sitter With Medical Proficiency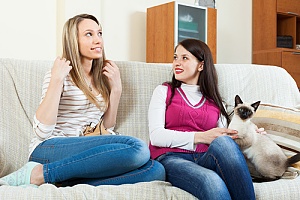 Even if your cat is healthy, locating a pet sitter who has medical experience with cats can mean the difference between life and death. From choking hazards to long-term medical needs like insulin shots, your cat—like any other living thing—may need medical care from time to time. If you rely on a pet sitter who does not have connections to veterinarians or is not certified in pet CPR, you could be leaving your cat vulnerable at a critical, life-saving moment. A sitter who must spend the time locating and going to a vet instead of performing basic medical care immediately could have significant impacts on your animal's wellbeing. A sitter with medical proficiency can give you peace of mind while you are out of town.
Get Recommendations From People Or Sources You Trust
The best sitters come highly recommended, and if you are considering a certain individual or company, reach out to people and sources that you trust who have used them before. This could be neighbors, friends and family, as well as reviews on the internet. Pay attention to the content of the reviews that you read; if the sitter is praised for things like timeliness, comprehensive care and friendliness, they could be a good fit. You can also consider reaching out to the potential candidate themselves to ask if they would provide you with some families they have worked with in the past. This way, you can reach out directly to ask about their experience offline.
Consider A Professional Sitter For Ensured Reliability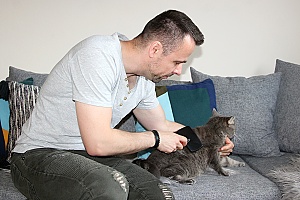 When it comes to caring for your furry friend while you are away, it can be tempting to call a friend or family member and ask for a favor. However, because these people are not practiced in caring for cats all day every day, it may be easy for them to forget important tasks—like cleaning the litter box or even showing up at all. If you opt for a professional pet sitter instead, you can benefit from additional reliability, because these experts have their process streamlined to ensure that the pets they watch receive the best care possible. Additionally, you may find that your experience is overall more pleasant and comprehensive than if you had simply trusted a friend. Many pet sitting companies will go above and beyond to do things like clean the litter box as close to your return as possible, tidy up cat hair before you come home and more. This leaves you able to focus on greeting your feline companions when you get back rather than setting down your bags after a long trip only to be faced with almost empty food bowls and a full litter box.
Trust The Experts To Care For Your Furry Friend
If you are heading out of town for any reason, the experts in cat sitting would be happy to keep your pet safe while you are gone. At Paw Pals Pet Sitting, we understand that leaving your furry friend in someone else's hands can be stressful, and we are committed to providing the best care possible in your absence. From offering enrichment and playtime to administering medicine, we have the experience necessary to pet sit for you—and with our pet CPR certification, your animal is in good hands. Reach out to us online to schedule a pet sitting booking while you are gone!