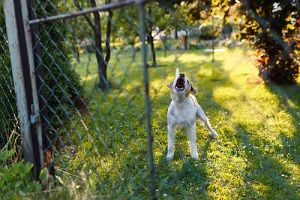 The best way to manage a dog that barks when you take it for a walk is to understand what is causing the dog's behavior.
In most cases, your dog will not respond well to you if you punish it by yelling, or worse. Read on to find out the best way to correct your dog's behavior.
Why Dogs Bark When Out on a Walk
There are several reasons your dog barks when you take it for a walk. The problem could be a single issue, or chances are good that your dog is dealing with a combination of issues.
Whatever is causing the barking, punishment is not going to work. Your dog will not understand why it is being punished, and if your dog is anxious or fearful, punishing your dog is likely to make your dog afraid of you.
Below are some of the most common reasons a dog barks while leash walking and what you can do to correct it.
Inadequate Socialization
One of the most common reasons for dog barking while leash walking is the dog has not been adequately socialized. The way to help your dog is to take it for more walks.
Take your dog on a leash walk at least twice each day. If you are pressed on time, take shorter walks, or hire a professional dog walker to make sure your dog is getting the walking it needs. You may be surprised how quickly the barking becomes less frequent.
While you are getting your dog accustomed to being out on a leash walk, you can manage the barking by distracting it with activities.
Walk the dog around mailboxes or light poles, changing speeds and direction quickly. Stop and start and have the dog sit, giving it lots of treats when it ignores the trigger source and focuses on you. In time, your dog will enjoy the walks as an opportunity to explore the environment with you.
Inadequate Exercise or Play Time
When a dog is not getting enough exercise, whether through regular walks or play time with you or other dogs, the dog will have too much pent-up energy.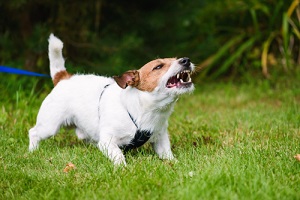 Such a dog will be excitable and more likely to bark at just about anything.
Dogs that do not get enough exercise often have other obedience issues and can become unruly. Sadly, those dogs end up in shelters because their owners did not give it enough exercise.
The obvious way to remedy this problem is to make sure your dog gets lots of exercise every day. Take time to take your dog for walks and play games off-leash and outside whenever possible.
If you must remain indoors, play fetch or tug of war. If your schedule prohibits you from doing those things, take your dog to a dog day care several times each week or hire a professional dog walker. Your dog's barking issues along with other behavior problems will probably disappear.
Anxiety or Fear
Some dogs and some dog breeds are anxious and fearful of strangers and unfamiliar dogs. If your dog's barking is due to fear, you need to stay calm when it starts barking.
Do not yell at your dog. By all means, do not get physical with your dog to try to silence it, like grabbing his nose or jerking on the leash or something more aggressive.
In this case, you can manage the barking by turning quickly away from the person or thing that is causing your dog's fear. Your dog will be distracted by your turn and pay attention to you instead of the scary object.
You can also try using a head collar, or gentle leader halter. Oddly, some dogs that feel confined or are particularly sensitive to a training or pinch collar accept a head collar easily. Using the head collar gives you control over the dog without him feeling pain when he pulls against the leash.
Leash Sensitivity
Some dogs react negatively to being on a leash. They can become fearful or aggressive when they are on the leash because they feel confined.
The leash causes them to feel their flight option is cut off, and if they feel threatened, such a dog is more likely to fight, perceiving that it has no other option to defend itself.
You may want to consider getting the help of a professional trainer if you think that may be your dog's problem.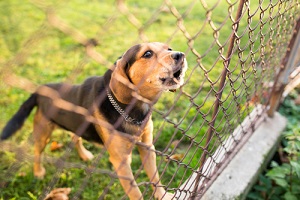 You can also try using a head collar, or gentle leader halter. Oddly, some dogs that feel confined by the leash or that are particularly leash or collar sensitive will accept a head collar easily.
The head collar can give your dog a sense of security while giving you better control over the dog.
It allows you to "steer" your dog's head where you want it to go without causing pain to the dog. Also, the head collar helps prevent the dog from pulling on the leash.
Get Help from the Professional Dog Walkers at Paw Pals
The key to correcting most behavior issues in dogs, including excessive barking on the leash, is making sure they get regular exercise. Contact the professionals at Paw Pals to learn about their dog walking and dog sitting services and how they can help you with your dog.