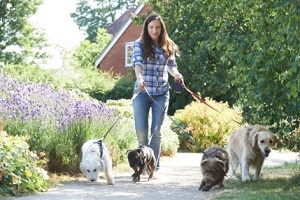 As a dog owner, you want to do everything you can to ensure your pup is content and comfortable while you are away during the day. Hiring a midday dog walker is one of the best ways to ensure they are comfortable.
This review discusses the numerous benefits your pup receives when you hire a midday dog walker.
Midday Dog Walks Help Improve Your Dog's Physical and Mental Health
Dogs are naturally active animals. They require a certain amount of exercise daily to remain physically and mentally healthy. Unfortunately, many dogs do not receive an adequate level of exercise. This is especially true if their owner is out of the home for a good portion of each weekday due to work, school, or other life obligations.
As a result, they become more likely to develop obesity and associated diseases (see below). Notably, some key health benefits dogs receive from midday dog walks include:
Stronger muscles, bones, and joints
Improved weight
Healthy blood flow
Improved fitness and endurance
Reduced stress and anxiety
Midday Dog Walks Reduce The Risk of Obesity (and Associated Diseases)
Obesity is linked to a number of diseases in dogs. Diabetes, heart disease, and cancer are just some diseases that are more likely to affect overweight dogs. Additionally, the older your dog is, the higher the risk of developing health complications due to weight.
For instance, an older dog that does not exercise regularly is far more likely to develop arthritis and other joint concerns. Walks are a crucial part of weight control. The regular exercise they receive from regular day-time strolls with a dog walker can greatly reduce their risk of obesity, joint discomfort, and many other diseases later in life.
Midday Dog Walks Help Prevent Undesirable Dog Behaviors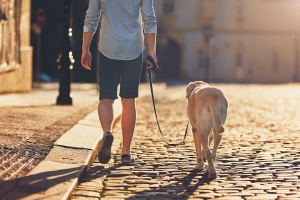 A dog that has not received adequate daily exercise and socialization may display undesirable behaviors. These behaviors include (but are not limited to) chewing, biting, scratching, and barking persistently.
This often leads to the destruction of their owner's home and the need to replace pieces of furniture and other high-priced valuables within the home. The good news is midday dog walks often greatly reduce undesirable behaviors such as chewing and scratching. Instead, dogs who go out with a midday dog walker regularly rest more while their owner is away and patiently, calmly, and comfortably await the owner's return.
Midday Dog Walks Allows Your Dog to Socialize With Other People and Dogs
You may see your pup's social skills decline without regular walks during the day. This is especially the case for younger dogs, although older dogs also rely upon regular social interactions with others. Of course, suppose you are unable to take your dog for a walk due to your daily obligations. In that case, a midday dog walker is necessary.
By hiring a dog walker, you can ensure your dog receives the social interactions they need. This helps ensure your dog behaves well around guests you have over and other pets. Keep in mind, midday dog walkers often walk several dogs simultaneously, so your pup may receive regular interactions with all types of humans and dogs while on their walks.
Midday Dog Walks Allow Your Dog an Opportunity to Go More Frequently
Using the bathroom during the day is an often overlooked benefit of hiring a midday dog walker. This greatly reduces the risk of urinary tract infections (UTIs), kidney infections, and bladder complications.
While a dog may be able to hold it for an extended period while you are away, it is not good to do so. Midday dog walks are an easy way to ensure your dog can relieve itself between the time you leave in the morning and return in the evening.
Midday Dog Walks Are Beneficial for You as Well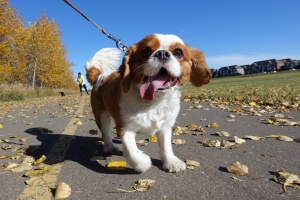 Nothing is worse than worrying about the well-being of your dog while you are gone during the day. This can place stress and anxiety upon you as the pup's owner. By hiring a midday dog walker, you can feel at ease knowing that your dog is well cared for and will receive the socialization, bathroom break, and exercise they need to stay happy and content throughout the day.
This allows you to return home to a happy and healthy pup each day. As discussed, midday dog walks also help improve your dog's social skills. This allows you to take your dog with you when you go places more often without having to worry how they will interact with other people and dogs.
Need a Midday Dog Walker? Contact Paw Pals Today
Paw Pals Pet Sitting offers pet sitting and midday dog walking services for those who reside in Centreville, Fairfax, and all surrounding areas in Virginia. If you want to learn more and/or schedule a service with us, please contact us today.