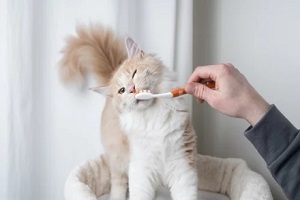 Nothing makes your cat look healthier than a dazzling white smile! Although it can be easy to overlook, providing proper cat dental care is essential. Good at-home dental hygiene will help keep your pet's teeth and gums healthy, and regular vet visits can spot issues with feline oral health before they become serious problems.
To ensure that your beloved kitty has the best smile possible from nose-to-tail, use this comprehensive guide on how to provide stellar cat dental care!
The Importance of Cat Dental Care
Maintaining good dental health is essential for your cat's overall well-being. Neglecting dental hygiene can result in conditions such as periodontal disease, tooth loss, and even systemic infections affecting vital organs, including the heart, kidneys, and liver.
Therefore, it is imperative to include regular dental care as a fundamental part of your cat's daily routine.
Recognizing Signs of Dental Issues in Cats
Before effectively implementing cat dental care, being aware of potential problems is necessary. Some tell-tale signs of dental issues in cats include bad breath, excessive drooling, difficulty eating, loss of appetite, red or bleeding gums, and visible tartar on their teeth.
If you observe any of these signs, it is highly recommended to consult your veterinarian for further guidance and assistance.
Key Components of Cat Dental Care
Regular Veterinary Check-ups

Ensuring good dental care for your cat is important, and regular check-ups with your vet are one of the cornerstones. These visits facilitate professional cleanings and early detection of potential dental issues, promoting optimal oral health. It is highly recommended to have your cat's teeth checked at least once a year to maintain their wellbeing and prevent any dental complications that may arise.
Brushing Your Cat's Teeth
Similar to humans, cats greatly benefit from regular tooth brushing. To begin, select a toothpaste designed for cats (never use human toothpaste) and a toothbrush suitable for their size. Allow your cat to become accustomed to the taste of the toothpaste and the sensation of the brush before attempting to brush their teeth.
Gradually progress to brushing, focusing on the gum line. Aim to brush their teeth daily, but even several times a week can significantly benefit their oral health.
Dental Diets and Treat
Certain cat foods and treats are specially formulated to support optimal dental health for your feline friend. These products aid in reducing plaque and tartar build-up through a mechanical chewing action, promoting a healthier mouth.
However, it's important to consult with your veterinarian before changing your cat's diet. Your vet can provide personalized advice based on your cat's specific needs and requirements.
Dental Toys
Dental toys are a great addition to your cat's oral hygiene routine. These toys are designed to help remove plaque as your cat chews on them, ensuring a fun and effective way to keep their teeth clean and healthy.
Advanced Cat Dental Care
In certain situations, more advanced dental care might be required to address severe dental conditions in cats. This may involve dental surgeries, tooth extractions, or root canal treatments. Your veterinarian will provide guidance on the most appropriate course of action based on your cat's specific needs, ensuring their oral health is well taken care of.
Consequences of Neglecting Cat Dental Care
Neglecting dental care for cats can result in painful and risky health problems. Dental disease can cause discomfort, making it challenging for cats to eat. Additionally, bacteria from the mouth can enter the bloodstream, posing a risk of organ damage. Therefore, ensuring proper dental hygiene for cats is important for their overall well-being.
Make Cat Dental Care a Priority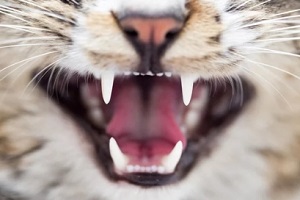 In conclusion, cat dental care is essential to ensuring your furry friend's overall health and longevity. Recognizing signs of dental trouble early and taking proactive steps to maintain oral health can prevent serious health issues and ensure your cat leads a happy, healthy life.
Remember, when it comes to cat dental care, prevention is key. Regular veterinary check-ups, good oral hygiene practices at home, and prompt treatment of dental issues can safeguard your cat from unnecessary pain and complications, enhancing the quality of their life.
Schedule a Professional Northern Virginia Pet Sitter
Is your feline friend's dental health a concern? The team at Paw Pals Pet Sitting is here to help. We understand that proper dental care is needed for your cat's overall health. Our experienced pet sitters can provide the care and attention your cat deserves, keeping their teeth clean and healthy.
Don't let dental issues compromise your cat's happiness and wellbeing. Contact Paw Pals Pet Sitting at (703) 345-1695 today. It's the first step towards ensuring your furry friend leads a comfortable, healthy life with a bright and clean smile.