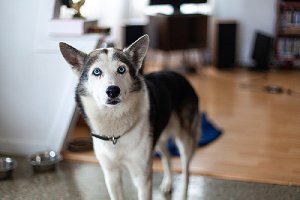 You thought your dog was housebroken, but you find your dog marking in house suddenly by urinating in the house. Male dogs are more likely to do this, but female dogs may do it, too. Reprimanding your dog will probably only confuse your dog and likely prevent the behavior from recurring. The best way to correct it is to figure out why your dog is behaving this way and address the situation.
Why Do Dogs Mark Their Territory?
Dogs use their sense of smell as a way to explore their world. When dogs urinate, they leave their scent for other dogs to find. The scent provides a lot of information for other dogs when they use their keen sense of smell to "read" the message left in the urine.
Instinct To Establish Its Dominance
Your dog's instinct is to establish its dominance in its environment. The scent left by the dog's urine announces to other dogs that it has been in the area and staked a claim. When another dog finds the scent, that dog may mark the same spot with its own scent and cover up the earlier scent.
New Pet In The House
Now that you know about your dog's instinct to establish its dominance, the introduction of a new pet in your house may trigger that instinctive behavior. This is especially the case if your dog feels threatened by the new pet. Marking in the house is the way your dog can communicate its dominance to the new pet.
New Family Member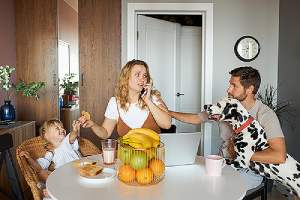 Similarly, the addition of a new family member in the home can trigger the same behavior in your dog. Whether you bring home a new baby, a new romantic partner, or a roommate, your dog may regard the new person as an intruder in its territory, even a potential competitor for your attention and food resources.
Change In Environment
If you move to a new home, you may find your dog marking its new territory. It may be trying to cover up the scent of prior occupants or simply staking out its own claim to it.
Also, any new object you bring home can prompt your dog's instinct to immediately mark it. The new object can be anything — furniture, rugs or carpet, bedding, appliances and so forth. The new object may cause your dog to feel threatened or to feel the need to immediately leave its scent to claim the new object as its own, or some combination of those emotions.
Not Getting Outside Often Enough
Dogs do not like to urinate in their living space. But if your dog does not get outside often enough, it will have to urinate indoors. The remedy for this is to give your dog ample opportunities to go outside during the day. Small dogs and puppies need to go out more often during the day than larger dogs. Take your dog for a walk at least once in the morning and once in the evening. Letting it out into a fenced area may cure the problem.
Anxiety, Fear, Excitement
Some dogs show their submission by urinating when they feel threatened or anxious. Sometimes it is a case of just being overly excited. This is often the case with small dogs, puppies and younger dogs, though the younger dogs usually outgrow it. Also, if your dog urinates when it is left home alone, it may be a symptom of separation anxiety.
Health Issue
Your dog may not be marking at all. It may have become incontinent due to a health issue such as a urinary tract infection, kidney disease, or other condition. If you are unsure, have your dog examined by a vet to rule out any medical problems that may be developing in your dog.
How to Stop Marking
Once you understand what is triggering your dog's behavior, it will be easier to stop it or at least manage it effectively.
Once your dog has marked a spot, you need to thoroughly clean it with pet odor-removing cleaners. Your goal is to remove the scent that prompted your dog to mark it as well as to remove the scent left by your own dog.
Your dog may tend to mark the same areas repeatedly. Do your best to prevent your dog's access to those places. Close the door to the room or closet, or use a baby gate and dog deterrent sprays.
If you cannot prevent access to the places your dog is marking, you can try placing special treats in those spots. Your dog is usually not inclined to urinate in the same location where they eat. Leaving treats in those places may change your dog's perception of the area from a place to mark to a place to eat.
Work on training your dog that marking is only acceptable outside and in certain places. If necessary, work with a professional dog trainer to help you train your dog where it may mark. The training is done by exposing your dog to another dog's scent, then lead it to a nearby place where it can mark safely. Don't expect your dog to immediately understand — success will come only after many repetitions over time. Eventually, your dog will learn what is appropriate marking behavior and what is not.
Work With Dog Care Experts At Paw Pals
Marking in your home is unwelcome behavior in a dog. If you have a dog that has begun to mark in your home, you can get help from the dog care experts at Paw Pals. They are available to work with you and your dog, and they can provide a wide range of pet care services, too. Contact Paw Pals for more information about correcting your dog's marking behavior and what they can do to help you.