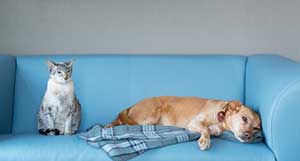 You've been away at work all day. Your partner works full time too. You arrive home first to a livingroom adorned with piles of fluff or foam. You look over in the corner and examine what's left of a couch. The misshapen thing that remains is lumpy and chewed all over.
Taking a deep breath, you go and look for the culprit, who looks up at you with those puppy dog eyes then looks down miserably. You try to stop the smile from appearing on the corners of your mouth and point your finger sternly with your eyebrows in super angry mode. Your dog looks down and blinks. They look as if they're about to cry.
As cute as this scenario is, replacing furniture is costly and stressful; particularly if you have to do it every other week! Unless you're a millionaire, chances are that you don't have thousands of dollars to spare every month just to cater for your dog's furniture chewing whims. Even if your dog is well-behaved and eating microfiber isn't their thing, you still have to deal with vacuuming the couch six times a week to remove the stubborn hairs from the twill pattern.
Life is too short for having to obsessively clean or browse furniture stores every weekend. All of this stress can be avoided by simply learning how to train your dog to stay off the furniture:
Train Your Dog to Stay off the Furniture
If you've owned a dog for years and have simply given up on disciplining him or her when they jump up on the couch, you won't want to hear this first tip:
Never Allow Them on the Furniture as Puppies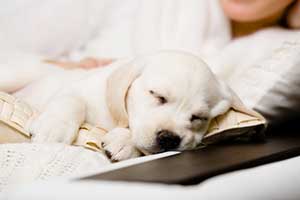 I'm sure you're slapping your forehead at this insightful piece of advice. Unfortunately, the best way of training your dog to stay off the furniture is to never let them on it to begin with! It can be extremely difficult to reprimand an adorable puppy just for trying to be near you on the couch, but early behavior quickly develops into lifelong habits. Training them out of bad behavior is much more difficult than teaching them good behavior, and the foundations are laid during your pup's first few months in the house. If the time for puppy training has passed, don't fear! All is not lost. You can still train them out of their furniture-mounting antics by simply following these next easy tips:
Obstruction
If you and your partner are out of the house regularly and don't expect to be around during the day to discipline your dog every time they jump on the furniture, there is still a genius way to train them out of it. Obstruction is the key. Simply block the furniture in some way so they can't get on it!
Now, it's not realistic to expect you to have to rearrange your living room every morning before you go to work. Luckily, there's a much easier way. All you have to do is select an object that is light enough for you to put on the furniture easily every day. A great example is a laundry basket, especially the lightweight plastic ones. When you obstruct their path to comfort, they'll soon learn it's not a feasible option and will give up on trying to get onto the furniture.
Caught in the Act
Any opportunity you get to actually catch your dog in the act is a thousand times more effective at training your dog than simply arriving after the fact. So, even though it's a Saturday evening and you're curled up on the couch, don't let the dog up. When you're lounging around on the weekends and want to snuggle with your furry friend, you can't expect them to suddenly want to lie down on the floor when you're at work. With regards to any type of dog training, consistency is key.
Be a Good Dog Owner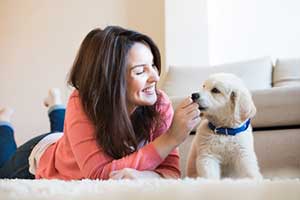 If you want to know how to be a good dog owner, remember these three words: care, affection, and discipline. Any good dog owner has a well-rounded balance of these three things with regards to how they look after their dog. The care aspect has everything to do with the dog's overall health and comfort: taking them to the vets for a check-up, getting their nails clipped, grooming them, and dosing appropriate medication correctly.
Affection represents how much you show your dog you love them. A good dog owner will shower them with love and treat them like a family member. A neglectful dog owner will do things like leave them on a chain outside all day, or leave them to get cold and wet out in the rain even if they don't have a kennel. It's funny, because we're discussing how to train your dog to stay off the furniture, but some pet owners are so obsessed with keeping their house immaculate their dog suffers.
If you're so consumed with trying to keep your dog off the furniture that you never let them in the house, for example, you need to work on the affection aspect of your dog ownership.
Discipline is often the most difficult aspect of training, but is also the most rewarding. If you don't discipline your dog they never learn to heed your commands and will not learn acceptable behavior. As long as discipline is balanced with the other two aspects, you will have a happy and obedient canine. If you exercise discipline but neglect care or affection, you will own a very skittish and nervous dog who does not have a good quality of life.
So remember: training your dog to stay off the furniture might be important to you, but don't neglect the other aspects of being a good dog owner.
Other Easy Tricks and Skills to Teach
You know the saying 'a one trick pony'? No one wants a one trick pony, and you sure don't want a one trick dog either. Here are some other tricks and skills you can teach your dog:
Crate Train a Puppy
Crate training a puppy is where it all begins. Crating should never be used as a punishment, however. Here at Pawpals we believe in positive reinforcement training techniques. Making a crate comfortable and filled with their favorite toys and blankets will guide you on your way to crate training a puppy.
Walking on a Leash
Learning how to walk your dog on a leash can be a challenge for many dog owners. This is particularly true if you own an energetic breed that loves to rush ahead and pull you along with them. Rewarding your dog when they obey your command and using the same walking gear consistently will make walks a pleasure.
Stay
Teaching your dog to stay is one of the trickier commands, because one-on-one time makes them really happy and playful and it can be difficult to stay in serious mode. Have you ever tried to teach your dog to stay and just want to explode in laughter when you see their tail wagging furiously? Emotional resilience and consistent rewards for good behavior will help you teach your dog this command.
Heel
Teaching a dog to heel is useful in a number of situations. For example, if you're out walking your dog and it becomes necessary to cross a busy road, telling them to heel while you assess the traffic will make crossing much safer. The heel command also comes in handy when you encounter other dogs or people on your walk and you are not sure how your dog will react. Your dog reads your vibes, so if you're a nervous person your anxiety can rub off on them in social situations. The best way to teach a dog to heel is to be confident and authoritative. Your dog wants to obey you, but they learn best from an owner who isn't a bundle of nerves.