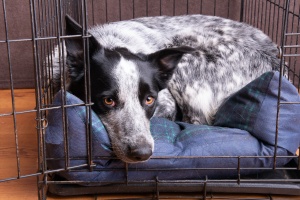 It's common for many dog owners (especially first-time guardians) to be reluctant to crate-train their pets. Some people view this as a cruel practice that may potentially cause anxiety in dogs. However, most trainers and veterinarians recommend crate training your dog beginning at an early age, as this process carries many advantages for both yourself and your dog.
Benefits Of Crate Training A Dog For Yourself
There are three primary reasons crate-training your dog can benefit you. Here is a close look at these reasons.
It Can Make Your Life Easier
In a broad sense, crate-training your dog can make your life significantly easier because, although your pet may initially be hesitant to enter a crate, he/she will ultimately experience lower stress levels in many situations, including emergencies. If your dog often becomes anxious in scenarios involving loud noises such as construction and thunderstorms, his crate may serve as a source of comfort.
It Can Help With House Training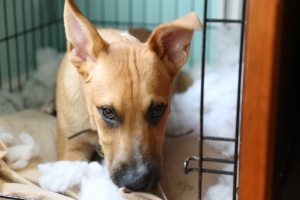 Crate-training your dog can also help with overall house training, which includes ensuring a dog gets enough exercise and doesn't bark, growl, or whine excessively. This is because the confined space of a crate encourages control and helps establish a schedule for daily necessities such as urination and defecation. Anyone who has owned a dog for years knows that the house-training process is typically long and arduous and that all dogs should learn to spend time in different types of spaces (small vs. large, indoor vs. outdoor, etc.).
It Keeps Your Dog From Getting Into Trouble While You're Away
It's always important to have peace of mind knowing that your dog will stay out of trouble when you're away from home, especially if you travel frequently. Nobody ever wants to return from a trip and find out that their dog ran away or destroyed your home. A crate will serve as a safe and limited space for your dog to lie in while you're gone. According to The Humane Society, you may begin crating your dog for short periods of time when you're away after he becomes able to spend approximately 30 minutes in the crate without becoming distressed.
Benefits Of Crate Training A Dog For The Dog
Crate-training also carries multiple advantages for dogs. Here are the two main ways your dog can benefit from this type of training.
It Can Benefit Dogs Of All Ages And Types
Generally speaking, dogs of all ages and types can benefit from crate training. For a puppy, a crate serves as a highly effective way of keeping him secluded and even teaches him to strengthen his bladder.
For older dogs, crate training can help alleviate health concerns by offering a site to rest their bodies. A crate is also a relatively easy way to carry your dog when taking him to the vet.
It Gives Them Their Own Safe Space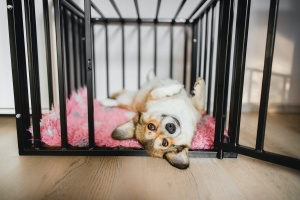 Dogs need to feel safe in their own home, and a crate is the perfect space to help them achieve this goal. If your dog is feeling afraid or tired, he can retreat to his crate for security. A crate can also help your dog learn to control his bowels and only relieve himself outside. Additionally, an important tip to remember regarding crate training is to provide your dog with meals, treats, or toys in his crate, as this will make him associate crate time with rewards.
There are also certain things you are advised not to do when crate training your dog, such as becoming verbally aggressive, as this can increase your pet's anxiety. You should also not sedate your dog before putting him in a crate if you are traveling, as this can potentially lead to respiratory or heart issues, according to the American Veterinary Medical Association.
Talk With Paw Pals Pet Sitting For More Info About The Benefits Of Crate Training A Dog
Speak to the professionals at Paw Pals Pet Sitting for more information on the benefits of crate-training your dog. We proudly serve pet owners throughout northern Virginia by providing personalized, full-service pet sitting and dog walking services. We were founded by Mary Telesz, a local family woman and Australian Shepherd owner.
Paw Pals' sitters are licensed, bonded, and fully insured, as well as Pet Tech-certified in Pet CPR and First Aid. We offer both regular (non-overnight) vacation visits and in-home overnight dog and house-sitting services, as well as bed-and-biscuit service. Our visits include the provision of treats, fresh food, and water (and medications, if required). Overnight stays are for 12 hours, with arrival times between 7 and 10 pm. These include 30-minute walks in the morning and evening.
Call Paw Pals today at (703) 345-1695 or contact us online to learn more about our dog-walking and pet-sitting services.