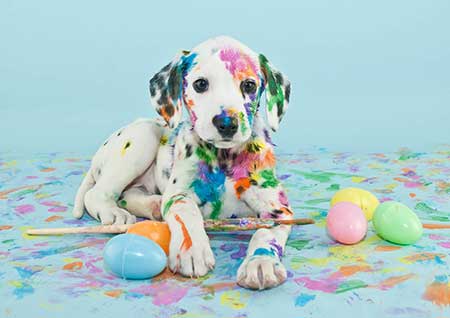 Some pet care professionals believe in the use of crates for puppies and dogs as a training tool and as a safe environment for the dog to use throughout its life. When one wants to crate train a puppy or dog, this may be for several different reasons. Some experts recommend crates as method to manage house training and to act as a tool for puppies and dogs to manage their environment so that the pet and owner can avoid some of the behavioral troubles in some puppies and dogs: chewing, destruction of property, etc. The use of crates also makes travel more safe for your pet whether it be in an airplane or in a car. Crate training also can be beneficial in other situations. Many times, when used properly, dogs seek out their crates for private time—think of the crate as a room for your pet.
It's important to use the crate as a supplementary tool. Avoid crating as punishment—to put a dog into "time out" for making a mistake—and avoid crating if it upsets your animal. Sometimes, crate training can increase a puppy or dog's anxiety, especially if they are already upset by outside factors like storms, new environments, or other strange animals. It is recommended that crate training be used with guidance from a veterinarian or pet care specialist.
Selecting a Crate
When selecting a crate for your crate training a puppy or dog, it's important to select a crate that's sized to fit the breed of the animal. Consider the weight and size of the puppy before you pick a crate. Ideally, the crate should be big enough for the dog to stretch out, and to be able to get up, stretch, and turn around without touching their body against the cage. A crate that is too big is always better than one that is too small.
Take your pet's measurements: for a fully-grown adult dog, measure from the tip of the dog's nose to the base of the tail and add inches for the proper crate length. Measure from the ground up to the top of the dog's skull for height. For puppies, unless one plans on buying a puppy-sized crate then an adult-sized crate, do the same measuring but add from 12 inches to 18 inches for growth.
The size of one's pet may vary, but here are some crating size ideas: Pick a crate that is at least 32 inches by 32 inches for an animal weighing up to 50 pounds, such as a Chihuahua, Pomeranian, or Jack Russell terrier. If the dog is a medium-sized animal weighing between 50 and 80 pounds, like a beagle or chow, consider a crate at least 36 inches by 36 inches. For a dog weighing between 80 and 100 pounds, such as a bulldog or border collie, use a crate at least 42 inches by 30 inches. For larger dogs, like German shepherds and greyhounds, use a larger crate, like a 48-inch by 36-inch crate for dogs up to 100 pounds. For the largest dogs, such as mastiffs and huskies, use the largest crate: at least 60 inches by 36 inches.
Making the Crate Comfortable
Remember, the more pleasant the crate is for the dog, the easier it will be to crate train a puppy or dog. Consider the personality and needs of the dog when setting up its crate. Is the dog a chewer? Does the dog like to lay on a blanket? Adding bedding to the crate, such as towels, blankets, pillows, or dog beds can help make the space more comfortable inside the crate. Items that are soft and smell like their owner, like old t-shirts, may provide a sense of comfort to a crate training puppy or newly-adopted older dog, and may help them with any anxiety issues.
However, one must check regularly to make sure that the puppy or dog doesn't become destructive to the items in their crate. If the dog is a chewer, reconsider the bedding in place of a sturdy toy that can't be digested. If the dog uses the restroom in its crate, this may also be a time in which to remove bedding. Consider feeding the pet inside its crate—this may associate another positive action with the crate process.
Dealing with Crate Anxiety
Pets can experience emotion just like any other creature. A common emotional response to any new action or environment is anxiety. Dogs and puppies that suffer from anxiety may have issues with crate training. It's important to notice any of the symptoms of distress, from barking, pacing, panting, and trembling to aggressive or destructive behaviors like aggression, chewing, destroying, or snapping.
If a puppy or dog shows anxiety about being in the crate, use the crate in small increments. Use positive reinforcement techniques to teach the pet that the crate is not a negative or scary place.
Do not lock anxious pets in crates for extended periods of time—this may make the crate training process into a fully negative experience for a pet.
Instead, introduce an open crate to the pet. Let them in the crate for 30 seconds, leave, then come back and let them out. You can also feed an anxious dog in the crate to increase the sense of positive association with the crate. A pet owner can up the reward by making the last meal of the day special by adding a scoop of peanut butter or some animal broth to their hard food.
Another method for dealing with puppy anxiety and acclimating a dog to the crate to place the crate near where the owner will be, where the dog can see them. Use a calm and happy voice to praise the pet for calming sitting in the crate.
Once a dog or puppy has successfully been crate trained, the owner can leave its doors open to the rest of the house. The puppy or dog, over time, will go to the crate for relaxation and privacy.
House and Crate Training a Puppy or Dog with Positive Reinforcement
Positive reinforcement training techniques use a combination of praise and treats to reward a pet for doing something correctly—whether that be performing a trick or using a crate. Using a reward for your pet lets them know that positive action gets rewarded and makes the pet more likely to continue the positive behavior.
Remember, when it comes to crate training, use positive reinforcement techniques to get the results out of your puppy or dog. Remember, the dogs have shorter attention spans than human beings, and within seconds of performing the action, the pet should receive an award.
Using positive reinforcement techniques along with crate training is a great first step in teaching a puppy or dog how to house train with a crate, but along with any training situation must come patience. Remember—this is the dog's first time completing tasks that may go against their first instinct. Be firm and kind to pets when training them. When it comes to any sort of training, it's also important to be consistent—reward them for the positive behavior every time and avoid sending mixed signals to your pet. This could confuse them.
When first house training a puppy or dog, many people leash their pet and keep the dog close to them. That way, the owner is able to watch the dog and provide supervision if they notice the dog is about to use the bathroom indoors. Knowing what signs to look for may differ based on the dog. Remember, dogs, like humans, are unique individuals. Each animal has its own ways of making its needs known. Watch for a squatting posture—and remember, puppies squat quick and fast. Older dogs may have more established bathroom routines, but puppies are still new and getting used to their bodies.
When house crate training a puppy or dog, remember that the dog or puppy should be kept in the crate when it is left without supervision. Since puppies have smaller bladders, release them from the crate every couple hours. When the puppy is outside, try to lead them to one general area for their bathroom use
If the puppy uses the bathroom… give then a verbal cue while they are in the process of eliminating, like "Do your business," "Go potty," or "Eliminate." If the puppy or dog successfully uses the restroom, immediately give them a treat. Use a calm and happy voice to praise your pup. High-pitched voices may make them more excited than proud of their accomplishment. Once the puppy or dog has eliminated, feel free to let it run loose under supervision. Again, if the pup or dog is unsupervised, let them go to their crate and restart the whole process again in a couple hours.
If the puppy does not use the bathroom… take it back to the crate for another 10-15 minutes. Do not praise or scold the dog or puppy and do not give the treats. Then take him back outside to the same place and try again. If the training is consistent, over a few days to a couple weeks, the puppy or dog will learn that if they eliminate outdoors, they will get a treat.
Potential Problems
While in the crate at night, some puppies or dogs may lash out, whine, and bark. It's important to tell the difference between whether they want to be let out of the crate, or whether they need to eliminate. Try to ignore the noise. If a dog is just testing its boundaries, they will stop whining when they realize it will not help. Yelling at them or pounding on the crate will provide negative reinforcement and may make crate anxiety or the training process harder.
If the whining continues after being ignored for several minutes, try to use the phrase they associate with the bathroom. If they act agitated or excited, take them outside.
Another problem common with crate training is dealing with pet anxiety. If the puppy or dog is being incredibly anxious or destructive, contact a veterinarian, pet trainer, or pet health specialist to see what further steps need to be taken. Sometimes, professionals can use training steps, like counter conditioning.
The Perks of Crate Training a Puppy or Dog
If training and positive reinforcement stays consistent, any puppy or dog will learn that the crate is a safe and comfortable space where they can lie down in a soft spot and keep its toys. When a dog has a place to chew on something they like, crate-trained puppies and dogs may be less destructive with any household items such as shoes or pillows when left out of the crate