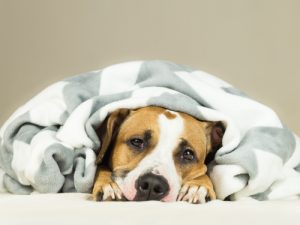 When your dog has an upset stomach, it may be caused by indigestion, medication side effects, disease, or some other cause. Signs of digestive upset include diarrhea, gas, vomiting, and constipation. In these situations, certain kinds of food can be helpful for soothing and relieving the dog's discomfort.
Before you feed a dog with severe or chronic digestive upset, you should consult with your vet. Some dogs have sensitive digestive systems while some have allergies to some of the ingredients in their food. Puppies as well as older dogs may have difficulty digesting food that is too rich for their systems.
Note, however, that these digestive symptoms can also be signs of a serious health condition that needs treatment, such as parasites, infection, or other health problems. Treat it as an emergency if your dog has these symptoms and is also showing signs of distress, such as groaning, whimpering, and not wanting to move around. You need to get the dog to the vet as soon as possible, as the dog may have ingested something toxic or be experiencing a blockage. In either case, it is a life-threatening situation and your dog needs immediate veterinary care.
Best Foods for a Sick Dog
When your dog is not feeling well, a bland diet consisting of certain foods will help its digestion. In such cases, the foods most often recommended by veterinarians and the American Kennel Club include:
Shredded Chicken – Chicken is a wonderful protein for a dog with an unsettled digestion system. Your dog will enjoy plain, unseasoned, boiled, shredded chicken. It is easy to prepare and easy for your dog to digest. Chicken is loaded with the vitamins and nutrition your dog needs.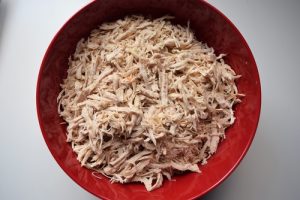 It may surprise you to learn that many dogs are allergic to chicken. Before you give chicken to your dog, make sure a chicken allergy is not contributing to the reason it is feeling sick. If you suspect your dog has a chicken allergy, try feeding beef, salmon, turkey, or lamb instead of chicken in any meal that calls for chicken. When you buy dog food, read the ingredients and avoid buying any food that contains chicken or any chicken by-product.
Chicken and Rice – Add some easy to digest calories and carbs to the chicken for a soothing meal for your dog. Cook some rice. Brown rice is better for your dog than white rice because it has the hull and bran parts of the grain which provides lots of fiber. On the other hand, white rice is easy to chew, easy to digest, and costs considerably less than brown rice. Also, brown rice will spoil faster than white rice. Brown rice and white rice are both high in carbs so you need to avoid feeding too much to your dog. Too much rice at once or over time becomes difficult for your dog to digest.
Let the rice cool and add cooked, boneless, skinless chicken. A stew of chicken and rice is an ideal meal for your dog. You can add a little bit of easy to digest cooked carrots and peas to boost the nutritional value a little more.
Pumpkin – Pumpkin is an excellent food to regulate your dog's digestive system. You can buy it in a can and feed your dog right out of the can. If you use fresh pumpkin, be sure it is peeled, cooked, and unseasoned. It has plenty of fiber, along with the essential vitamins, minerals, and nutrients that your dog needs. It is best fed mixed with your dog's kibble or protein to round out the meal.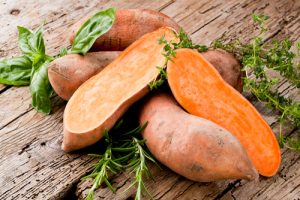 Sweet Potatoes – For a dog with constipation, baked or boiled sweet potato can help. It is very similar to pumpkin in nutritional benefits as a source of fiber. However, pumpkin is significantly lower in calories, so it is a better choice for an overweight dog. On the other hand, if your dog needs to gain a little weight, sweet potato is a better choice. Mix it with kibble or protein to provide a balanced meal.
Baby Food – Baby food is a convenient way for you to give your dog a meal that is easy on its system. Baby food is soft and easy for your dog to swallow and digest. If your dog doesn't like to take its medicine, try giving it along with baby food. Many veterinarians recommend giving your dog meat-based baby foods like chicken, lamb, and turkey, as long as the baby food does not contain spices such as garlic or onion powder.
Bone Broth – Use bone broth if your dog needs an easy-to-digest, liquid meal. It is easy on the dog's stomach while providing nutrition. You can pour it over any food to give it more flavor and moisture. If your dog is reluctant to eat, add bone broth to stimulate your dog's interest in its food.
Work with a Professional Dog Care Service
Make sure your dog gets the proper care and attention it needs when you are not around. The professional dog sitters at Paw Pals are trained in caring for sick dogs, dogs that are recovering from a medical condition, dogs with sensitive digestive systems, and dogs that need special care for any reason. Contact the licensed professionals at Paw Pals for more information.