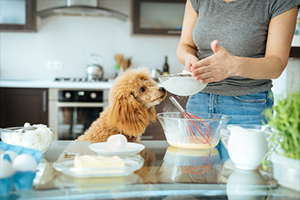 There are a lot of reasons why you should consider making these homemade dog food recipes. Initially, the idea of homemade dog food may seem to be more expensive than store-bought food, but the difference is probably not as much as you think. Homemade food is almost always more nutritious, too.
Dry dog food loses a lot of nutrition as part of the manufacturing process. Storebought dog food is often made with ingredients that are questionable, even in the premium brands. Most of them have vitamins and nutrients artificially added, rather than included in whole foods. All of them have more starch than a dog really needs.
Homemade Dog Food Recipes To Try
Making your own dog food gives you complete control over the ingredients in your dog's food. You will know exactly what they are eating and you can be sure that they are getting their nutrition from quality, whole foods. Making quality dog food is not hard, there are only three things that every meal needs: 1. Muscle meat 2. Raw, meaty bones and offal 3. Leafy vegetables. Here are some recipes to get you started.
No Limit Protein Bowl
Dogs can live entirely on meat, so there is no limit to the amount of protein you give to your dog. Since you cannot give them too much, err on the side of more protein than they need. Too little protein is bad for them. In addition to meats like chicken, beef, lamb, or pork, dogs can and should be fed fish as well. Fish is rich in protein and healthy fats.
Dogs are perfectly happy eating raw meat, too. Unlike humans, their digestive system can handle raw food just fine. For this bowl, you will combine fish, meat, and veggies.
Mackerel and salmon are the most common fish to feed dogs. Salmon is easier to find fresh. You can probably find both salmon and mackerel in the canned fish aisle. Just do your research before you buy canned fish- you want to be sure that you are buying fish sourced from a reputable brand and that the only ingredients in the can are fish, salt, and water or olive oil. Canned salmon in the US is always wild-caught Alaskan salmon, which is an excellent choice.
Add fish, and then add three different meats. Dogs, like us, love variety in their food. It is good for them in terms of nutrition, too. Deboned chicken, ground beef, and cubed pork is a good combination. A handful of spinach leaves or peas will round everything out and give a huge nutrition boost.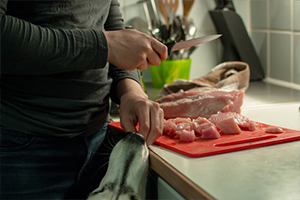 Offal-y Good Dog Food
Offal is the word for organ meat and other animal parts that we do not regularly consume. These are some of the most nutritious parts of the animal, and should make up about 10% of your dog's diet. Livers, kidneys, hearts and necks are all good to include in your dog's diet. These meats are all rich in vitamins and minerals that your dog needs.
Beef liver is the easiest offal meat to find, followed by beef hearts. Many grocery stores will carry these in the meat section or the frozen section. Take a portion of liver and slice it into bite-sized pieces for your dog. Mix this with a vegetable of your choice (spinach, carrots, lettuce, peas, any type of squash, cauliflower, broccoli, cucumber, and asparagus are all good for dogs), and cooked sweet potato.
Alternative Calci-yums
By far, the best source of calcium for your dog is a raw meaty bone. These are not the same types of bones you give dogs to chew on. They are specific types of bone for eating. They are raw, not dried, and still have muscle meat and tendons attached. They are also big enough that the dog cannot swallow them whole.
Not every dog can handle these, though. Some do not like or are not able to chew through bone. In that case, ground eggshells are an excellent way to ensure that your dog gets enough calcium. You can add ground eggshells to any meal your dog eats. This recipe is more of a supplement to regular meals.
Combine ground eggshells, spinach, pumpkin, and a small serving of grains. Grains are not bad for dogs, but they are not a necessary part of the diet. They are also very starchy. They can be a good, filling source of protein but should only really be used in supplements like this.
Very Veggie Bowl
For a hefty dose of nutritious vegetables, combine three of your dog's favorite veggies (peas, carrot, and pumpkin usually works well) with fresh meat. Deboned chicken or sliced beef are good choices, as is fresh salmon. Simple, tasty, and nutritious.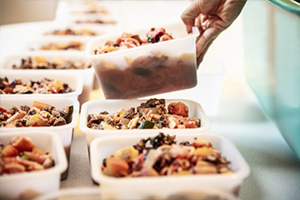 Classic Meat & Potatoes
The name is a little misleading, because dogs actually should not eat potatoes, which can be toxic to them. Instead, we use grains to add a filling, starchy component to this bowl.
Combine two different proteins- cubed pork shoulder and cubed beef sirloin are easy to mix together and very affordable- with a small serving of cooked grains like oats or brown rice, and you are done.
Speak To Paw Pals To Learn More
For more dog food ideas similar homemade dog food recipes, or to hire a dog sitter or dog walker, contact Paw Pals. Our friendly and professional staff would be happy to speak to you about your dog's needs.