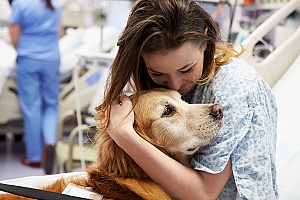 A therapy dog can help you feel more positive and leave your home with confidence each day. In this review, we discuss how you can train your pet to become a certified therapy dog.
What Is a Therapy Dog?
A therapy dog is a dog that provides comfort and support to those in need. They could support a group of people or an individual, such as a nursing home may train a therapy dog to help raise morale and the overall well-being of residents. In other cases, an individual could be dealing with mental health concerns or another disorder and may train their pet to become a therapy dog, which allows them to bring them to more places– particularly areas where the individual may otherwise experience anxiety.
How Can I Train a Therapy Dog?
You can train a therapy dog on your own or with assistance from a professional dog trainer, especially one who specializes in training therapy dogs. Keep in mind, although training a dog yourself is possible, it is not an easy task. It requires a substantial time commitment and an incredible amount of patience. If you do train your therapy dog, utilize only positive reinforcement techniques. Of course, if you choose a professional trainer, then you can remain as involved in the process as you desire.
Make Sure Your Dog Has the Right Temperament for a Therapy Dog
Some of the most well-trained dogs in the world do not make good therapy dogs simply because their temperament does not allow for it. In other cases, a dog may not be happy as a therapy dog. For instance, if you travel a lot, you should not choose an older dog that has a lower level of energy. Although they may be well-trained for the task, they simply will not be happy in their role.
Specifically, you want to find a dog that will embrace its job as a therapy dog and is friendly around others. Keep in mind, certain breeds provide a temperament that is more favorable for therapy dogs. For instance, a labrador or golden retriever makes for a good therapy dog breed. With that said, any dog breed can become a well-mannered and obedient dog with the right training.
Socialize Your Dog with New People, Places, and Other Dogs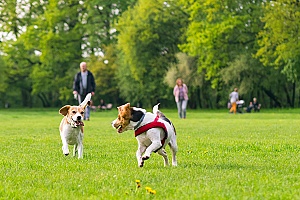 Therapy dogs must be great around other people and other dogs. Moreover, they must be comfortable in new settings, especially if you intend to take your therapy dog with you when you go places. With this in mind, you should prioritize socialization when you train your pet to become a therapy dog. Ideally, this begins while they are a puppy. Consider taking them to a dog park at a young age and allowing them to get comfortable around other dogs and people. Doggy daycare is another great way to get your furry friend around other dogs and people so that they begin to feel more comfortable and confident.
Teach Them the Necessary Therapy Dog Behaviors
Your dog will need to follow commands if they are to pass a therapy dog certification test. Specifically, this includes commands such as "leave it" or "watch me." More generally, your dog simply needs to listen to you and understand and respond to commands once they hear them. This stage, in particular, is where a professional dog trainer can really pay huge dividends.
What Dogs Make for a Good Therapy Dog?
Some organizations require therapy dogs to pass an exam that proves they are properly trained. For instance, some dogs must pass the AKC Canine Good Citizen (CGC) test or similar programs in which a therapy certification is provided. Some of the basic requirements and skills dogs must possess to pass tests such as the CGC test are:
The dog should be at least one year of age.
The dog should be able to interact with children in a friendly manner.
The dog should possess the ability to "leave it" and follow other basic dog training commands.
Once your dog is able to demonstrate the necessary skills, you can schedule them for a therapy dog certification test and begin taking them with you for therapeutic purposes once they pass.
What Do I Do Once My Dog is Successfully Trained to Be a Therapy Dog?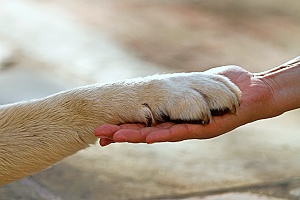 There are certificates you can receive that demonstrate your dog can be trusted in public settings. Many places will allow you to bring your therapy dog with you if you have a certification. Perhaps most notably, the CGC test allows your dog to demonstrate their abilities and become certified.
Need Pet Sitting Services? Contact Us Today
Dog walking and spending time with a pet sitter are some of the best ways to quickly socialize your dog so that they can get one step closer to becoming a certified therapy dog. If you are in need of pet sitting and/or dog walking services in northern Virginia, then contact us today.