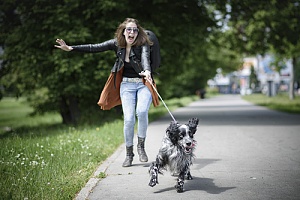 You likely already know how beneficial exercise can be, both for yourself and for your dog. Not only does a long walk (or run) help strengthen muscles, but it can give the two of you an excellent cardio workout as well. Of course, in order to enjoy the benefits of a long walk or run, your dog probably needs a harness that allows the two of you to move together. In this post, how to determine the best no pull harness for your dog, so you can skip searching and shopping, and get back to enjoying your walk with your dog.
No Pull Harnesses
If your dog is only wearing an ordinary dog collar, it can put a lot of tension on their throat as they strains forward (effectively pulling on the leash). This kind of pressure can hurt your dog's neck regardless of her size, but especially if she belongs to a smaller breed.
A no pull harness, in contrast, has straps that cross above your pup's shoulders and can be fastened at the center of your dog's chest and behind their front leg. This can be used to help them walk or run without pulling on the leash or damaging their neck in the process. It differs from a more traditional collar because it does not put a lot of pressure on the neck, which can be a lot more comfortable for the animal. It also helps to prevent choking for the dog as well.
Choosing the Right Harness
Harnesses differ based on where the clips are attached. There are currently back-clip, front-clip and side attachment harness available. With a few different types of harnesses available, you will need to find the right one for your dog. Factors to consider include the location of the strap connection and weight and size of your dog. You will also want to consider the level of padding, thickness, and material of the harness.
Strap connection
Harnesses come in two primary types: back clip and front clip. There are also side attachment harnesses that are starting to become popular, primarily for training purposes. The one you choose will depend mostly on your dog.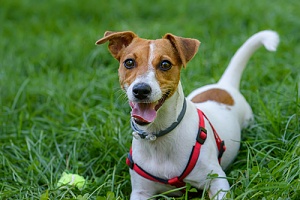 A front-clip harness will give you better control of your animal while walking. The drawback to this type of harness is that it can get tangled under the dog's feet.
A back-clip harness is very easy to put on your dog and it serves to protect the dog's neck. It also is much more comfortable for your animal to wear. However, this type of harness does not give you as much control over your dog.
The side attachment harness is best if you are trying to train your dog to walk in the correct direction.
Padding
Those dogs that have short hair can often benefit from a little extra padding in their harness. This helps them to avoid unnecessary skin irritation or rubbing.
Thickness
You want to be sure to choose a harness that is appropriate for the breed and age of your dog as it relates to thickness. This is particularly true if your dog is young, as the dog can grow out of their harness very quickly, even if the fit was perfect at first.
Material
You want to consider the material used for a number of reasons. First, you will need to clean the harness. It will be on your dog frequently and you may be walking through dirty areas. Some materials, such as leather, also provide more comfort for your animal. Materials such as nylon make for particularly easy cleaning. Other things to consider when it comes to material is making sure your dog is not allergic to any material in particular.
Adjustability
You want a harness that will adjust with the growth of your dog. You can measure the adjustability of the harness by seeing how your dog reacts when you first put the harness on.
Best No Pull Dog Harness
Here are a couple of the top no-pull harnesses on the market based on the features highlighted above:
PetSafe Easy Walk Harness: This harness has great adjustability so your dog should always be comfortable. It is made of soft nylon so it is very easy to clean while also maintaining enough strength to keep your dog protected. This harness uses a front attachment.
Rabbitgoo Dog Harness: This harness also has good adjustability which allows you to create an almost custom fit for your dog. It provides a high degree of padding, perfect for any dog with very short hair or skin that is easily irritated.
Kurgo Tru-Fit Harness: This harness is great if you are trying to ensure your dog does not pull while you are walking. There is a good amount of adjustability at several different points on the harness and the chest plate has extra padding so your dog will stay comfortable.
If you want more information on how to best choose your no pull harness, or if you have questions on training your dog to walk on a leash or use a harness properly, please reach out to Paw Pals today!