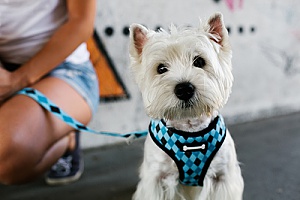 Some dogs require more than just a regular collar. Harnesses are an ideal alternative if your dog pulls on the leash, has mobility constraints, or needs a more visible walking aid. When buying a harness, there are several things you need to consider.
Safety & Durability – First are safety and durability. You want to make sure you're buying a collar that's going to fit appropriately on your dog. You don't want them to be able to easily slip out of it. It's worthwhile finding a harness that's going to last you a long time because you'll be using it every day.
Comfort – The second thing to consider is comfort. The harness is designed as an alternative to collars to keep pressure off of the throat and neck. Try the harness on your dog. If it puts pressure on their throat or looks uncomfortable, you'll probably need to try a different size or style.
Cost & Style – Lastly, you have to consider cost and style. While you probably want to pick out the most attractive collar, you shouldn't forget how much it's going to cost you.
Giving Your Dog Time to Adjust – When your dog first starts to wear a harness, be sure to give them time to adjust. You should start by allowing them to wear it around the house until they are comfortable. Then you should attach the leash and allow them to drag it around so they can get used to the weight and where it's pulling on their back. Finally, you can start walking your dog around the neighborhood with the harness as you normally would. Consider hiring dog walking services if you are having issues with walking your dog or you are going out of town.
With that said, here are the top six dog harnesses in 2019, in no order:
1. Ruffwear Front Range
The Ruffwear Front Range Harness is ideal for everyday walking. It easily slips over your dog's head, and only has one study clip you have to worry about. The harness also has a softly padded chest to provide comfort and to make sure that it fits securely.
2. Expawlorer Soft Reflective Harness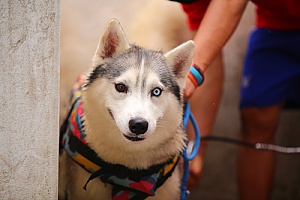 The Expawlorer Soft Reflective Harness is ideal for big dogs. Particularly if your dog is a deep chested-breed, like German Shepherds and Boxers, you'll find this harness worth checking out. It has adjustable straps so that you are able to make sure it fits properly, and it has a metal D-ring leash attachment point that is heavy-duty and secure. Some other features about this harness include it coming in a variety of colors, having extra-thick straps for more comfort, and having a handle on the back in case you need more control.
3. Puppia Soft Dog Harness
The Puppia Soft Dog Harness is made of soft, lightweight mesh that makes it ideal for small dogs. The mesh material is soft and won't rub or irritate your dog's delicate underarm skin, and it's also super easy to clean. When you're walking your dog, you don't have to worry about them tugging too much because the webbed material allows for the force to distribute evenly across the chest. Make sure you have the harness properly measured so that it has a secure fit and your dog can't back out it.
4. Freedom No-Pull Harness
If you're looking into getting a harness because you have a dog who likes to drag you around on walks, this is the harness for you. The Freedom No-Pull Harness is designed specifically to prevent pulling and to make sure your dog is comfortable while wearing it. It has four points of adjustment so that you can make sure it fits your dog snuggly.
5. Ruffwear Webmaster Secure
The Ruffwear Webmaster Secure is a great harness for medium or large size dogs that have a tendency to back out of their harnesses. It has chest and belly straps to keep the harness securely in place, while also having extra padding so your dog is comfortable. It has an adjustable fit and also has two secure leash attachments.
6. Perfect Fit Modular Fleece Harness
This is one of the best made, best fitting, and most comfortable harnesses on the market. The Perfect Fit Modular Fleece Harness is made to fit your dog's unique measurements with five places where the straps can be adjusted. The Perfect Fit harness is also extremely easy to put on. It's designed with a fleece material that your dog is sure to enjoy because it won't dig into their skin.
Choosing Dog Sitting & Dog Walking Services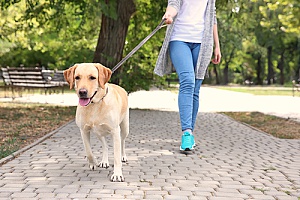 Having the perfect harness is only half of the battle trying to walk your dog. The other half is finding the time in your busy schedule to dedicate to a long, thorough walk. If you work long hours or occasionally go out of town, the best thing you can do is hire a professional dog walking services. They are trained and certified so you know you can trust them with your dog's safety. You can create a schedule with your dog walker that suits your needs. You could have your dog walker come daily or once a week, or you could use them on occasion when you go out of town.
Should you have to go out of town on business or vacation, consider hiring dog walking services to take care of your dog. They are specially trained to care for your dog, feed them appropriately, attend to their needs, and properly walk your dog in the right harness. Reach out to Paw Pals to inquire about their dog sitting and dog walking services.