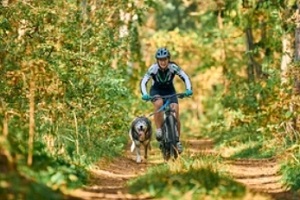 If you take your dog for a stroll on the same path or sidewalk every day, you might be yearning for a change of scenery. You don't want walking your dog to become a chore! Dedicated hiking and walking trails can give you and your furry friend a memorable experience. Northern Virginia has an abundance of trails that are perfect for dog walking. Find a trail that you love and want to return to on a regular basis – or keep it exciting by making it a goal to try out every dog walking trail in the area.
Bull Run Regional Park
Small dogs are allowed off-leash on dog pathways at Centreville's Bull Run Regional Park. Bull Run Park includes a natural surface pathway where your dog can walk. The trail is around 3.4 miles long, enough to give plenty of exercise for you and your dog. Your dog will appreciate the park's many forested areas and creeks. The park even has a number of historical attractions that will keep you entertained while enjoying quality time with your dog. Bull Run is lush with trees and spring foliage, and an ideal in the fall to observe the trees' colorful changing leaves.
Hemlock Overlook Regional Park
Just beyond Clifton is Hemlock Overlook Regional Park. Its easy-to-find, well-kept route offers stunning views. Although the trail is an easy walk, it provides just enough challenge to raise your heart rate. You and your beloved companion will discover creeks, streams, and wildlife. It's also not a park known for being crowded. Hemlock Overlook is the place to go if you're in search of a peaceful dog walking experience.
Scott's Run Nature Preserve
Scott's Run near McLean includes more than 300 acres of dog-friendly trails. You won't have to worry about intense sunlight because it's a shady trail flanked by tall trees and a canopy of foliage. You'll never want to leave such serene surroundings. Your dog will enjoy the natural dirt trails. Part of the Potomac Gorge, one of the Mid Atlantic region's rarest habitats, this Nature Preserve has plenty for your dog to discover. Scott's Run also borders a river connected to numerous creeks. If your dog loves to play in the water, Scott's Run is a perfect place to let them splash around!
Burke Lake Park
This park was named for its stunning vistas of Burke Lake. Visitors come to Burke Lake Park to enjoy lake activities, family picnics, and even camping! One of the region's more popular parks, it can get crowded at times. It's still a great place to go if you want to meet new people or play with other dogs. Its trees, lively wildlife, and shimmering lake reflect the true grandeur of Virginia. Your dog will love playing in the lake, and it's a fantastic spot to take your kids!
Great Falls Park
Great Falls Park is a popular tourist site known for its awe-inspiring waterfalls that attract visitors worldwide. Dogs are allowed on most trails except for one, so take care when deciding on a trail to walk. The park's paths are among Northern Virginia's most scenic and it's easy to lose yourself in the splendor. As you walk, you'll hear the magnificent sounds of waterfalls. Who would want to miss out on such an exceptional nature experience? Great Falls Park is the jewel of Northern Virginia. Why not spend some time exploring this fantastic site with your canine companion?
Fountainhead Regional Park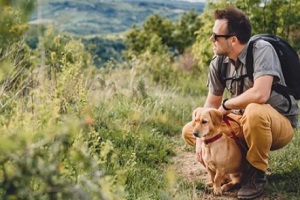 The well-maintained Fountainhead Regional Park has several trail options for dogs. It also features a walking track and a designated bicycle trail, so your dog can enjoy their nature walk without the distraction of cyclists. There are beautiful ponds and stunning views throughout. Fountainhead tends to be less crowded than other dog parks, so it's ideal for those seeking a quiet place to escape. Your dog will never forget the leisurely strolls you take here – and neither will you.
Need Dog Walking Services?
Paw Pals Dog Walking is the answer for busy Northern Virginia pet owners who love their dogs but wish they had more time to take them for walks. Paw Pals offers mid-day, weekend, and after-hours dog walking services, ensuring that your pet receives the love and attention they need while you're gone.
Our expert dog walkers are pet lovers who provide the "Best Care for Your Best Friend" in the neighborhood. Paw Pals provides flexible services designed to fit your schedule, no matter how hectic. We guarantee that Paw Pals' expert dog walkers will provide your pets with outstanding care. Contact us today to learn more or schedule a professional dog walk!