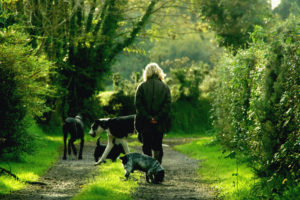 Treat yourself and your canine companion to fall splendor on one of the best dog walking trails in northern Virginia. All you need is water, comfortable shoes, a comfortable harness and leash for your dog, and whatever treats and toys will make the outing really great for both of you.
Fall Color On Dog Friendly Trails In Northern Virginia
Burke Lake Park – Burke
5 miles
Burke Lake Park is a well-known location to take your dog for a walk, so if your dog likes to meet new friends this is a great place for it. The trail is a five-mile loop around Burke Lake and will give you a chance to see the beauty Virginia has to offer in the fall. The woods, wildlife, and lake together provide the sights and scents of the fall season. As an added bonus, your dog can take a nice, safe swim in the lake.
Occoquan Regional Park – Lorton
5 miles
Occoquan Regional Park consists of 350 acres in Lorton, including a waterfront plaza where you can pause to take in the scenery. You will find hiking trails that wind through woodlands with beautiful views of the Occoquan River. Paved trails are available for use by bikers and joggers, so on good weather days you may want to stay on the unpaved trails with your dog.
Pohick Bay Regional Park – Lorton
8.5 miles
At Pohick Bay Regional Park you will find a wide network of winding trails. There is a lot of nature to see, including views of the bay and lots of bluebird boxes that are regularly monitored by conservationists. Make it an overnight camping trip and book a place to stay at one of the park's campgrounds.
Potomac Overlook Regional Park – Arlington
Just under 2 miles
The trails within Potomac Overlook Regional Park are largely novice level in terms of difficulty. You will find 67 acres of wild and cultivated land with multiple trails and a nature center with exhibits. The trails consist of scenic woodland hiking and connect to the Potomac River and the Potomac National Heritage Scenic Trail via the adjacent Donaldson Run Park.
There is a more rugged trail that begins at a parking lot on Old Georgetown Pike. Be ready for the challenge of rolling and sometimes muddy terrain and a climb of approximately 300 feet along the Potomac River shoreline.
Scott's Run Nature Preserve – Mclean
Multiple dog walking trails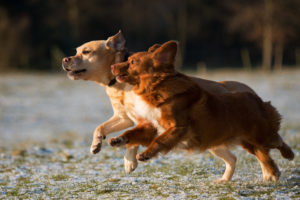 At Scott's Run you will find over 300 acres of nature with ample dog-friendly trails. The trails are natural surface and shady so you and your dog will be comfortable while walking. The nature preserve is part of the Potomac Gorge, where you can see a biological ecosystem that is rare for the mid-Atlantic region. Scott's Run borders a river and your dog will be able to explore many of the creeks that run through the park.
Anacostia River Heritage Trail – Washington, D.C.
2.7 miles
Just across the river from northern Virginia you can find the Anacostia River Heritage Trail. It is an urban trail that traverses two small islands in the Anacostia River. You will find bench seating at strategic locations to rest, take in the wetlands, and do some bird watching. If you want a longer hike, keep going across the Benning Road Bridge to access the Anacostia Waterfront Park's paved trail on the east side of the river.
More Challenging Trails In Northern Virginia
Bull Run Occoquan Trail – Centreville
3.4 miles
This fantastic natural surface trail begins at Bull Run Regional Park is great for dog walking in Centreville. It winds through woodlands alongside a creek. Your dog will love exploring nature and romping in the water at Cub Run and Bull Run.
If you want a longer hike, you can continue on the trail where the Bull Run Occoquan Trail reaches Fountainhead Reservoir and Fountainhead Regional Park. At this point, however, you are likely to encounter mountain bikers. On good weather days, the bike traffic may be a hazard for walking with your dog.
Seneca Regional Park – Great Falls
8 miles
You can roam all over the park at Seneca Regional Park, or opt for a shorter distance. Take an easy walk above the Potomac River on the wider paths or take a more challenging hike on one of the narrower trails. One must-see trail is along the Potomac River on the Potomac Heritage Trail which runs along the river bottom.
Contact Paw Pals For More Information About Professional Dog Walking Services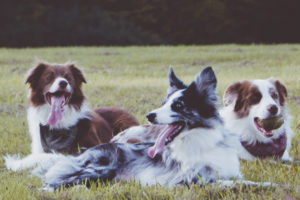 One of the best things you can do for your dog's wellbeing is take it for a walk at least once every day. A walk benefits your dog's physical health and provides it with the stimulation it needs for a healthy state of mind. However, it's not always possible for busy owners to give their dogs the walk they need. If you are one of those owners who need help making sure your dog gets in a walk each day, contact Paw Pals at 703-345-1695 for more information about their professional dog walking services.