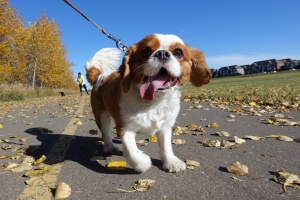 It is a good idea to become familiar with your dog's normal way of moving. Get in the habit of observing your dog when it stands, sits, lies down, walks, and runs. If you notice a change in your dog's usual movements, like your dog twisting when walking, it might be a signal that something is hurting.
Common Reasons Why A Dog Might Be Twisting Their Body
In a normal trotting gait for most dogs (and other four-legged animals), the dog will move forward with its back straight, supported by the in-tandem movement of the diagonal pairs of its legs. That is, the dog's front left leg and rear right leg move at the same time to take a step forward. The next step will be the dog's front right leg and rear left leg moving forward at the same time. The University of Minnesota College of Veterinary Medicine created a website to help dog owners understand the limb patterns of their dog's major gaits and know what they should look like.
You may have noticed that your dog does not move with its back in a perfectly straight line. Your dog may move forward at a slight angle or slight C-shape in its back with the left or the right shoulder slightly in the lead. That is very normal and is due to the way the dog developed its most dominant pair of legs. It is similar to being right-handed or left-handed in humans.
However if you notice that your dog is no longer moving in his normal way, take notice. If your dog has begun twisting his body when he walks or runs, his gait is uneven, or if his movement resembles a crab-like walk, your dog may be contorting to protect itself from pain.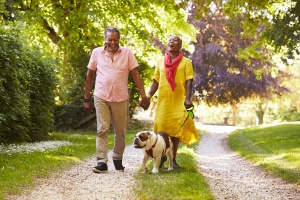 Twisting its body or moving with a different rhythm during a walk can be a sign that your dogs has developed one of the following conditions:
Possible Spinal Discomfort or Injury
One sign of spinal pain is a pacing gait, which can look as if your dog is shuffling, twisting, or rocking from side to side.
When pacing, the dog's diagonal pair of legs do not move in tandem. Instead, the front and rear leg on the same side of the dog's body go forward with each step. In other words, both right legs move forward to take a step, and then both left legs move forward. Pacing can be a sign of extreme fatigue, illness, or weakness especially in the dog's rear end. Note also that obese dogs may choose to pace rather than trot.
Pacing is not always a sign of a problem. Some breeds, like the Old English Sheepdog, move with a pacing gait which is in fact a desirable trait. The Sheepdog and other large-breed dogs are more prone to pacing as a way to conserve energy especially when covering longer distances. Also, some dogs with short-body conformation will move in a comfortable, natural pacing gait.
If you have never noticed your dog pacing before and it has suddenly begun pacing when it walks, it is a reason to have your vet examine your dog for an injury or problem developing in the dog's rear end or spine.
Wobbler Syndrome
Cervical spondylomyelopathy (CSM), or wobbler syndrome, is a disease of the cervical spine (at the neck) that is commonly seen in large and giant-breed dogs. With CSM, the dog's spinal cord and/or nerve roots are compressed in a narrowed vertebral canal which results in neurological signs and/or neck pain. Dogs with wobbler syndrome have a wobbly gait when they walk.
You should suspect your dog has wobbler syndrome if it also has any of the following symptoms along with a wobbly or twisted gait:
Neck pain, stiffness
Weakness
Possible short-stride walking, spastic with a floating appearance or weakness in the front limbs
Partial or complete paralysis
Muscle loss near the shoulders
Worn toenails indicating uneven walking
Difficulty getting up from lying position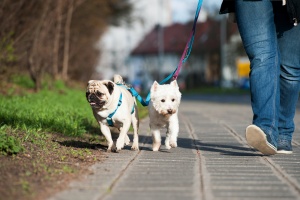 Your dog will need to be examined by a vet for a diagnosis and recommended treatment. In many cases, surgery is necessary to correct the condition.
Arthritis Pain
An aging dog, or a dog that has recovered from a serious injury, is likely to develop arthritis. Arthritis pain will cause a dog to modify the way it moves to alleviate pain. Your dog may bob its head when it moves to reduce the weight on an arthritic limb, move stiffly to avoid pain in its joints, or contort its body in a way that minimizes pain in its movements. For these dogs, your vet may prescribe a pain reliever designed to make arthritic dogs more comfortable.
Consider Consulting With Dog Walking Professionals For Help
The dog walking professionals at Paw Pals are experienced in working with dogs with mobility issues. Whether they need to refrain from certain activity during their walk or need to go more frequently but at a slower pace for shorter distances, the experts at Paw Pals are available to help you. In many cases, the owner needs help making sure their dog gets the care it needs. Contact the pros at Paw Pals for more information about how they can help you and your dog.