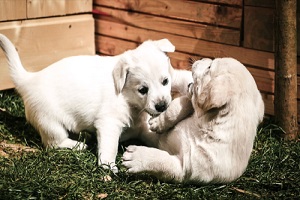 Walking two or more dogs at once can save you a lot of time, and the dogs get a chance to interact with each other along the way. However, having two or more dogs in your hands can get complicated quickly, and if you're not careful, they can easily overpower you.
Before you start out walking multiple dogs at once, there are a few things you can do to make the experience fun and safe for everyone.
Take Them Out Individually Before Walking Multiple Dogs Together
Take each dog for a walk by itself before taking it along with another dog. You need to understand the dog's leash sensitivity — some dogs become defensive on the leash when they encounter other dogs or strangers. A leash sensitive dog probably should not be walked with other dogs at the same time.
Ideally, every dog in the pack should have good leash manners, meaning that it will walk with a loose leash and respond to your commands regardless of distractions. This is even more important if any of the dogs are big enough to pull you down or cause trouble with the other dogs.
If necessary, provide leash training for each dog individually. Each dog has to understand how to behave on the leash or things can quickly spiral out of control when you try to walk an untrained dog with other dogs. The bottom line is good leash manners are a must when walking multiple dogs.
Also, taking each dog out alone at first will not only allow you to evaluate the dog's temperament; it also will help you determine the right leash equipment for each dog. A well-fitting, secure harness and a strong, non-retracting leash is best for a large dog or an untrained or young dog that is still learning how to behave on a leash.
Know Your Own Physical Limitations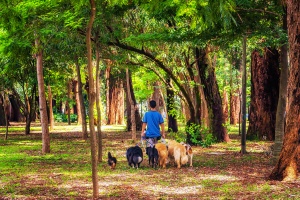 Before you set out with even a single dog on a leash walk, make sure you are physically capable of handling the dog. Then think about whether you are strong enough to handle more than one dog at the same time, especially if one or more of the dogs are larger and energetic. Even a single large unruly dog can endanger your safety and that of the other dogs you are walking.
Know the Physical Limitations of Each Dog
Just as important as knowing your own physical limitations, you need to understand the limitations of each dog. For example, you may not be able to expect a miniature dachshund to be comfortable moving at the same pace as a large, energetic lab.
Likewise, a senior dog may be unable to go as far or as fast as a healthy, young dog. It is unfair to insist otherwise, and doing so risks injuries to the dog. In these cases, you will need to gear the walk to the slowest dog.
Start Slowly
Once you are comfortable taking more than one dog at once, go on short practice walks. Stay in a safe area that the dogs are familiar with to begin. Do that for several days of walks or until the dogs are accustomed to it and they understand the proper etiquette of walking in a group.
Practice walks also give you the opportunity to assess the dynamics of the dogs in a group along with your own ability to manage things if one or more of the dogs acts up or wants to chase a squirrel. Maybe you need to reduce the number of dogs in the group or remove one that is a troublemaker. Once you find your comfort level, you can gradually make the walks longer or more challenging.
The Right Equipment Can Make Your Job Easier
You may want to get a device designed to make handling multiple dogs easier. For example, a dog leash coupler or a leash splitter will attach two or more leashes to a single grip. Try it out with two dogs to make sure it works for everyone, and then try it with three before adding more dogs.
Finally, don't forget to carry several doggy bags so your dogs leave no messes behind during their walk.
Treats, water and a portable water bowl may also be appropriate depending on the length of your walk and the weather. Free up your hands by wearing a belt and getting a harness or harness attachment that will carry these items for you.
Contact the Professional Pet Sitters at Paw Pals for Help
Regular walks with your dog are vital to your dog's mental and physical health. They are athletes that need the chance to release energy and explore their environment.
Sometimes, however, the lives of dog parents are so busy that they cannot give their dogs the exercise the dog needs. Contact the professionals at Paw Pals. They can walk your dog for you and provide any other care your dog needs when you are unavailable.