Balancing a demanding work schedule with the responsibilities of being a dog owner can be overwhelming. Rushing home during your lunch hour to walk your furry companion is a stressful routine that can leave both you and your dog feeling unsatisfied. The guilt of not providing your pet with enough care, attention, and exercise can weigh heavily on your shoulders.
Fortunately, there's a solution – hiring a pet sitter to handle mid-day care and walks for your dog. In this blog, we'll explore the numerous benefits of having a pet sitter and how it can improve your dog's physical and emotional well-being while allowing you to focus on your job worry-free.
Benefits of Hiring a Pet Sitter for Mid-day Walks
Improving the Physical and Emotional Well-being of Your Dog: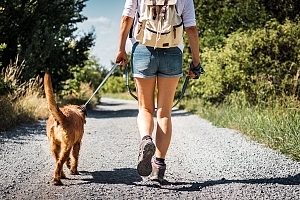 Regular daily exercise is crucial for keeping your dog's muscles and joints healthy. Mid-day walks break up the monotony of your dog's day, providing a routine they can look forward to. This routine not only improves their physical health but also helps reduce unnecessary barking or mischievous behavior when they are alone at home. Dogs, like humans, thrive on structure and consistency, and a pet sitter can provide just that.
Daily exercise helps dogs maintain a healthy weight, reducing the risk of obesity-related health issues. It also stimulates their minds and relieves stress, contributing to a happier and more balanced demeanor. The companionship and attention from a pet sitter during mid-day walks can help alleviate separation anxiety and loneliness in your dog, ultimately leading to a happier and more emotionally fulfilled pet.
Consistent Daily Care, Including Toilet Breaks:
In addition to exercise and companionship, regular toilet breaks are essential for your dog's overall health and comfort. While dogs can hold it in for a certain amount of time, requiring them to do so daily can be uncomfortable and detrimental to their well-being.
Imagine having to hold it in for 8, 10, or even more hours every day – it's not something anyone would enjoy! Your pet deserves relief just as much as you do, and having a pet sitter take care of their bathroom needs is a compassionate and necessary service.
Regular bathroom breaks help prevent urinary tract issues and discomfort for your dog. It also ensures they maintain proper hygiene and reduces the risk of accidents in your home. Providing fresh water, a snack, and a cuddle during these breaks offers your dog additional comfort and care, enhancing their overall well-being.
Promoting Socialization and Mental Stimulation
Hiring a pet sitter can also provide your dog with opportunities for socialization and mental stimulation. They can organize playdates with other dogs, take your pup to the dog park, or engage them in interactive games and puzzles. This not only keeps your dog physically active but also sharpens their cognitive skills.
Flexible Scheduling and Customized Care
Pet sitters offer flexibility in scheduling walks and visits according to your dog's specific needs. Whether your dog requires a short stroll, a longer play session, or specific care instructions, a pet sitter can tailor their services to accommodate your pet's unique requirements.
Peace of Mind for You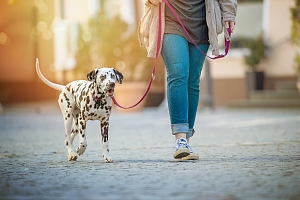 Knowing that a trusted pet sitter is providing care and attention to your dog gives you peace of mind, making your workday more relaxed and productive. You can focus on your job without the constant worry of leaving your furry friend unattended.
Reach Out to Northern Virginia's Mid-day Walk Professionals
The benefits of hiring a pet sitter for mid-day walks and care are numerous and undeniable. It not only improves the physical and emotional well-being of your dog but also promotes socialization, mental stimulation, and customized care. It offers you peace of mind, ensuring your dog's happiness and your own productivity.
Are you ready to give your furry friend the love and attention they deserve, even during your busy workdays? Contact Paw Pals today and experience the benefits of professional pet care services. Let us be your pet's best friend when you can't be there.