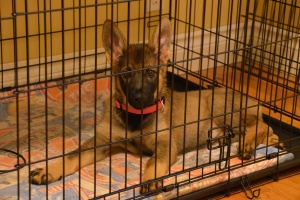 If you have recently adopted a rescue dog, you may likely have realized that caring for such a pet is challenging. Most rescue dogs have endured traumatic experiences and therefore need time to form a connection with a new owner. However, the process of training a rescue can appear less daunting if you follow a series of simple steps.
Tips For Crate Training A Rescue Dog
According to The Humane Society, of the 3 million dogs and cats euthanized in shelters in the U.S. each year, approximately 80% are healthy and treatable and can thus be adopted. Although there are several tips you can follow to crate-train your rescue dog, here are six especially helpful pieces of advice.
Choose The Right Size Crate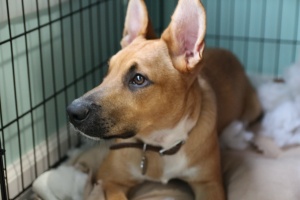 Before you begin to crate-train your rescue dog, you should verify that the crate you purchase is the correct size. If it helps, you can measure your pet. Your dog should be able to stand up and comfortably move around in his crate. If the crate is too small, your pet may easily become anxious or rambunctious.
Introduce The Crate
Once you have found the right crate, it's important to allow your dog the opportunity to become accustomed to it. It is generally a good idea to place the crate in an area of your house you use frequently, such as the living room. If you leave the door open, your dog may enter the crate or exit it whenever he wants. If several days have passed and your pooch is still reluctant to use the crate, you can try coaxing him by speaking to him in a soft voice.
Make It Very Comfy
To make your dog's crate feel comfortable, place a blanket, a towel, or any other type of bedding inside of it. You can try using different types of padding until you identify one that your pet looks comfortable sitting on. This is especially important if your dog fidgets frequently.
Use Treats And Toys Inside The Crate
Aside from bedding, treats and toys can make a dog feel happy inside a crate. You can begin by leaving treats near the crate to lure your pet into it, then place them inside once he has started to enter the crate without any help. If your dog does not appear to like treats, you can try using toys. In either case, just remember to patiently wait until your pet is ready to enter his crate. Don't ever force him to go in.
Slowly Increase Crate Training
Once your dog has visibly become accustomed to being in the crate, you can gradually begin increasing the amount of time he spends in it. If he starts to rest in the crate for long periods of time, you can reward him with a treat. You can also try going in another room to see how long your dog can sit in the crate in your absence.
Have Your Dog Sleep In His Crate
It's also important for your dog to learn to sleep in his crate. You can start by putting the crate in your bedroom so that you and your pet can be close when you sleep. Rescue dogs are especially prone to emotions such as anxiety and isolation. Therefore, it may not be a good idea to leave them alone for extended periods of time (at least not initially).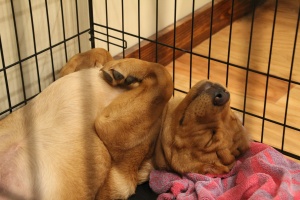 These are the most important tips to remember when crate training a rescue dog. If your pooch displays behavioral issues such as excessive whining, you can try using different keywords for commands or ignoring him. Regardless of your strategy, remember to be patient and never lash out at your dog, as this may cause him to feel anxious.
Work With Paw Pals For Dog Sitting Services For Tips On Crate Training A Rescue Dog
Reach out to the professionals at Paw Pals for more tips on crate training a rescue dog. We provide pet sitting and dog walking services to pet owners throughout Northern Virginia. We were founded by Mary Telesz, a local family woman and Australian Shepherd owner.
Paw Pals' sitters are all licensed, bonded, and fully insured. They are also Pet Tech-certified in Pet CPR and First Aid. We offer regular (non-overnight) vacation visits, in-home overnight dog sitting, and bed & biscuit service. Our visits include walks, brushing, and treats, as well as fresh food, water, and medications (if required). We also provide additional services such as dog supply pick-up and dog taxi service.
Call Paw Pals today at (703) 345-1695 or contact us online to learn more about our dog sitting services.