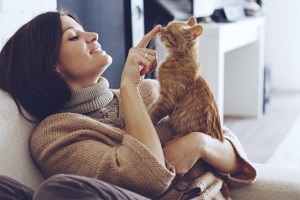 When it comes to securing a pet sitter for your cat, you may be worried that the professional you have chosen is not prepared to deal with all the quirks and quibbles of your furry friend. The good news is that many reputable cat sitters are happy to come and do a meet and greet at your home, and this is an opportunity that you should not pass up. Meet and greets can serve a valuable purpose for you, your cat and the sitter when done well, resulting in better care all around.
The Advantages Of A Meet And Greet
If you have never done a meet and greet before, you may not know what to expect. Essentially, the cat sitter will come to your home while you are present just to meet your animal(s) and talk about a variety of details for when you are gone. This gives your cat the opportunity to become acquainted with their caretaker in the safety of your presence, leading to less stress once you are gone. It also familiarizes your sitter with your home and allows you to discuss your expectations and goals in the actual space, which can be helpful if you need to point out locations, items or other tasks.
Topics To Discuss
One of the biggest advantages of scheduling a meet and greet with your cat sitter is that you can talk about all the important details that the sitter should know while you are gone. Ideally, this occurs while the cat is in the room with you, so that the sitter can interact with them and so that the cat can become familiar with the sitter's appearance, voice and scent.
Emergency Options And Care
No one expects that anything will go wrong with their pets in the care of a sitter, but accidents or sudden medical issues are never predictable. It is important that you discuss your emergency hopes and expectations during a meet and greet so that the sitter is prepared. This includes which vet you typically go to, any medications that your pet is currently taking, whether the sitter or the vet is authorized to green light emergency treatments in your absence and so on. If you select a cat sitter from Paw Pals, you can feel confident that you are getting an expert; all of our sitters are PetTech certified in pet CPR and first aid practices.
Behavioral Issues To Be Aware Of
Another important thing to discuss during a meet and greet is any behavioral issues that your cat may experience; in fact, being able to demonstrate these in person is part of the value behind these meetings. Does your cat try to escape every time you open the door? If you have an outdoor space for your cat, are there other animals in the neighborhood to watch out for? If you have more than one cat, do they get along, or is one a bully?
These are all important questions that can help to equip the sitter with the knowledge they need to keep your pet safe and happy by discouraging problematic behavior and avoiding stressful situations. The sitter meeting your cat and going through some routines in person will also help your cat to feel more secure with their care while you are gone.
Routines And Regularity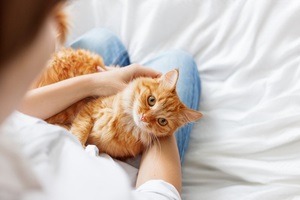 Routines are one of the most vital things to tackle with a sitter, because as we all know, your cat will remember its routine—and might become upset if it is broken. When does your cat get food and water? Are treats expected, and for what? Are there areas of your home where your pet is not permitted to go? How often do you clean their litter box?
All of these questions play a role in keeping your cat calm and secure while you are away; as long as their usual routine stays mostly the same, they are likely to feel confident in their temporary sitter. It is a great idea to walk through your daily routine with your sitter—and your furry friend may decide to accompany you, solidifying the transition.
Trust The Expert Cat Sitters For Reliable, Friendly And Safe Stays
If you are considering a meet and greet with your cat sitter, you are making a good decision to help smoothly transition your cat from your care into the supervision of their new caretaker while you are gone. At Paw Pals Pet Sitting, we are happy to come and meet with your cat to get to know all about them and their routines before you go. Reach out to schedule a time that works for you so that you can feel confident about their care while you are out of town.