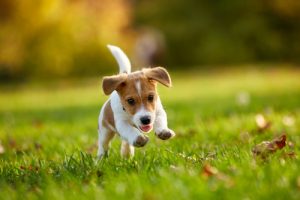 Training a puppy to sit can be an arduous task, especially when it comes to dogs who are more rambunctious. However, it can become less stressful if you simply follow a few steps.
Some puppy owners believe "sit" is one of the most important commands a dog should learn to obey first, while others prioritize orders like "come" or "stay." A 2011 survey of 1,000 dog owners in the U.K. revealed 12.9% of respondents said they believed "sit" was the most important command for their pet to follow. Here is a guide on how to train your puppy to sit:
Foundation for Obedience
Perhaps one of the most essential elements to ensuring your puppy learns to sit involves establishing a foundation to gain his or her trust before incorporating the use of a leash. This means giving your pet a reward of some sort every time he or she follows a command without any issues. This gives your puppy some positive reinforcement.
It's important to learn as much as you can about your puppy before adopting him or her. Remember to be patient. Depending on factors like a puppy's age (e.g. two months vs. five months) and breed (Dobermann vs. Pomeranian), your pet may not be able to understand you as quickly as you might think.
Materials Needed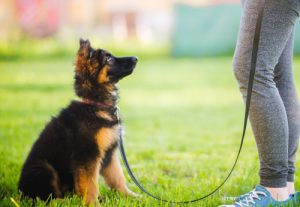 Basic supplies every dog owner should possess in order to train a puppy to sit include chewy treats, like Wellness treats, a leash, and collar. Certain types of fancy reflective collars can be adjusted with a snap buckle so that it does not injure your dog. Dogs with narrower heads, such as. greyhounds will usually be better off with these types of collars, also known as martingale collars. Clickers, which often come with wrist straps, are also essential. Some owners may opt to rely on a bridge word like "yay!" as a way of creating a link between the desired behavior and the reward. Training books and other similar guides can also be useful.
Training In Settings from Least To Most Distracting
After you have checked that you have all materials to train your puppy, it's important to choose a safe location with as few distractions (visual or auditory) as possible. This can be a basement, a guest room, or any place with few fragile objects that your puppy may knock over and break. It is often recommended to begin training indoors and then slowly work your way up to outdoor settings like the backyard or a dog park.
Cookie, Click, Repeat
This tactic has been proven to work with many puppies. It essentially consists of holding a treat near a dog's nose and gradually inching it towards the back of his/her head. Your puppy will (generally) instinctively follow your hand and his or her backside will gradually come closer to the floor. Once your dog finally sits, click or utilize your bridge word and hand him or her the reward.
Moving From Least To Most Prompting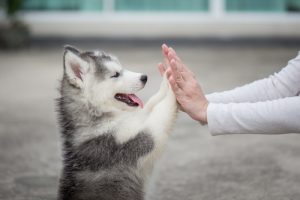 Once your puppy has mastered the "cookie and click" method to get him or her to sit, you can try other summoning strategies like hand signals or verbal orders. Should your puppy paw at your hand, bite you, or show any other signs of indifference or aggression instead of taking a treat, just move the food out of his or her sight, such as behind your back. Wait for your puppy to become calm. Using other words like "settle" or "easy" can also be worth trying.
Get Help From Local Pet Experts
Reach out to the experienced professionals at Paw Pals to learn more about how to train your puppy. Based in Centreville, Virginia, Paw Pals serves customers in Chantilly, Clifton, Fairfax, Manassas, Fairfax Station, and Reston. Founded by proud Australian Shepherd puppy owner and family woman Mary Telesz, Paw Pals is a full-service pet sitting and dog walking company that is licensed and completely insured and bonded. They are also PetTech certified in First Aid and Pet CPR. Their dog-sitting prices start as low as $24 for a 30-minute visit for puppies. Each additional dog costs $3. Vacation visit pricing includes walks, playtime, brushing, treats, fresh food and water, and medications (if necessary). Paw Pals will treat your pets with all the love they deserve!
Mary has been a pet sitter for more than 15 years and boasts experience caring for many types of animals (dogs, cats, horses, etc.). Contact Paw Pals Pet Sitting today!