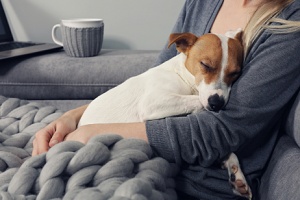 As your dog ages, it will experience the onset of arthritis. However, the severity of the arthritis varies. Just like us humans, some dogs suffer from severe arthritis, while others experience milder cases of it. Some dogs are stoic and will not express the amount of pain they feel.
You can tell if your dog has arthritis by noticing the way it moves. It may suddenly begin to limp, or have trouble hopping into the car or going up stairs. It may be reluctant to run the way it once did. If you are not sure whether your dog is suffering from arthritis, your vet can diagnose it with a simple physical exam.
You can take some simple steps to delay the effects of arthritis in your dog. And you can ease the pain once it starts. Here are some of the best things you can do to help your arthritic canine pal.
Keep Your Dog Active
Manage your dog's arthritis with exercise. The best forms of exercise for arthritic dogs are leash walking, controlled jogging, and swimming.
Take your dog on regular walks. A walk a couple of times each day will keep the dog's (and your own!) joints moving. If your dog is reluctant to go, find a way to make the walk fun. Perhaps take the dog to the dog park, a regular park, or a place with an area fenced in where you can let the dog safely off its leash.
If regular walks are not feasible, engage the dog in some kind of play activity in your yard. You do not have to make your dog run long distances. Just make sure it moves around for at least fifteen minutes. You can also consider taking it to a day care service where it will have lots of play time with other dogs. Make sure your dog is together with dogs in similar conditions so your dog is not overwhelmed or bullied by the others.
The most convenient and time-saving option is to hire a professional pet care service. Some services have people trained in dog health care. Those professionals know how to give your dog just the right kind and amount of exercise it needs to help with its arthritis.
Give Your Dog Arthritis Supplements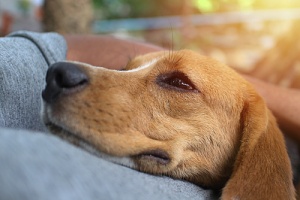 Even before arthritis sets in, start giving your dog effective joint supplements to delay it. Many excellent joint supplements are available over the counter, such as glucosamine, MSM, chondroitin, fish oil, and omega fatty acids. These also have beneficial properties for a healthy coat and skin. You should talk it over with your vet for help identifying the type of supplement and the dosage that is best for your pup.
Feed Your Dog a Healthy Diet
Avoid feeding your dog too much. An overweight dog is much more likely to have joint problems than a dog kept to a healthy weight. Fat secretes hormones that cause pain and inflammation in the joints. Also, the extra weight puts more stress on joints and cartilage. A healthy diet for your dog means controlling its weight and managing any food allergies it may have. If your dog is constantly licking or chewing its paws, for example, it could have a food allergy and some arthritis to boot. Your vet can identify the issue for you. Your vet can give you guidance for a healthy diet, and if needed, they can prescribe weight management food suitable for your dog.
Keep Your Dog Warm
Cold air will stiffen the dog's joints. Keep the dog warm by providing a bed that it can snuggle in, perhaps add a blanket or a dog-friendly heating pad. On cold days, put a sweater on the dog. If the dog gets wet, make sure you dry it as quickly as possible so it does not get too cold.
Give Your Dog Massages
Who doesn't love a massage? Your dog certainly will! A massage will warm its joints, improve circulation, soothe pain, and help the dog relax. Best of all, it will remind your dog how much you love it.
Give Your Dog Arthritis Pain Medication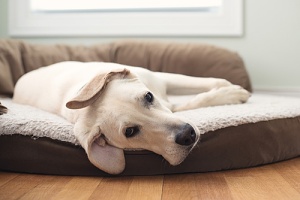 Consult your vet about whether you should give your dog medication to manage its arthritis pain. Non-steroidal medications commonly prescribed to treat arthritis include Rimadyl®, Etogesic®, Deramaxx®, and Metacam®.
Contact Paw Pals for More Information about Their Dog Care Services
The professional pet care providers at Paw Pals can help you with your arthritic dog. Contact them for more information about what steps you can take to relieve arthritis in your dog. They can work with you to develop a dog walking regimen tailored to your dog's condition – one that your dog will look forward to each day!