It's every pet owner's nightmare: not only is their dog sick, but he needs to take medicine! Some dogs happily scarf down their required medication, but others are far less cooperative. Follow these simple tips on how to give a dog medicine to ensure that your pet gets the medicine they need to feel better.
Learn About the Medication
Every time your veterinarian prescribes medication for your dog, she should provide instructions on how to administer it, ideally in written form. While these instructions won't necessarily help you get the medicine into a dog that doesn't want to take it, they will provide basic guidelines for when and how to give the medicine.
Read The Label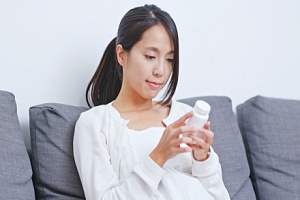 Reading and understanding the basic dosage instructions is the first step in learning how to give a dog medicine. Some people may find that making a medication schedule is helpful; it can make sure that you remember to give your dog his medicine at the right time and for the proper length of time. Keep in mind that unless your vet tells you otherwise, your dog should receive the full course of medication. Just because your dog appears to be feeling better does not mean that the medication has done what it needed to do.
Just like with human medication, a prescription for dogs often has to be taken in a certain way. Depending on the type of medication your dog needs, it may have to be taken orally or administered by a dropper into your dog's ears or eyes. It could be given as needed, or on a specific schedule (such as every 12 hours) for a set period of time (for 10 days, or until the medicine is gone). Your dog may need to have water or food with the medicine, or even avoid food and water for a period of time after taking it.
Ask Questions
In addition to understanding when and how a medication should be taken, you should ask the veterinarian how your dog is likely to respond to it. Knowing possible side effects and how quickly the medicine should work can help you avoid unnecessary follow-up trips to the vet.
Finally, examine the label of your pet's medicine carefully. Look for any additional instructions on how to store the medication. Some medicines have to be refrigerated, while others can be kept at room temperature. Follow all instructions for the best possible outcome, and be sure to contact your veterinarian promptly if your dog is experiencing side effects or does not appear to be improving.
Giving A Dog Liquid Medicine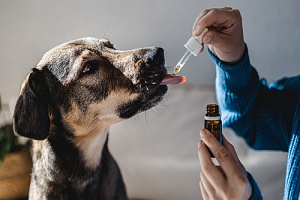 While it may seem more complicated and messy, administering liquid medication can often be easier because it does not require you to put your fingers inside of the dog's mouth. A few simple tips can help you learn how to give a dog medicine in liquid form.
First, fill the dropper or syringe with the correct amount of medication and hold it in your dominant hand. Second, either stand or kneel beside your dog on whichever side you are holding the medication in, and place your free hand on the back of his head to keep it steady. If you'd like, you can gently pat your dog's head to calm and soothe him. Third, insert the tip of the dropper or syringe into the side of your dog's mouth, staying as close as possible to the back of the mouth. Empty the contents into your dog's mouth, and release his head. Finally, rub your dog's throat lightly to encourage him to swallow the medicine. That's it!
Giving A Dog Pills
Unlike liquid medication, administering pills to your dog usually requires you to place your fingers into his mouth. Learning how to give a dog medicine in this way can require employing some tricks, such as hiding the pill inside of a favorite food or treat — but only if your vet says that it's OK to do so. Using food to get a dog to take pills is a classic method, but it does have some downsides. If you mix it into a small amount of canned dog food and place it in his dish, he may balk at the taste and refuse to eat it all. If you place the pill inside of a small piece of food, such as a piece of soft cheese or meat, your dog may still taste the pill and refuse to eat it. Experiment with several methods to find a way that works for your dog so that he gets all of the medication that he needs.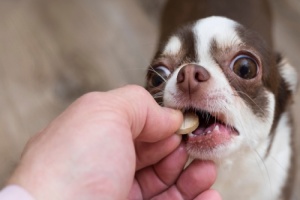 If the medicine cannot be taken with food, you will have to learn how to give a dog medicine without any tricks. This can be difficult, especially if your dog is not used to you placing your hands around his mouth. Start slowly, stroking his muzzle and chin to soothe him, before attempting to give him a pill. Then stand or kneel next to your dog, on whichever side you are holding the pill. Using your other hand, reach over his nose and squeeze your thumb and middle finger between his upper and lower teeth, placing your fingers on either side as close to the molars as possible. The sides of his upper lip should curl up in response. Then slowly tilt your dog's head upwards to encourage him to open his mouth. Place the pill near the base of the tongue, then take away your hands so he can swallow. Rub his throat lightly and offer him some water to encourage him to swallow.
This technique can be tricky, and may irritate your dog. If you believe that your dog will bite you, do not attempt this method. Instead, ask your veterinarian for options that do not involve placing your fingers in his mouth. A liquid medicine or a medication that can be taken with food may be available.
Ask For Help
Remember that giving a dog medicine requires practice, and it doesn't have to be done alone. Ask for help in restraining your dog if necessary, and call your vet if you cannot get your dog to take the medicine. Some clinics offer a service where they will administer a pill or liquid medication daily, which may be necessary for your dog to take the full course of medication.
We all want our dogs to be healthy, but most pet owners find that their dog will need to be treated for an illness at some point. Learning how to give a dog medicine is a necessary part of being a responsible pet owner. With these simple tips and perhaps some trickery, you can make sure that your dog stays happy and healthy. Contact Paw Pals for more information.