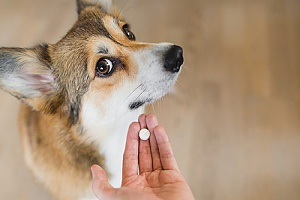 Nobody likes it when their dog is sick — especially if it means that you have to give them a daily pill! Medication is often necessary to help your pup get or stay healthy, but giving your dog a pill can be a difficult experience for both you and your fur baby. So what is the best way to give your dog a pill?
Mix It In With Their Food
The easiest and least stressful way to give your dog a pill is by simply mixing it in with their food. Just slip the pill into their regular food, adding in something soft like canned dog food or cooked meat to help disguise the pill and encourage your pet to eat it. If your dog will take a pill this way, then you're in luck, since it requires nothing more than a little bit of planning to get your dog his medicine. Just be sure that if you have more than one dog, only the dog who needs the pill gets it in his food. Give your dogs their food separately to ensure that the medicine goes to the right dog.
However, not all dogs will take pills in this way. Some medicines just don't taste good, even when mixed with food. Some dogs are picky eaters, and won't eat their food if they detect a foreign substance in it. If your dog won't take a pill in his food, read on to learn how to give a dog a pill when mixing it in with food isn't an option.
Trick 'Em With Treats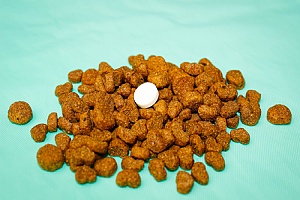 If your dog won't take a pill in his regular food, she may be more amenable to a pill hidden inside of his favorite treat. The technique is straightforward: pick out your dog's favorite treat, such as a piece of meat, cheese or a spoonful of peanut butter. Slip the pill into the treat, but don't give it to her right away. Give your dog a treat with no pill. Then give her a second treat, again with no pill. Finally, give your dog the treat with the pill hidden inside, perhaps with a bit of playfulness to encourage her to eat it. Follow up with one last treat so that your dog doesn't associate the treat with the pill. This technique should work for most pills — and most dogs!
If your dog is still reluctant to take the treat, a bit of friendly competition may help. Give a pill-free treat to another dog in your home (provided that the dogs are not competitive over food), or eat the treat yourself. Seeing another animal or even you taking the treat may spur your dog on to take the treat herself. Just make sure that the treat is one that you can stomach as well!
Encapsulate the Pill
If your dog isn't a picky eater but his medication tastes particularly bad, consider purchasing empty gel caps to help your dog take the medicine in his food or in a treat. These are available for purchase in most drug stores and through online retailers. Just make sure that the gel cap is large enough to fit the pill inside. Put the medicine in, and use one of the above methods to disguise the pill. It's an easy way to cover up a foul-tasting medicine so that you can use the least stressful technique for giving your dog a pill.
Physically Give Your Dog A Pill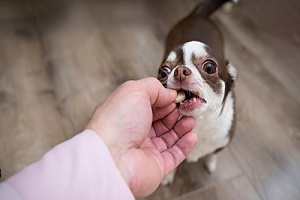 This last option is one that most people would like to avoid, since the idea of putting your fingers into a dog's mouth and coaxing him to swallow isn't often appealing. But with a little practice ahead of time, learning how to give your dog a pill directly in his mouth is pretty simple — and it will work for almost any dog. However, if you believe that your dog will bite you, avoid using this method. Call your veterinarian's office to ask for options. They may be able to administer the pill for you, or help you give your dog the pill. Alternatively, they could give you a liquid version of some medicines to make it easier for your dog to take.
How To Give A Dog A Pill
Start by comforting your dog, stroking his face and head to soothe him. Then stand or kneel right beside your dog on whichever side you are holding the pill (right side if you're holding the pill in your right hand and vice-versa). Using your free hand, reach over your dog's head and place your hands into his mouth. Squeeze your thumb and middle finger between his upper and lower teeth, getting as close to the molars as possible. The sides of his upper lip should curl up when you do this. Next, lift your dog's head upwards to encourage him to open his mouth. When he does, place the pill near the base of his tongue, and take your hands away to let him swallow. Rub his throat lightly and provide water to encourage him to swallow.
To help get your dog used to this technique, try it with treats first. That can condition your dog to expect a treat when you start the process, and will make it easier to get him to cooperate.
Keeping Your Dog Healthy
Learning how to give a dog a pill doesn't have to be hard, especially if your dog will take her medicine with food! If you have trouble, contact your veterinarian to learn more about different methods for giving your dog medicine, to make sure that she lives a long, happy and healthy life! Contact Paw Pals today to learn more!