Cold weather doesn't mean your furry friend has to stay cooped up indoors all day. In fact, keeping your dog active during the winter is essential for their physical and mental well-being. In this blog, we'll explore a variety of fun and safe activities to engage your dog in the cold weather, ensuring both of you make the most of this season.
Understanding the Cold-Weather Needs of Your Dog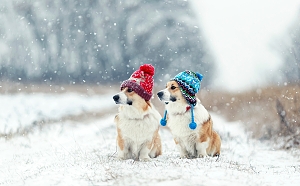 Before diving into activities, it's essential to consider the individual needs of your dog. Different breeds have different tolerances to cold, so be mindful of your pet's breed-specific characteristics. Puppies and senior dogs may require adjusted activities, while dogs with health issues like arthritis may need extra care and attention during the winter months.
Safe Outdoor Activities
Winter Walks and Hikes
Taking your dog for winter walks or hikes can be an enjoyable and healthy activity. Ensure both you and your dog are appropriately dressed for the weather, and pick safe walking routes, free of ice and other hazards.
Interactive Playtime
Engaging in classic games like fetch and tug-of-war is a great way to keep your dog active and happy. You can also utilize toys like frisbees and tennis balls for added fun.
Winter Sports
For the more adventurous types, consider introducing your dog to activities like skijoring and dog sledding. These sports can be a fantastic way to bond and stay active during the winter. Just be sure to follow safety guidelines and start with the basics.
Indoor Activities to Beat the Chill
When the weather is too harsh for outdoor adventures, you can keep your dog entertained indoors. Puzzle toys and treat dispensers provide mental stimulation and can keep your dog engaged for hours. You can even create DIY treat puzzles to challenge their problem-solving skills.
Building an obstacle course inside your home can be a fun and physically engaging activity. Teach your dog to navigate tunnels, jump over obstacles, and weave through cones, all while burning off energy.
Another indoor favorite is playing hide and seek with your dog. This game not only stimulates their natural instincts but also helps reinforce obedience commands. Adjust the game's difficulty to match your dog's skill level.
Doggy Playdates and Socialization
Dogs are social animals, and maintaining their socialization is crucial, even in cold weather. Organize indoor playdates with other dog owners to let your pets enjoy each other's company. Ensure you set ground rules for play to keep things safe and enjoyable.
Explore local dog-friendly facilities like indoor play areas and dog parks. These environments provide a safe space for your dog to run, jump, and play without the risk of slipping on ice or getting too cold.
Consider enrolling your dog in obedience or agility classes. Not only will this keep them physically active, but it will also boost their confidence and behavior, making your indoor time together productive and rewarding.
Precautions and Safety Tips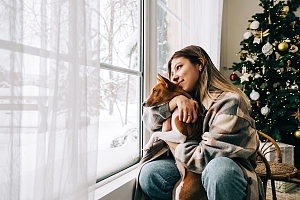 Remember to protect your dog from cold-related health risks. Learn to recognize the signs of hypothermia and frostbite, and invest in appropriate winter gear to keep your pet warm and safe during outdoor activities.
Indoor safety is just as important. Childproof your indoor play areas and choose toys that are suitable for dogs. Keep a watchful eye on your dog to ensure they don't ingest small or dangerous objects.
Lastly, pay attention to your dog's mental health. Cabin fever and boredom can lead to stress and anxiety. Look for signs of restlessness and use the indoor activities we've discussed to keep your dog's mind and body active.
Reach Out the Northern Virginia's Pet Sitting Professionals
Engaging your dog in cold weather doesn't have to be a challenge. By understanding their needs, exploring safe outdoor and indoor activities, and prioritizing their well-being, you can make the most of the winter season with your beloved companion. The key is to keep them active, mentally stimulated, and happy, ensuring that the cold weather is no barrier to the quality time you share.
If you're going away this winter season and need a professional dog sitter who will keep your dog active while you're away, get in touch with Paw Pals Pet Sitting, Northern Virginia's top pet sitters. We have Pet-tech certified dog sitters that can ensure your furry companion is safe and well cared for while you're away this winter.