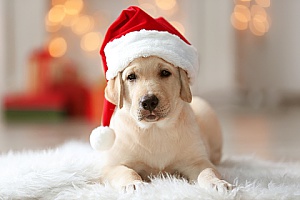 Everyone's dog loves good dog treats. If you can't make it to a dog-friendly restaurant this year, consider making tasty treats for them. To give them a special, safe and healthy taste of the holidays this season, we've compiled a list of the top 5 holiday dog treats that are sure to keep you dog happy and, unfortunately, begging for more!
1. Peanut Butter and Pumpkin Dog Treats
To make this delicious treat for your dog you're going to need:
1 ½ cups of whole wheat flour
2 eggs
½ cup canned pumpkin
2 tablespoons peanut butter
½ teaspoon salt
There treats are super easy to make. Preheat your oven to 350 degrees. While it's heating, whisk together your flours, eggs, pumpkin, peanut butter, salt and cinnamon in a bowl. This should create a dry and still dough, however you may add some water if you need to make it a little more workable. Create the shape and size treat you want and place them on a baking sheet. Leave them in the oven until they are hard, which usually takes about 40 minutes.
2. Simple Healthy Dog Treats
To make these simple and healthy dog treats you're going to need:
¾ cup white whole wheat flour
¼ cup all purpose flour
¼ quick oats
¼ cup cornmeal
½ cup water, more if needed
1 egg
2 tablespoons of natural peanut butter
Start by preheating your oven to 350 degrees. Next, you're going to combine the water, oil, eggs and peanut butter; mixing them until they are well combined. Using a seperate bowl, combine all of your dry ingredients. Mix the dry and wet ingredients until well combined. Now, you're going to want to roll out your dough to be about ⅛" thick. You can cut the cookies into any shape you would like, and then place them on a lined baking sheet. Your dog treats are going to need to bake for a total of 20 minutes, but half way through you should flip them over so they bake evenly. After the 20 minutes, turn your oven off and let them sit in the oven for another 20 minutes.
3. Dog Cake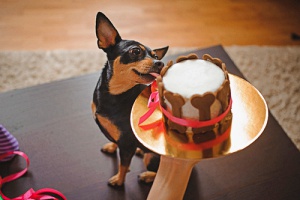 For this dog cake you're going to need:
1 cup flour
½ tsp baking soda
⅛ cup vegetable oil
¼ cup peanut butter
½ cup applesauce
½ cup pumpkin puree
1 egg
For the frosting you'll need:
½ cup plain Greek yogurt
¼ peanut butter
To make the cake, you want to start by preheating your oven to 350 degrees. Then, in a large bowl combine the flour and baking soda. In a separate bowl, combine the vegetable oil, peanut butter, applesauce, and pumpkin puree. Next, combine the wet and dry ingredients. Pour the mixture into an 8"pan that has been greased with oil. Your cake is going to bake for approximately 25-30 minutes. When you insert a toothpick into the center, it should come out clean. To make the frosting all you had to do is combine the Greek yogurt and peanut butter and then spread over the cooled cake.
4. Apple Carrot Dog Biscuits
The ingredients necessary for these dog biscuits are:
2 ½ cup whole wheat flour
½ cup oats
1 TBSP brown sugar (optional)
1 apple cored and grated
½ carrots peeled and grated
1 egg beaten
⅓ cup vegetable oil
¼-½ cup water, only add extra water if necessary
Begin by preheating your oven to 350 degrees. Mix together the flour, oats, and brown sugar. In a separate bowl, beat the egg and mix in the oil, water, and grated apples and carrots. Add your wet ingredients to your dry ingredients bowl and thoroughly combine. Roll out the dough and create dog biscuits in your desired size and shape. Place your biscuits on a baking sheet greased with oil and allow them to bake for 40-45 minutes, or until biscuits are firm.
5. Dog Donuts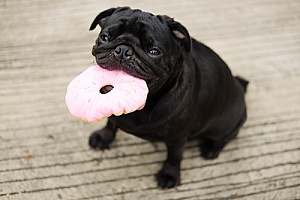 To make dog donuts you'll need:
1 cup flour
1 cup oats
⅓ cup coconut oil
½ cup peanut butter
2 eggs
For the topping you'll need:
Preheat your oven to 375 degrees. These donuts are super simple, all you have to do is mix all the ingredients together at the same time in one bowl until dough forms. Next, press the dough into a greased donut pan. These donuts are not going to rise, so you should make sure each one is tightly packed. These donuts need to back for approximately 14 minutes. If you wish, you can top them with Greek yogurt and bacon bits.
These dog treat recipes may inspire to try creating your own special dog treat, but there are many ingredients that are toxic to dogs or they won't be able to digest well, so you need to be well informed before you start experimenting. Ingredients you should avoid giving your dog include chocolate, cinnamon, macadamia nuts, onions, leeks, chives, garlic, citrus, grapes, raisins, yeast dough, avocado, raw meat, and more. When making something homemade for your dog, it's always best to err on the side of caution rather than risk getting your pup sick. These 5 dog treat recipes are created with the safety of your dog in mind and will give them a delicious treat they won't be able to get enough of!