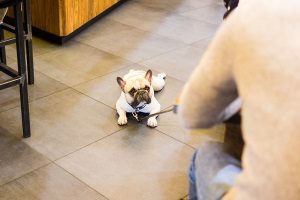 Dog owners spend so much time away from their pets during the week. Work, evening commitments, and more can get in the way. There's no reason to make dining out yet another occasion on which you have to spend time without your dog. There are dozens of restaurants across Northern Virginia that are happy to have both you and your dog visit them for breakfast, dinner, and everything in between. Here, in no particular order, are 10 dog friendly restaurants in Northern Virginia with outdoor seating areas as well as dog friendly treats and events for you to enjoy together.
Jaleo
You may not think that such a celebrated restaurant would like the idea of dogs underfoot, but Jaleo is more than happy to have you and your pooch. Chef Jose Andres's national treasure of a restaurant serves delicious tapas and other Spanish delights and can accommodate dogs at one of its 20 outdoor patio tables. Jaleo offers brunch, lunch, dinner, and special pre-theater and sangria hour — the restaurant's version of happy hour — menus at its Arlington location.
Fire Works Pizza
The downtown Leesburg location of this local pizza joint has a gorgeous patio, where dogs can enjoy a bowl of water and a biscuit or dog-friendly menu items like meatballs. Owners can dine on a wide variety of wood-fired pizzas, appetizers like mac and cheese and bruschetta, and rotating daily specials. Fire Works also has an extensive beer list that lets any beer lover find the perfect pint to go with their slice. It's a great option for a casual evening out.
Carlyle Grand Cafe
Take a step back in time at the 50s themed Carlyle Grand Cafe in Arlington. The restaurant serves classics like milkshakes and burgers, and also makes a killer cocktail. They're particularly well known for their brunch specials, including large and small salads, sandwiches, burgers, egg scrambles, and steak and eggs. Call ahead to make sure their seasonal patio is open before stopping by with your four legged friend.
Cafe Montmartre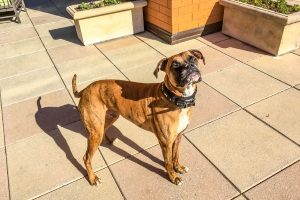 Reston's Cafe Montmartre serves fresh Viet-French food and has a beautiful patio area where dogs are welcome to hang out. The cafe serves brunch, lunch, and dinner, and has French-focused menus as well as one devoted entirely to more traditional Vietnamese food for guests looking for something a little different. Cafe Montmartre provides live music several nights per week, with styles ranging from groovy 70s hits to 1930s jazz. Dancing is encouraged!
The Dairy Godmother
This frozen custard shop serves vanilla and chocolate frozen custard, sorbets, and homemade marshmallows every day, with a special "flavor of the day" custard that changes almost daily. While dogs will need to stay outside the store itself, they won't be left out entirely. The Dairy Godmother sells puppy pops, which are wheat-free treats made with yogurt and either banana or pumpkin, and Squirrels, which are homemade dog biscuits that taste toasty and delicious thanks to barley malt. These all-natural treats are also made with wheat flour, eggs, and oil.
Dogwood Tavern
The aptly-named Dogwood Tavern offers a wide variety of comfort food delights in rustic environs. The restaurant has a burger of the month special, an ever-changing beer list, monthly cocktail specials, and live music on Thursday, Friday, and Saturday nights. The Falls Church restaurant has something for everyone, including outdoor seating that's perfect for you and your dog.
Cantina D'Italia
With two locations, Cantina D'Italia is a convenient choice when you're out and about with your dog. The restaurant has outdoor patio space and serves up classic Italian meals alongside original specials like Salmon Cantina and Gnocchi Alle Chef. Diners can choose from pizza, pasta, sandwiches, chicken, veal, and seafood dishes, among other options, as well as a variety of wines and cocktails.
Noodles & Company
This innovative chain serves noodle dishes from all over the world. Have Italian pasta, Japanese pan noodles, Thai curry, American mac and cheese, and more. Noodles & Company also offers appetizers and snacks with international flair. There's even zucchini noodles, or zoodles, for a healthier or gluten free option, and perfectly portioned kids meals for the little ones. Pets can't follow you inside when you order, but they're welcome to curl up beside you at the outdoor patio area afterwards.
Clare and Don's Beach Shack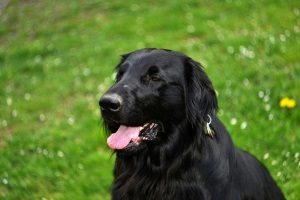 This Falls Church favorite serves seafood of all kinds, from fried clams to grilled fish to boiled shrimp, as well as burgers, a selection of Mexican dishes, and decadent desserts like fried Oreo sundaes. The shack hosts karaoke nights once per month, trivia nights, and live music too. Well-behaved dogs are welcome to join their owners in the outdoor seating area.
Jackson 20
Jackson 20, located in Alexandria, serves hearty American fare in what it calls a state of perpetual celebration. Breakfast, lunch, dinner, and cocktails alike are made from locally sourced ingredients, ensuring a fresh bite or sip every time. The restaurant hosts weekly happy hours and yoga classes, among other creative events, but dog owners simply can't miss the Tuesday evening Yappy Hour. Lucky dogs who get taken out for this event are treated to pup-tinis and other dog-friendly delights, while owners can sip on some drinks of their own and enjoy the outdoor space.
Dining out with a pet can feel daunting at first, but a little bit of research can go a long way. There are plenty of cafes, restaurants, and even fine-dining locations with outdoor patios, courtyards, or strategically placed tables that will happily welcome both of you. You'll enjoy the quality time, and your dog will probably appreciate a few stolen bites of whatever you're having.