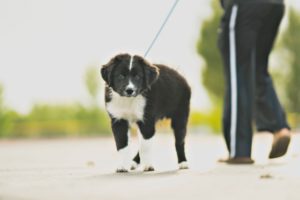 If you have just become a first-time dog owner, congratulations! Many dog owners have described having a dog as one of the best experiences a person could have. With being a dog owner, however, comes a responsibility to take steps to ensure your dog's comfort and wellbeing. Walking your dog is a common task in ensuring it's comfort and wellbeing.
One of the most enjoyable and most important activities you can do with your dog is taking it for a walk. Your dog will view its walks with you as the highlight of its day, and become excited as soon as it sees you grab the leash. As such, your dog will stay excited for the first several minutes of its walk.
As a responsible owner, you will need to learn how to walk your dog safely and provide training for your dog. You need to be able to manage the dog before it becomes unruly and difficult to control. If an overly excited dog gets away from you, it can spell trouble and even tragedy. What follows is an overview of steps you should take while walking your dog to ensure your dog remains safe and secured.
5 Helpful Dog Walking Tips
Whether you are a brand new dog owner or an experienced dog owner, you should not underestimate the importance of taking your dog for a walk. Merely letting your dog spend time by itself in your yard will not provide your dog with the exercise it needs to stay mentally and physically healthy.
A walk is critical for your dog's mental stimulation. It feeds their need for social interaction and exploration and also gives them some exercise. Dogs are athletic and they need the physical activity they get from their walks. Without adequate exercise, they will develop behavior issues and become "problem" dogs. Here are some tips for making your walk fun and safe for both of you:
Try to Stick to a Dog Walking Schedule
If possible, take your walks at about the same time each day. Ideally, your schedule will include a walk in the morning, and another in the evening. Over time, your dog will begin to trust that schedule, and its stress levels throughout the day will diminish. You may notice your dog's behavior improve in between walk times as this routine continues.
Let Your Dog Be a Dog for the First Few Minutes of the Walk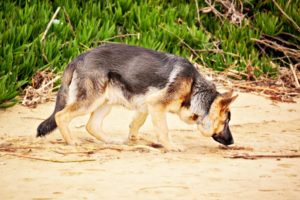 Before you start your walk, let your dog release a little energy by playing with it. Play a few rounds of fetch or tug of war with your dog. After a few minutes of vigorous play, your dog will be more open to being restrained by a leash.
After you attach the leash, there are a few steps you should take. Pause often, and let your dog use the first few minutes of your walk to explore. Your dog will want to sniff the ground, shrubbery and nearly anything else it encounters. Your dog's need to explore by sniffing around is hard-wired into your dog's brain. When doing so, your dog is assessing what other dogs, humans or animals have recently been in the area.
Once your dog has had some time to do this exploration, it will be able to begin mentally to focus on the physical part of the walk itself. Gradually begin to get your dog to spend less time sniffing and more time walking. As you walk, give your dog some breaks along the way. Pause and let it explore.
The mental exercise your dog gets from its exploration can be just as tiring as the physical exercise it gets from the walk. All these types of stimulation can help your dog be calmer and more susceptible to settling down.
If Your Dog Pulls, Use a Front-Clip Harness
When your dog insists on pulling, the walk is unpleasant for the owner. If the dog is insistent or strong, the dog can break away and get loose, which can make things unsafe. Try using a harness that can be clipped to the leash in front of your dog's chest. As with any harness, make sure it fits your dog securely. A front-clip harness discourages the dog from pulling. When your dog tries to pull, the pressure on the leash will cause your dog to turn and face you.
Pay Attention to Surface Conditions
Consider the surface you are walking on. In the hot summer months, pavement can burn your dog's sensitive paws. In the winter-time, ice, snow, and salt can cut the dog's paws. Avoid making your best friend walk on these unsafe and painful surfaces with bare paws. Invest in some booties or protective coverings made specifically for pets for any essential outdoor activities.
Carry Treats and Water
Invest in a belt or pouch in which you can carry your dog's favorite treats during your walks. You can use them to regain your dog's attention if it gets distracted by something and to reward your dog for behavior you want to reinforce. Also, in the hot summer months, a belt or pouch can be used to carry water for your dog to help avoid heat stress!
Make Sure to Pick Up After Your Dog
In some areas, picking up after your dog is required by local laws or regulations. Even if it's not required, it's a matter of cleanliness and courtesy to clean up after your dog on a walk. Make sure to carry bags for cleanup on walks, and dispose of any mess properly.
Hire a Professional Dog-Walking Service Like the Professionals at Paw Pals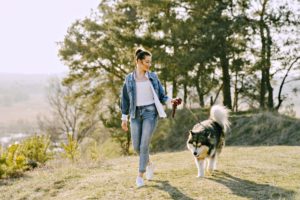 Walking your dog is one of the most important activities of your dog's day. Make it count. If your schedule is too busy to walk your dog, hire a reputable service to do it for you. New dog owners can get plenty of help from the dog walking professionals at Paw Pals. The team at Paw Pals can give you guidance on dog walking and other pet care questions and their experienced dog-walking professionals are available to walk your dog and perform other care tasks for you each day.