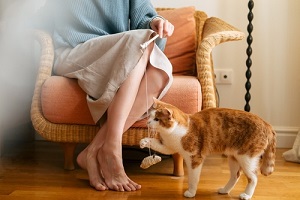 If you are like most people, your cat (or cats!) quickly become just as much a part of your family as children. You would not leave your children in the care of a stranger you knew nothing about and did not trust, so choosing the best cat sitting services offers peace of mind and good care for your furry friend(s) while you are away from home.
However, you may wonder whether a dedicated cat sitting service is worth it and how to choose the right sitter. The good news is that Northern Virginia is home to great cat sitting services!
Why Use A Cat Sitting Service?
A professional cat sitter is different in many ways from having a friend or family member come to care for your feline companion. While you may relish the fact that friends may help for free, the additional small fee to rely on a professional sitter is often worth it; an expert sitter has much more experience and knowledge than your friends may.
They understand what makes a cat tick and what your furry friend needs in order to be happy and enriched. And perhaps most importantly, professional cat sitters are often certified in some level of emergency and medical care; you may even be able to acquire a sitter with feline CPR experience.
If your cat needs medications or other specialized services, this is no problem for a professional sitter. And as much as you might love your friends and family, you can rest assured that a sitter will never forget to stop by or accidentally make other plans.
Signs To Look For In Your Cat Sitter
As you consider which cat sitter or service to pick for your feline family members, remember that properly caring for a cat is about more than just making sure the food and water bowls stay full. First and foremost, choose someone with experience. It is not uncommon to ask for references, and any service or individual who balks at providing a history of past satisfied clients should throw up some red flags.
Additionally, it is usually best to opt for someone who can dedicate more than just a few minutes to your cat. Family, friends and local individuals may stop by for a few minutes to top off the water and give a quick scoop to the litter box, but your cat thrives on more than this. A professional sitting service will dedicate a longer time slot to each client, allowing for not only appropriate basic care but also enrichment.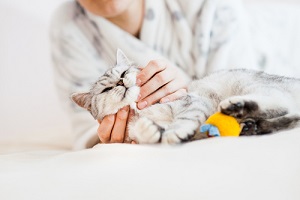 Good sitters will play with and engage with your cat to keep their minds sharp and free from boredom in an empty home. Even if your cat is not a fan of strangers and runs off to hide whenever the sitter shows up, simple tasks like talking to them and staying in the room for a little while can fulfill that need for companionship and mental stimulation while you are gone.
Even if your cat does not have any medical conditions, choosing a pet sitter who has experience with cat healthcare can be a big plus. If something happens to your cat, from an upset stomach to a more serious injury, you will want an experienced sitter instead of just a family friend.
And if your cat takes medicine (or at least should take medicine but is an expert at keeping their mouth closed—we all know how that goes), a professional sitter has the experience necessary to make sure that your furry companion receives the care they need.
As an additional bonus, professional sitting services will often perform other tasks that make your life much easier when you return. From cleaning up cat hair to giving the litter box a thorough clean right before you arrive back home, you can enjoy not having to immediately tackle a myriad of feline-related tasks as soon as you step through the door.
Trust Paw Pals Pet Sitting For The Best Cat Sitting Services In Northern Virginia
If you would like to entrust your feline friend to a reliable pet sitting service that loves your animals as if they were our own, Paw Pals Pet Sitting is here for you. We will keep your pets safe with our PetTech certification in pet CPR and first aid, and we have a wide range of availability to ensure that we are always there when you need us. Reach out to schedule an appointment so we can meet your cat and create a plan to enrich and care for them while you are away from home.